Battle of Monroe's Crossroads
Introduction
The Battle of Monroe's Crossroads was part of the Civil War's Campaign of the Carolinas. The Battle of Monroe's Crossroads took place on the Morning of March 10,1865. The Battle placed Union Cavalry against Confederate Cavalry in one of the last all cavalry battles of the Civil War. The Battle of Monroe's Crossroads slowed the advance of Sherman's march and approach to the nearby city of Fayetteville, NC.
Images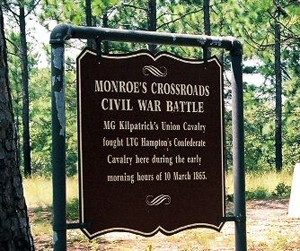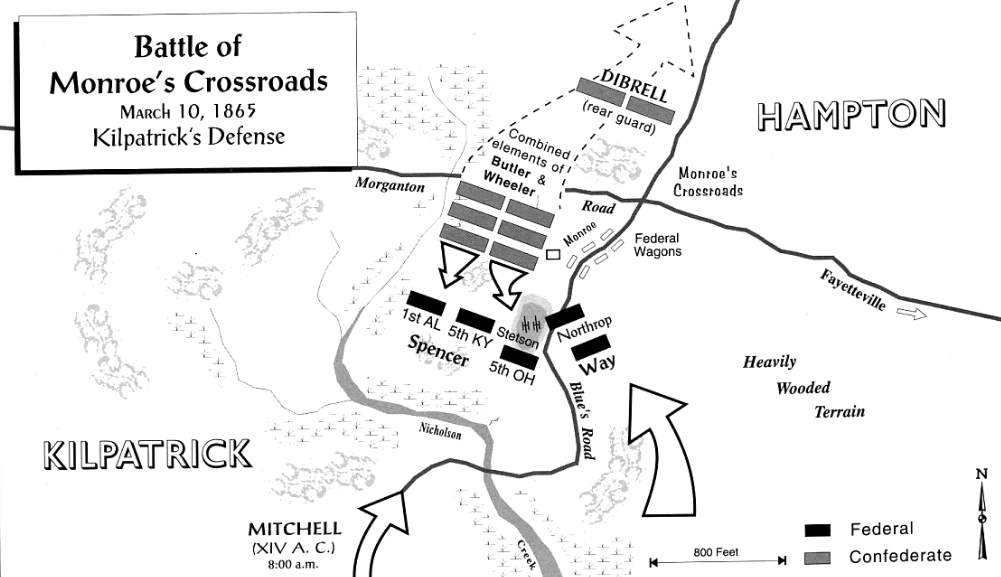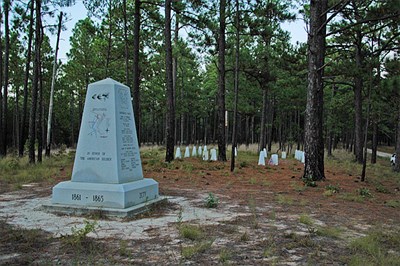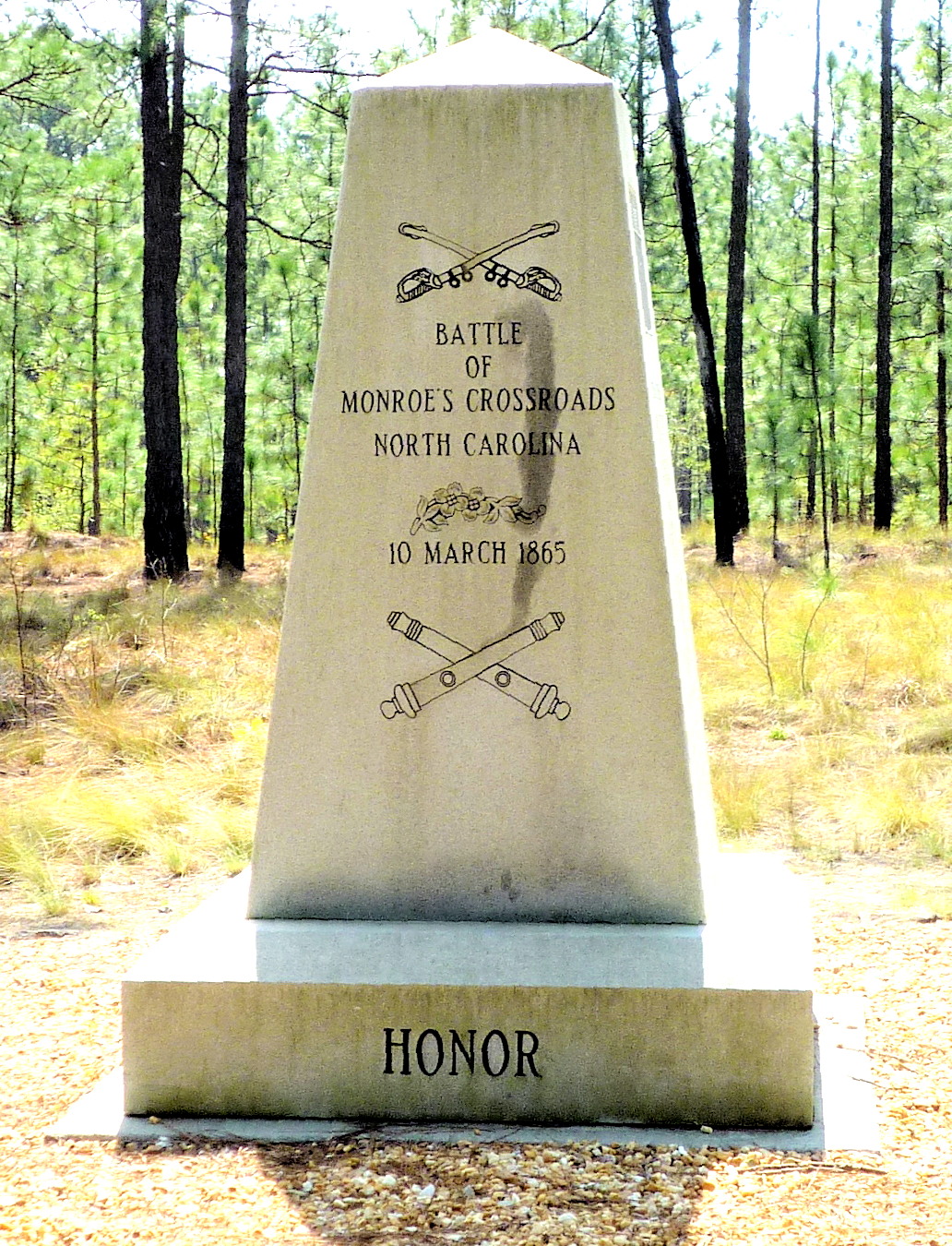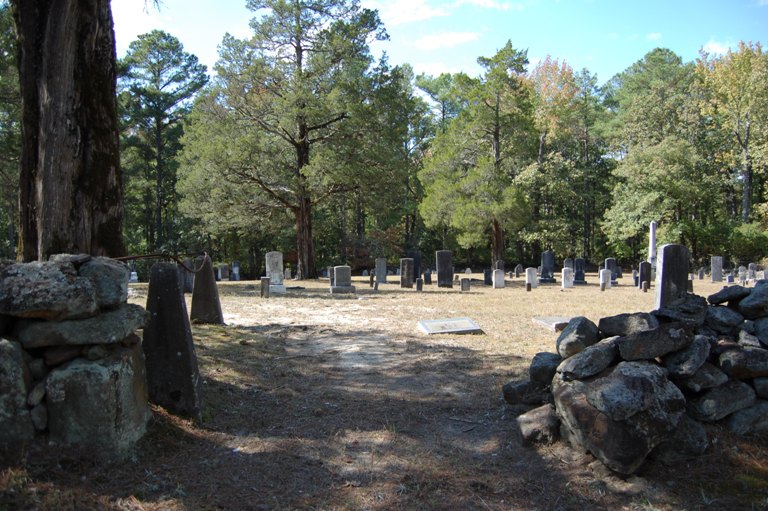 Backstory and Context
During early March of 1865 Major General William Tecumseh Sherman was conducting his Campaign of the Carolinas. MG Sherman split his forces upon entering North Carolina in an effort to make Confederate leaders believe his forces were marching west toward Charlotte, NC. The bulk of MG Sherman's forces actually moved east toward Fayetteville, NC with a plan to secure the bridges at the Cape Fear River and trap the Confederates west of the river or slaughter them as the attempted to flee across the river. On March 8, 1865 General Kilpatrick, MG Sherman's commander of the eastern group of soldiers, took up a position at a crossroads in an attempted ambush of approaching Confederate cavalry.
Around March 8, 1865 two Confederate generals, General Matthew Butler and General Joseph Wheeler began to work together in the area. After discovering the Union forces on March 9, 1865 the Confederate commander General Wade Hampton decided to launch a dawn attack on the Union camp. The plan involved the rescue of Confederate prisoners that the Union forces had captured in the days prior, as well as the capture of General Kilpatrick. As part of the Plan General Butler would take his forces and attack the camp from the north and General Wheeler would attack from the south.
At 5:30am on March 10, 1865 the Confederate forces launched their attack on the Union Camp. In the initial assault Confederate forces freed 130 prisoners and captured the Union Artillery. The plan to capture General Kilpatrick failed and he escaped into a swamp where he eluded the Confederate forces for several hours. Kilpatrick and the other Union soldiers who escaped the initial assault regrouped and quickly organized a counterattack. Fearing that Union reinforcements would soon arrive the Confederate commanders took their prisoners and supplies they had taken from the Union Camp and moved to Fayetteville.
The assault allowed Confederate forces to cross the Cape Fear River and delayed the Union advance toward Fayetteville for several days. Upon the arrival of Union forces, Fayetteville officially surrendered to MG Sherman's forces. Union forces were unable to cross the Cape Fear River in pursuit of the Confederate forces for several days. The delay that the Battle of Monroe's crossroads created allowed Confederate forces to dig in and prepare in Bentonville.
Sources
n.d.). Retrieved from https://www.bing.com/images/search?view=detailV2&ccid=0VrQv3tC&id=813441FA0BCB2186BBA4548DBA7231E84B743B11&thid=OIP.0VrQv3tCoTzLx00v9lPVngAAAA&mediaurl=http://www.mucommunication.com/civilwarevents/images/3-Cvil War Page/4-Sherman's Army/Monroe/monroes_crossroads marker.png&exph=251&expw=300&q=monroe's crossroads battle&simid=608035761336880845&selectedIndex=18&vt=3&iss=vs&imgurl=http://www.mucommunication.com/civilwarevents/images/3-Cvil War Page/4-Sherman's Army/Monroe/monroes_crossroads marker.png&ajaxhist=0
(n.d.). Retrieved from https://www.bing.com/images/search?view=detailV2&id=634DC25FCA9EA410A3A891514E57217FD34898A8&thid=OIP.dILsfEFWnPn7Scv9xoQ_QQHaER&mediaurl=https://emergingcivilwardotcom.files.wordpress.com/2015/03/map-2.png&exph=577&expw=1001&q=monroe's crossroads battle&selectedindex=2&ajaxhist=0&vt=0&eim=1,2,6
(n.d.). Retrieved from https://www.bing.com/images/search?view=detailV2&id=A0C966A90A2104AE7F80AF0A2755ED63F50DE0C0&thid=OIP.qhsY2A-YbBIO0vuKB9pdfAHaE7&mediaurl=http://img.groundspeak.com/waymarking/display/e156078a-bc62-425e-9ad9-9541c9d093aa.jpg&exph=266&expw=400&q=monroe's crossroads battle&selectedindex=6&ajaxhist=0&vt=0&eim=1,2,6
(n.d.). Retrieved from https://www.bing.com/images/search?view=detailV2&id=634DC25FCA9EA410A3A8B82F8AAD4B4E07C8DAFF&thid=OIP.t-fGcfmiDpAVgnJwVBEkXwHaJs&mediaurl=https://emergingcivilwardotcom.files.wordpress.com/2015/03/battle-monument.jpg&exph=1350&expw=1032&q=monroe's crossroads battle&selectedindex=10&ajaxhist=0&vt=0&eim=1,2,6&ccid=t fGcfmi&simid=608040790761670772
(n.d.). Retrieved from https://www.bing.com/images/search?view=detailV2&id=634DC25FCA9EA410A3A8AF13016F0CCB6BADC962&thid=OIP.L5Lb8PsGX0XsHZMA4P_FawHaE7&mediaurl=https://emergingcivilwardotcom.files.wordpress.com/2015/03/longstreet-church-cemetery.jpg&exph=511&expw=768&q=monroe's crossroads battle&selectedindex=19&ajaxhist=0&vt=0&eim=1,2,6
Battle of Monroe's Crossroads. (2018, December 04). Retrieved February 15, 2019, from https://en.wikipedia.org/wiki/Battle_of_Monroe's_Crossroads
Website design and web development by Mango Web Design http://mangowebdesign.com. (n.d.). The Battle of Monroe's Crossroads (March 10, 1865). Retrieved February 15, 2019, from https://northcarolinahistory.org/encyclopedia/the-battle-of-monroes-crossroads-march-10-1865/