Lincoln Museum
Introduction
The main attraction for visitors to Hodgenville, this museum is part of the National Historical District dedicated to the early life of Abraham Lincoln. The museum is located just a few feet away from Lincoln Square Memorial and includes exhibits drawn from artifacts related to Abraham Lincoln's life. The museum was incorporated in March 1988 and opened on April 1, 1989, and has expanded over the years.
Images
The Lincoln Museum includes a variety of exhibits and has grown significantly since its opening in 1989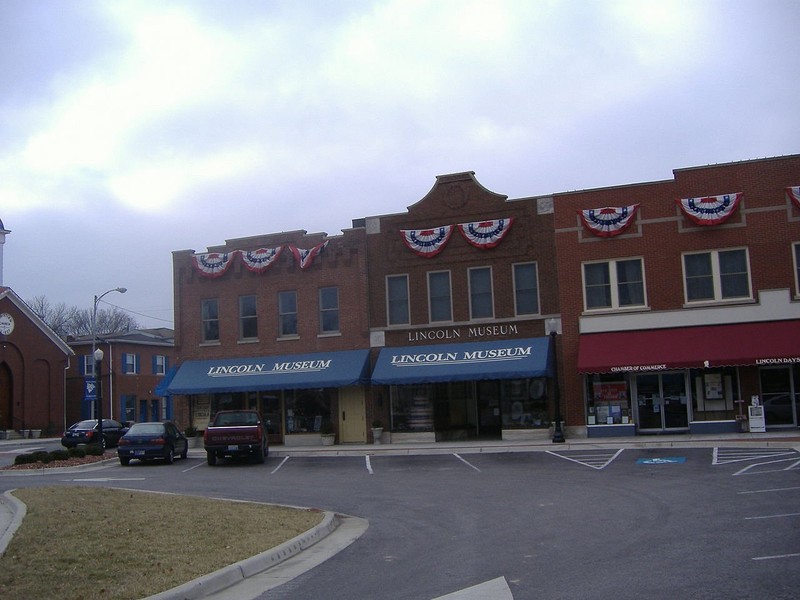 The museum tells the story of Lincoln's life through wax figures, including this depiction of the Lincoln-Douglas debates.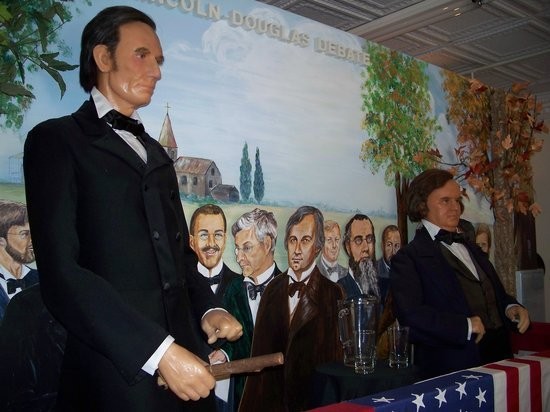 Backstory and Context
Located near Abraham Lincoln Birthplace National Historical Park, Hodgenville's Lincoln Museum opened its doors April 1, 1989, thanks to community support that led to the creation of this nonprofit organization. The museum is devoted to educating the public and preserving Abraham Lincoln's early history and connections to Kentucky. The museum offers an interpretation of Lincoln's life with twelve historic scenes from his life along with a variety of artifacts and original art. The museums also offers exhibits related to the Civil War in this section of Kentucky with an emphasis on Lincoln's leadership as President and his assassination and funeral train.
The exhibits contain wax mannequins that recreate scenes from Lincoln's life. For example, visitors can see young Lincoln working outdoors and completing frontier tasks such as clearing land and tending to livestock. The museum has a scene from the Lincoln Douglas Debates-- a series of seven debates held throughout Illinois where the two men represented their party's candidates in 1858. The museum also has a display that shows Lincoln writing the Emancipation Proclamation in the final months of 1862.
In addition to the main exhibits on the first floor, the museum also includes a second floor filled with additional artifacts, artwork, news clippings, campaign posters, and extra memorabilia. The museum gift shop features music, crafts, arts, and a collection of take-home souvenirs.
Sources
1. http://lincolnmuseum-ky.org/Index.html.

2. americanhistory.si.edu/lincoln/railsplitter.

3. https://www.history.com/topics/19th-century/lincoln-douglas-debates.

4. https://www.tripadvisor.com/ShowUserReviews-g60708-d1454950-r632438120-The_Lincoln_Museum-Hodgenville_Kentucky.html#photos;aggregationId=101&albumid=101&filter=7&ff=357815203.


Additional Information