Tapping Reeve House and Litchfield Law School
Introduction
The historic home was the location of the country's first law school, called the Litchfield Law School. It was founded in 1784 by lawyer Tapping Reeve (1744-1823), who would serve as Chief Justice of the Connecticut Supreme Court beginning in 1814. Reeve built the house in 1773. He started to give law lectures in the parlor in 1782 but as the number of students increased, it was clear that a larger space was needed. So in 1784, Reeve built a one-story building near the house. His very first student was his brother-in-law Aaron Burr, who would go on to be Vice President under President Thomas Jefferson (he is most known for shooting and killing founding father Alexander Hamilton in a duel in 1804). Future Vice President John C. Calhoun and Lyman Beecher, the father of "Uncle Tom's Cabin" author Harriet Beecher Stowe, were other notable students. The school operated until 1833. In all, over 1,000 students studied at the school and many would go on to become successful leaders in law, politics, and business. As such, they played a central role in laying the political and economic foundations on which the country now stands. For these reasons, the site (the house and school buildings) is listed on the National Register of Historic Places and is a National Historic Landmark. Visitors to the house can watch an introductory video, learn about how the students lived, and try on period clothes.
Images
The Tapping Reeve House was the location of the country's first law school.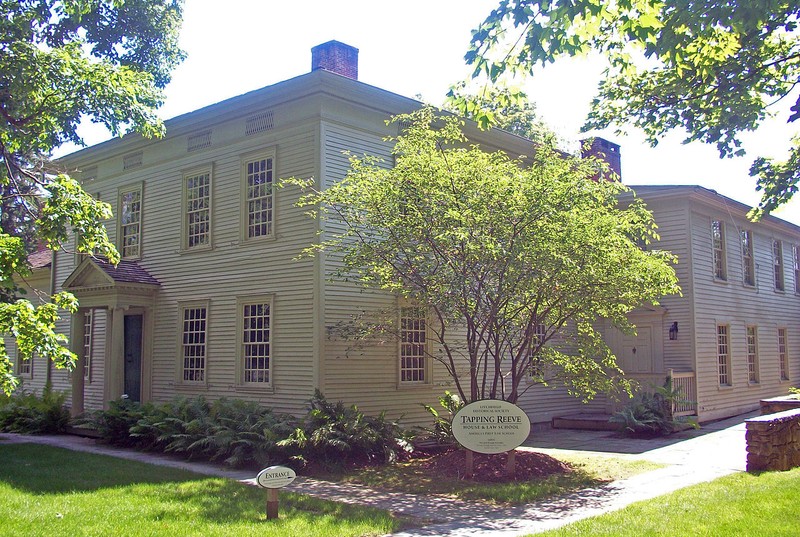 Tapping Reeve (1744-1823)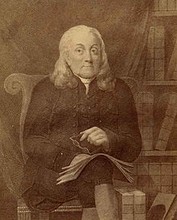 Backstory and Context
Tapping Reeve was born on Long Island in 1744. He attended the College of New Jersey, which is now Princeton University, and graduated in 1763. He worked there as a tutor for seven years afterward then moved to Connecticut in 1771. He passed the bar exam in 1772. He married his wife, Sally Burr, who, as alluded to above, was Aaron Burr's sister. Aaron Burr became interested in studying law and asked Reeve to tutor him. This is how the law school began. One of the more interesting and innovative aspects of the curriculum, which covered the entire body of law, was the Moot Court, where students could practice debating legal issues under Reeve's guidance. Such a practice was not allowed under the apprentice system of studying law.

Initially, students lived on the third floor of the house but as the school grew, they started to live in prominent Litchfield homes. Lectures moved to the school building constructed in 1784. The course lasted from 14 to 18 months. In 1798, Reeve enlisted the help of friend James Gould, who graduated that year. Reeve managed to continue teaching despite his other jobs until 1820 when he officially ended his ties to it. Gould continued teaching until 1833.
Sources
Schroer, Blanche Higgins. "Tapping Reeve House and Litchfield Law School." National Park Service - National Register of Historic Places Nomination Form. October 15, 1966. https://npgallery.nps.gov/GetAsset/d37a5888-a275-44a9-9e6f-19556b175086.

"Tapping Reeve House and Litchfield Law School." Litchfield Historical Society. Accessed February 14, 2019. https://www.litchfieldhistoricalsociety.org/museums/tapping-reeve-house-and-law-school.


Photos: Wikimedia Commons

House:
https://en.wikipedia.org/wiki/Litchfield_Law_School#/media/File:Tapping_Reeve_House_and_Law_School,_Litchfield,_CT.jpg

Tapping Reeve:
https://en.wikipedia.org/wiki/Tapping_Reeve#/media/File:Tapping_Reeve.JPG

Additional Information