Belmar Public Library
Introduction
The Belmar Public Library was initiated by a group of women in the area who wanted to provide an outlet for nearby people to acquire information and meet for activities in 1911. The library moved locations twice before settling down in its space in 1914 on 10th avenue and E Street. It is known for its colonial architecture styled by Edward Tilton, and is one of the original Carnegie Libraries in New Jersey. Aside from drawing people in with its book collections and activities, the library is also a tourist attraction for Bruce Springsteen fans as it is located on the street associated with his band.
Images
The Bruce Springsteen guitar art piece can be seen on the grounds of the library. Photo from: Christine Cardellino, The Patch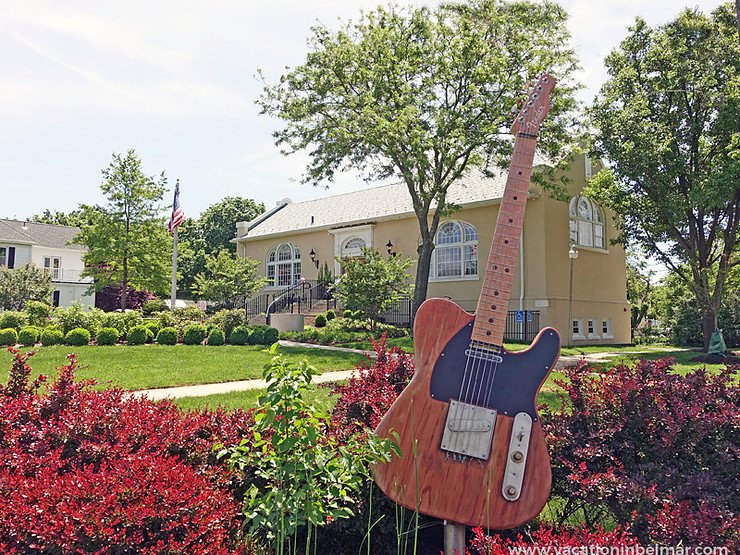 A post-card of the Belmar Public Library showcasing its colonial architecture and surrounding foliage. Photo from: Hippostcard.com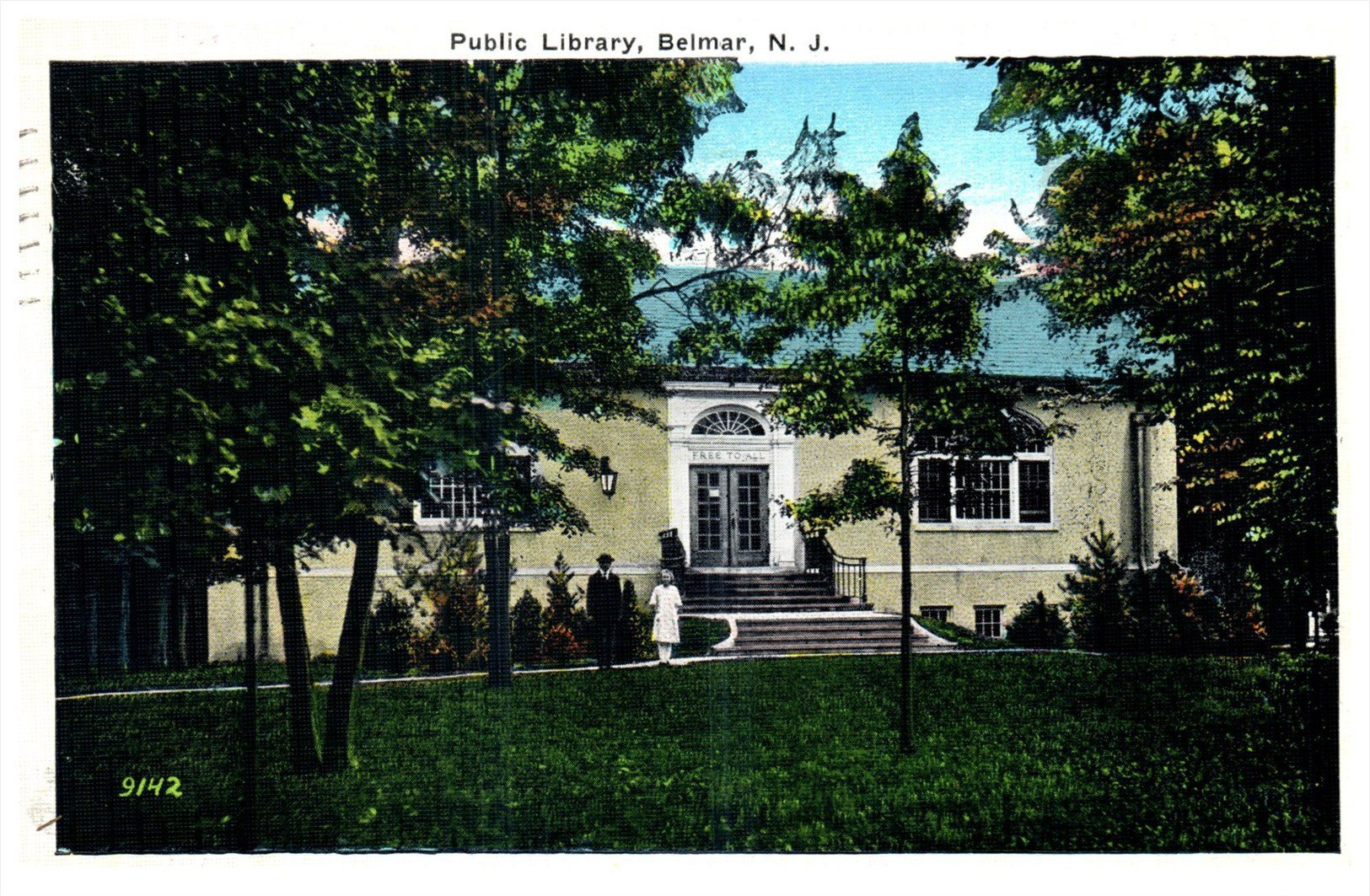 Backstory and Context
The Belmar Public Library had to move locations numerous times to keep up with its growing collection of books and the public who enjoyed utilizing its services. The building is significant for its architecture that was designed by Edward Tilton, who also developed the layout for Ellis Island. Its colonial style provides the library with a distinguished exterior. This structure has been maintained since 1914 at the final spot chosen for the library.
Belmar Public Library is also notable for what took place inside of it. Carnegie Corporation, also started in 1911 by Andrew Carnegie, functioned to "promote the advancement and diffusion of knowledge and understanding." This corporation was impressed with the layout and operations of the library, and decided to incorporate Belmar Public Library's plans into the standards for Carnegie Libraries. There are only 26 Carnegie Libraries in New Jersey of which Belmar's is one of them—even receiving a copy of a portrait of Andrew Carnegie in honor of the 100 years since his birth in 1935.
Aside from this recognition, the Belmar Public Library is also known for its location and connection to Bruce Springsteen's E Street Band. Positioned on 10th Avenue and E Street, the library has been gaining tourist attention due to its proximity to the home of one of the E Street band members, David Sancious, and the references to 10th Ave in song lyrics.
A mural for Springsteen was completed on Main Street and 10th Avenue, and the Belmar Tourism Commission felt that the library property would be another ideal spot to commemorate the local group. With this, the Tourism Commission funded the creation of a statue of Springsteen's Fender Esquire guitar. Built of wood, and a steel and concrete base, the guitar weighs 150 pounds and has become a prominent photo-op spot for tourists in front of the library.
However, exciting events also take place inside the library. Offering child story time, art workshops, and visiting authors, the Belmar Public Library provides the community with a space to further one's education and engage in fun activities. Not only are people able to access a wide variety of reading materials and audio/visual files, but they can also be involved in family activities and other programs to enhance their experience.
Sources
About. Carnegie Corporation of New York. https://www.carnegie.org/about/.

Dubicki, Eleonora. "Carnegie Libraries in New Jersey: 1900-1923." New Jersey Studies: An Interdisciplinary Journal. 2017. https://njs.libraries.rutgers.edu/index.php/njs/article/view/85.

Goldstein, Stan. "Eight-Foot Replica of Bruce Springsteen's Fender Esquire Guitar on Display on E Street in Belmar." NJ.com. July 27th, 2011. https://www.nj.com/springsteen/index.ssf/2011/07/eight-foot_replica_of_bruce_sp.html.

Trott Roper, Grace. Belmar in Retrospect. The Belmar Public Library. http://www.belmarlibrary.org.


Additional Information