Merion Golf Club
Introduction
Comprised of two 18-hole courses, the East and West courses, the Merion Golf Club has hosted 18 United States Golf Association (USGA) championships, more than any other. The first course built on the site was created by the Merion Cricket Club in 1896. That course was replaced by the Hugh Wilson designed East Course in 1912 and the West course was added to the club in 1914. The East course is the more challenging of the two, has hosted all USGA championships, to include five U.S. Opens, and is thus, better known. The club is private and only open to members and their guests. The Merion Golf Club was designated a National Historic Landmark in 1992.
Images
Merion's clubhouse sits behind its 18th green.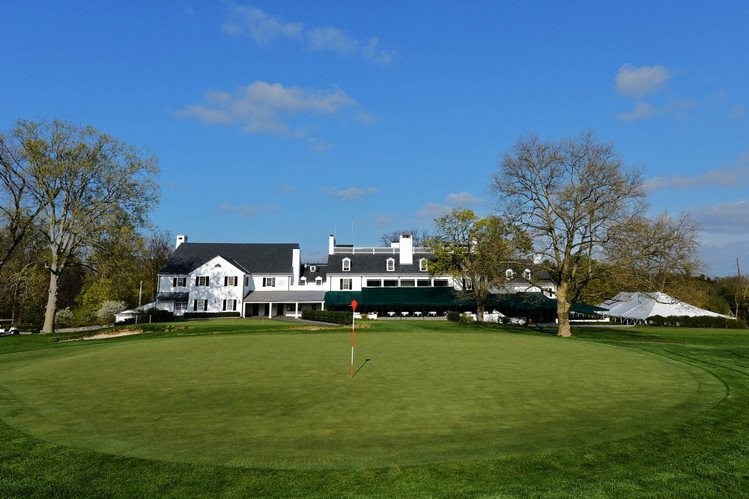 An aerial shot of Merion's East Course.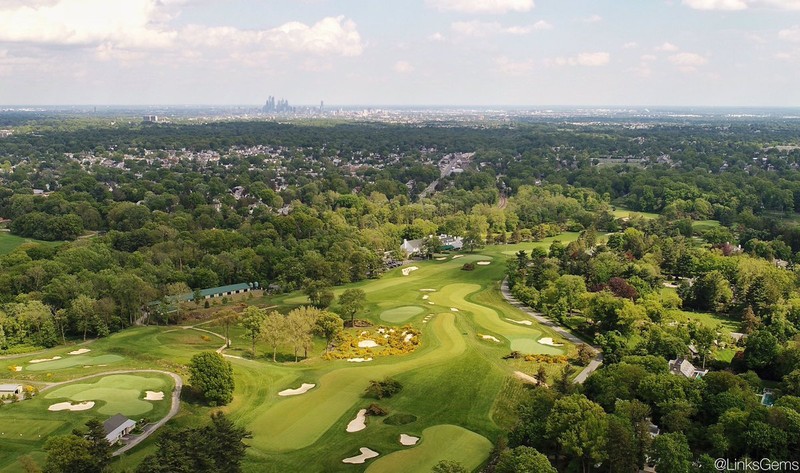 One of Merion's signature wicker basket pins, thought to have been inspired by shepherds in Scotland.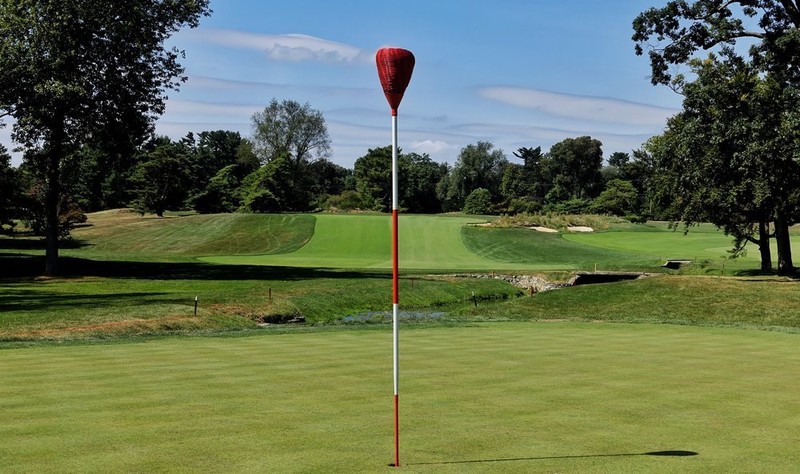 Some of Merion's famous "eyelash" bunkers and difficult terrain.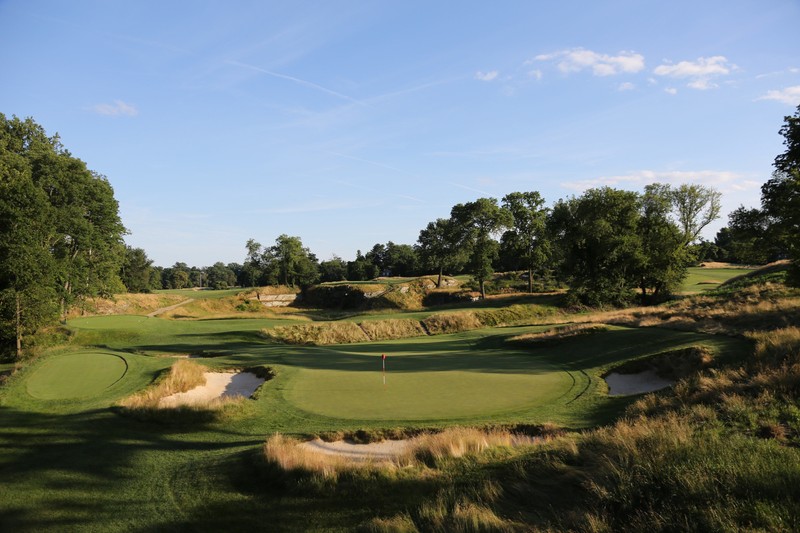 Perhaps one of the most famous photographs in golf: Ben Hogan's 1-iron (or was it a 2-iron?) on Merion's 18th fairway during the 1950 U.S. Open.
Backstory and Context
The Merion Cricket Club, founded in 1865, decided to add a nine-hole golf course in 1896 as the popularity of golf in the United States began to increase. The course was expanded to 18 holes in 1900. Shortly after, golf ball technology changed as the gutta percha ball was replaced with the rubber core Haskell ball. This new golf ball, which consistently travelled farther, made the cricket club's course obsolete. As a result, the club formed a committee to look into the feasibility of building a new, longer course in 1910. They hired 32-year old Hugh Wilson who, while an accomplished golfer, had no experience designing courses. Wilson then proceeded to design one of the best courses in the United States.
After the course was designed, sculpted and seeded, Wilson travelled to England and Scotland to learn about designing, building, and maintaining courses sometime in late 1911 or early 1912. He was scheduled to travel back to America aboard the HMS Titanic in 1912, but decided to extend his stay several more days. Upon his return, he incorporated much he learned into his East Course. Wilson's course was built on only 126 acres and was relatively short at only 6,500 yards. However, he increased its difficulty by incorporating numerous (131) Scottish-style bunkers that featured peninsulas and islands of grass as well as eyebrows which are comprised of thick, tall grass around the edges of the bunkers.
Merion hosted its first USGA championship in 1916 in the form of the U.S. Amateur which featured a 14-year old Bobby Jones. Jones would return to win the U.S. Amateur in 1924 and again in 1930. His 1930 win completed golf's first Grand Slam as he had previously won the British Amateur, British Open, and U.S. Open Championships. A plaque along the 11th hole commemorates this event. The East Course also hosted the 1950 U.S. Open in which Ben Hogan made his triumphant return from a near-fatal auto accident. His famous 1-iron on the championship's final hole helped secure his spot in a playoff round which he won the next day. Merion also witnessed Lee Travino's playoff win over Jack Nicklaus in the 1971 U.S. Open and Justin Rose's first major championship in the 2013 U.S. Open.
The East course is also known for its wicker baskets atop its pins rather than flags. It is believed Wilson developed this idea while in Scotland, but its true origin remains clouded in mystery. Merion is almost exclusively a walking course as carts are prohibited except for the physically disabled and the use of caddies is highly recommended as there are no yard markers on the course. Merion has since lengthened the East Course to almost 7,000 yards and acquired more land to ensure it will continue to host USGA championships.
Sources
Jenchura, John. "U.S. Open at Merion: A history of Merion Golf Club." Main Line Times. June 5, 2013. Accessed February 12, 2019. http://www.mainlinemedianews.com/mainlinetimes/life/u-s-open-at-merion-a-history-of-merion-golf/article_9d5dfef4-0b30-5671-bed8-af9f9e90c61c.html
"Merion History." Merion Golf Club. Accessed February 12, 2019. https://www.meriongolfclub.com/Club-Information/Merion-History
Anderson, Dave. "A Feast of Golf History, and Dinner Near the First Tee." New York Times. June 8, 2013. Accessed February 12, 2019. https://www.nytimes.com/2013/06/09/sports/golf/us-open-history-is-often-made-at-merion-golf-club.html
Fitzpatrick, Frank. "Story of Hugh Wilson, Merion's architect, is clouded." Philadelphia Inquirer. June 7, 2013. Accessed February 12, 2019. https://www.philly.com/philly/sports/golf/2013-us-open-merion/20130607_Story_of_Hugh_Wilson__Merion_s_architect__is_clouded.html
Additional Information