Fort Toulouse-Fort Jackson State Historic Site
Introduction
Fort Toulouse-Fort Jackson State Historic Site preserves 1000 years of history. The site is comprised of an ancient Indian mound that dates between 1100-1400 A.D., a recreated Creek Indian village, nature trail, a campground, and the two replica forts for whom the site is named. The French founded Fort Toulouse in 1717 and occupied it until 1763. Andrew Jackson, who would become the country's seventh President, ordered Fort Jackson to be built during the Creek War (1813-1814). The visitor center features a small museum, bookstore, camper registration, and visitor information. The nature trail affords excellent bird watching opportunities.
Images
One of the buildings at the recreated Fort Toulouse, which was designated a National Historic Landmark in 1960. The fort is a replica of the one built by the French in 1751.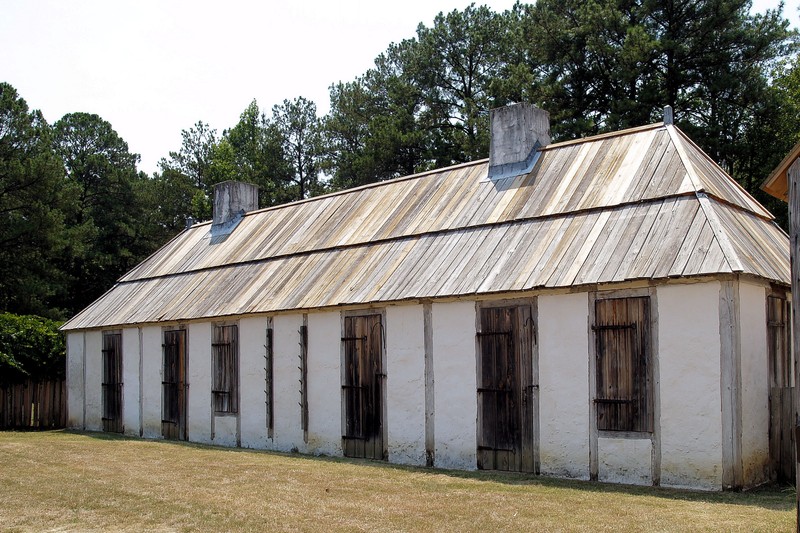 The site offers a variety of events throughout the year, including historical reenactments.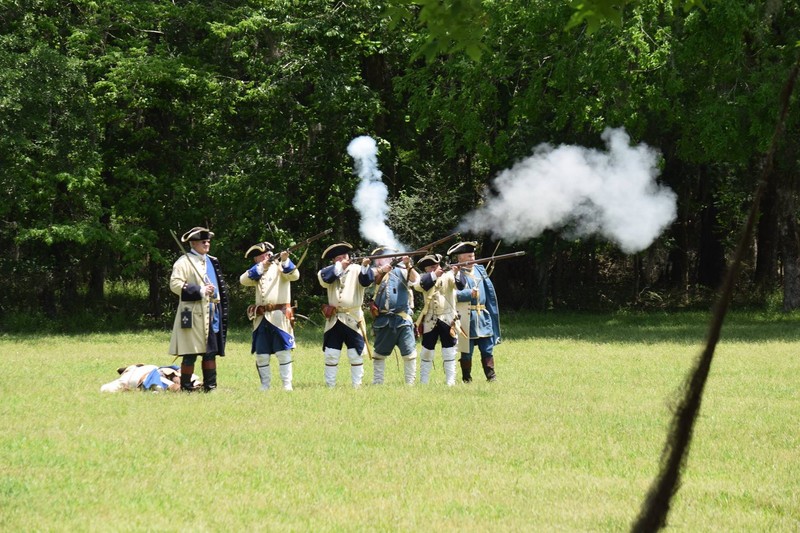 Backstory and Context
In 1717, the Alibamu Indians invited the French to build a fort in order to secure the friendship of the populous Creek Confederacy and make French policy known. Also, it was intended to keep the soldiers and interests of the British Empire out of the region. Alibamu Indians were apart of the Creek Confederacy. French soldiers brought their families here between 1717 and 1763. This is when some of the very first farms were built in present-day Alabama around Fort Toulouse. The sons of these families grew up to be French soldiers during the 46 years of the fort's existence. Many of the descendants of these French soldiers currently live in the surrounding communities today.
When the Creek War campaign of the War of 1812 happened, U.S. forces built a fort over the old site of Fort Toulouse. Two years later, Andrew Jackson traveled to Fort Toulouse with the U.S. Army from Georgia, North Carolina, South Carolina, and Tennessee after the battle of Horseshoe Bend. The Treaty of Fort Jackson gave over 15 million acres of Creek lands to the U.S. government, which eventually made most of Alabama officially available for Americans to settle. Just five years later, Alabama became the 22nd state of the United States of America.
The park provides many different ways that one can gain more knowledge about Fort Toulouse. The Indian mound from 1100 AD is available for people to visit. By 1819, the town of Fort Jackson quickly fell into disuse because the county seat moved to Montgomery. Today, the only remains of the old town are drainage ditches that run parallel to the town.
Sources
"History." Fort Toulouse-Fort Jackson State Historic Site. Accessed January 23, 2015. https://fttoulousejackson.org/history.

McKithan, Cecil. "Fort Toulouse-Fort Jackson." National Park Service - National Register of Historic Places Nomination Form. November 3, 1983. https://npgallery.nps.gov/GetAsset/e060bf7c-3b2e-4d55-80aa-ebe425be1297.

Photo: Public Domain, via Wikimedia Commons
https://en.wikipedia.org/wiki/Fort_Toulouse#/media/File:Fort_Toulouse.jpg

Additional Information