Free Quaker Meeting House
Introduction
Constructed between 1783 and 1784 by a group of Philadelphia Quakers who had been forced out by other Quakers for their early support of the American Revolution, this structure served as the meetinghouse of the "Free Quakers." Because Quakers were pacifists, the majority of the city's Quakers opposed this group's support of the colonists who took up arms against England. A few dozen Quakers met at this meetinghouse until 1836. During the 1780s when the group was most active, members included some of the leading men and women who supported the rebellion such as Betsy Ross. With military conflicts between England, France, and the United States coming to an end after the War of 1812, the factors that led to the division between the Free Quakers and others in the city declined. In addition, fewer and fewer members lived in this part of the city by 1830, and this meeting house was no longer utilized by the Quakers after 1836.
Images
Construction of this Quaker meeting house began in 1783 with the support of Robert Morris and other colonial leaders.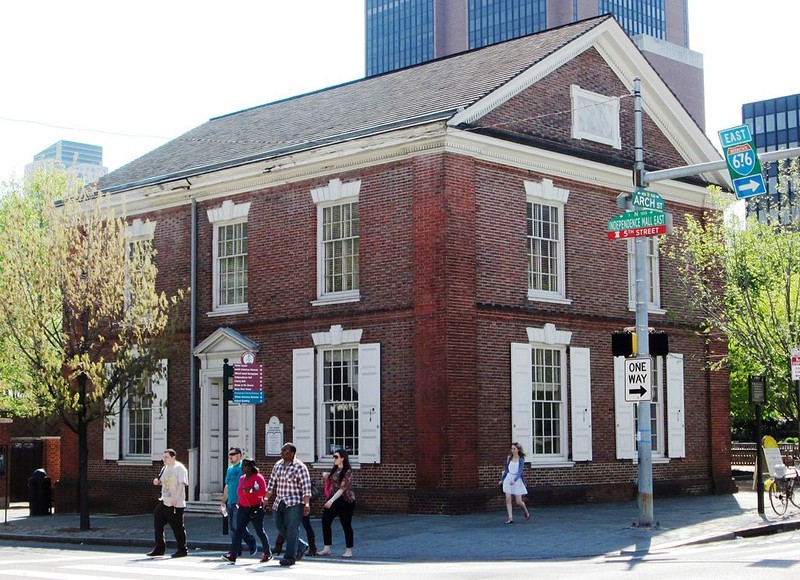 The building is located on the southeast corner of 5th and Arch Streets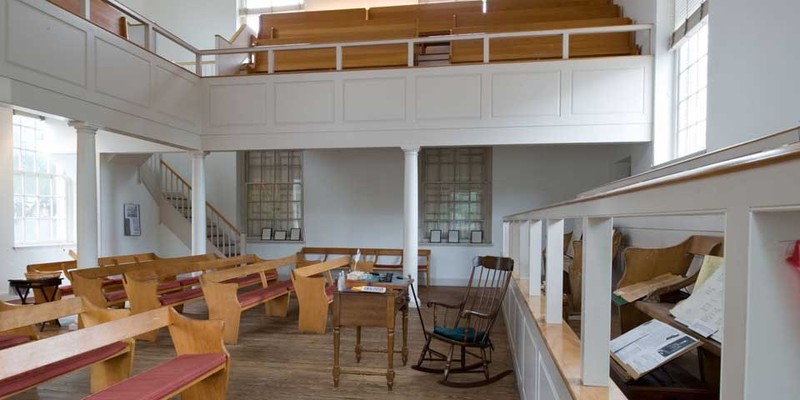 Backstory and Context
The Society of Freinds disowned or "read out" the group of Quakers who supported the rebellion in 1780. These Quakers met in the hone of Samuell Wetherill and others for the next few years. In 1783 and with the financial support of leading residents such as Robert Morris and supporters of the Revolution such as Benjamin Franklin and George Washington, the "Free Quakers" acquired land and began building this structure in 1783.
Timothy Matlack, the individual who wrote out the Declaration of Independence, also drafted some of the plans for this structure. The building served as the home of several private schools in the later 1700s and early 1800s while doubling as a Quaker Meeting House. It later served as the home of the Apprentices' Library Company of Philadelphia. The building was also moved slightly west and south when 5th Street (N Independence Mall) was widened in the early 1960s.
The meetinghouse was originally a one-story structure and a second story was added in 1788. At that time, the building was also home to John Poor's Academy for Young Ladies. The second building was also utilized by the Grand Lodge of the Freemasons from 1791 to 1799 and the Philadelphia Select Academy from 1800 to 1836. The Apprentices' Library Company of Philadelphia occupied the building from 1841 to 1897.
The structure later served as the home of various businesses until 1957 when the state acquired the structure as part of the larger effort to create Independence Mall as a heritage tourism complex. The building includes artifacts and
is operated by Historic Philadelphia.
Sources
Free Quaker Meeting House. National Register of Historic Places Nomination Form. . Accessed February 11, 2019. http://www.dot7.state.pa.us/CRGIS_Attachments/SiteResource/H001382_01H.pdf.


Additional Information