West Virginia Conference Seminary Building
Introduction
Funded by the West Virginia Conference of the Methodist-Episcopal Church, the Seminary building was the only building at the start of what is now known as West Virginia Wesleyan College. The doors opened on September 3, 1890 as the West Virginia Conference Seminary. It was advertised as "A High Grade Institution of Learning for Both Sexes."
Images
The Seminary building on fire, February 4, 1905.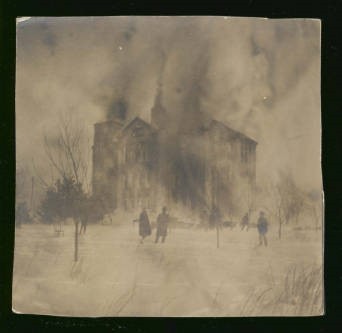 West Virginia Conference Seminary Building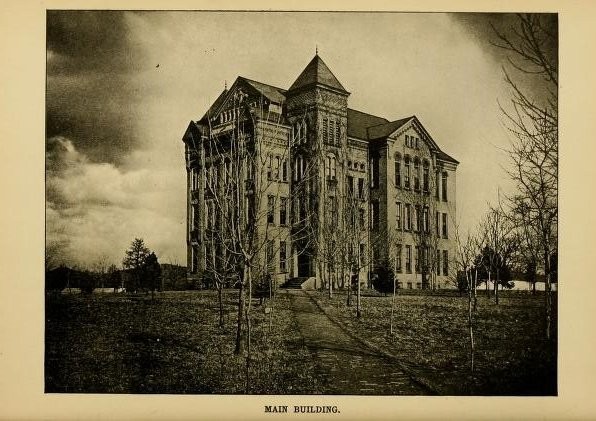 Backstory and Context
Complete by 1890, the Seminary building stood where the Lynch-Raine Administration building now stands. It was, on the opening day of the school, the only building on the campus. That day was September 3, 1890. The building was constructed with bricks from clay found in the Buckhannon River. The three-story building had a large and small chapel, nine classrooms, two meeting rooms, and the president's office. "Tuition for a full year cost $25 and the first year's enrollment totaled 201 students" (Miller, 2014). A seminary, at this time, was a sort of preparatory school - not a school for upcoming ministers as we are familiar with today. Diplomas were given in the Classical, Scientific, Literary, Normal, Musical and Engineering Courses, with Business diplomas to soon be added. This new seminary was ahead of its time in its terms of equality. The 1905 edition of the college yearbook, The Murmurmontis, states "ladies and gentlemen are admitted on terms of perfect equality and work together in the classes without any unpleasant results" and "no institution could be more free from religious bigotry."
Calamity struck, however, on February 4, 1905 when an issue with the boiler heating system sparked fire in the building's basement. The two hundred students in the building were dismissed while men and women alike began tossing furniture and records from the building's windows. Firemen arrived but were unable to quench the fire as their hoses froze in the fifteen-degree weather and the building's unique structure caused the flames to spread rapidly. It became clear after a loud concussive sound and quick rising of flames that the building would not be spared. Three students, unable to safely exit, launched from the second story windows but were unharmed. Two others and "a citizen of the town" were severely burned on their faces and hands but were not permanently injured. The total loss incurred was $40,000 with $16,000 in insurance, and the building was considered beyond repair. The Pharos (student newspaper) article reads, "Although the building is gone, the courage and loyalty of the student body are undaunted; and the Trustees and Faculty are determined to persevere, and ere long a larger, better and more convenient building will crown 'College Hill'."
Sources
1. Miller, B. (2014). Our home among the hills: West Virginia Wesleyan College's first 125 years. Virginia Beach, VA: The Donning Company Publishers.
2. Plummer, K. (1965). A history of West Virginia Wesleyan College. Retrieved from: https://archive.org/details/historyofwestvir00plum/page/30
3. West Virginia Conference Seminary, (1905). "Murmurmontis: [Yearbook] 1905." Archive.org. Retrieved from: https://archive.org/details/murmurmontisyear02west/page/38
4. (1905). "The Pharos." Pages in Time. Retrieved from: http://cdm16111.contentdm.oclc.org/cdm/compoundobject/collection/p271901coll13/id/6706/rec/1

5. (2004). "Seminary Building Fire - Aftermath Picture." Pages in Time. Retrieved from: http://cdm16111.contentdm.oclc.org/cdm/singleitem/collection/p15135coll1/id/206/rec/1
6. (2018). "West Virginia Conference Seminary - Seminary Building." Digital Library of Appalachia. Retrieved from: https://dla.acaweb.org/digital/collection/wvwc/id/290/