Underground Railroad site, Joseph Olmsted King, Merchant, humanitarian, 1814-1887
Introduction
Joseph Olmsted King, was a humanitarian and operator of a UGRR station. King and his wife Sarah Lamb Dwight came to Jacksonville in 1830. Throughout the years the couple had four children, two sons and two daughters, all of them born in Jacksonville. (Joseph Olmsted King, http://www.findagrave.com) King had several servants working for the family from 1850 through the 1870s. The servants were a mix of ethnic backgrounds, none were former slaves. The family lived in a brick home across the street from the Jacksonville Female Academy on lots 64 and 65, the house no longer stands.
Images
Joseph Olmsted King, unknown year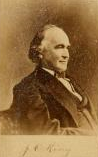 Location of Kings' house, 1855 map of Jacksonville. Today JHS Bowl is located across the street from the location of his home.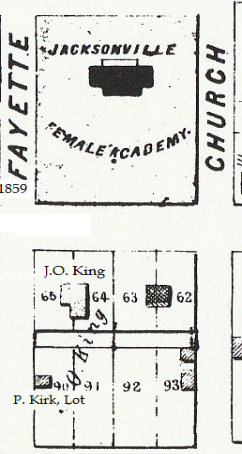 Backstory and Context
King was engaged in many civic duties in addition to his main merchant business. In 1846 King with the help of Dorothea Dix, a famous mental health activist, was able to bring the state mental hospital to Jacksonville. King was also a visual impairment advocate who helped bring the Illinois School for the Blind (ISVI) to Jacksonville in 1849. King also brought lighting to Jacksonville when he established the Jacksonville Gas Light and Coke Company on South Main Street. His last great contribution to Jacksonville came in the late 1860s was the creation of the water works system. King also served one term as a Republican Jacksonville's mayor. (Olson, 88-89)
Joseph King became deeply involved with abolition political meetings in the 1850s. He provided meeting space at his store on the square for the "purpose of organizing a political agitation for the exclusion of slavery from the free territories" such as the Free Democratic Party. The New Englanders who came to Jacksonville sympathized with the movement, but some of the abolitionist were looked at as fanatics, revolutionists who were despised with little support from local churches, except the Congregational church. (Eames, 135) Being an abolitionist King himself experience some of his customers refused to shop at his store because of his beliefs.
Sources
Charles Eames, Historic Morgan and Classic Jacksonville (Jacksonville: The Daily Journal Steam Job Printing Office, 1885)
Greg Olson, The Way We Were (Jacksonville, Illinois: Morgan County Historical Society, 2017)