Knoxville Museum of Art
Introduction
The Knoxville Museum of Art dates back to the establishment of the Dulin Gallery of Art in 1961. That small museum was located in the Dulin House, a 1915 home designed by architect John Russel Pope. By the 1980s, however, the museum needed more space for its collections and wanted a more accessible location for Knoxvillians. Starting in 1984, a city-wide effort to raise approximately ten million dollars began with the goal of constructing a new art museum on the site of the 1982 World's Fair. In 1987, the museum changed its name to the Knoxville Museum of Art. The building was designed by Edward Larrabee Barnes and following fundraising and construction, the museum opened its doors to the public on March 25, 1990. Over five thousand Knoxville residents gathered on that day to celebrate the opening of the museum which now welcomes over 70,000 people each year to their galleries and special events at the museum.
Images
The Knoxville Museum of Art. The exterior is sheathed in locally quarried pink Tennessee marble.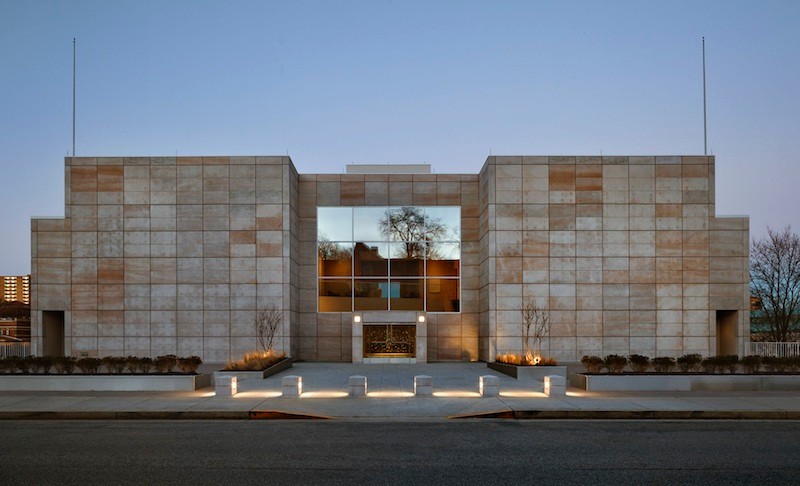 Backstory and Context
One of the Knoxville Museum of Art's permanent exhibits is Higher Ground: A Century of the Visual Arts in East Tennessee,. This exhibit includes a variety of works by local artists from the mid-nineteenth to the late twentieth century. Another permanent exhibit, Currents: Recent Art from East Tennessee and Beyond, spotlights contemporary emerging and established artists.
The museum is also the home of the largest figural glass installation in the world. This exhibit, Facets of Modern and Contemporary Glass, features twentieth and twenty-first-century glasswork, including Cycle of Life: Within the Power of Words and the Wonder of Infinity by Knoxville native Richard Jolley. The museum also hosts workshops, lectures, concerts, family activities, and other programs throughout the year.
Sources
Museum History. Knoxville Museum of Art. Accessed February 08, 2019. https://www.knoxart.org/musuem-information/.

Seay, Lucy Akard. Knoxville Museum of Art. Tennessee Encylopedia. October 08, 2017. Accessed February 08, 2019. https://tennesseeencyclopedia.net/entries/knoxville-museum-of-art/.

Knoxville Museum of Art. Visit Knoxville. Accessed February 08, 2019. https://www.visitknoxville.com/listings/knoxville-museum-of-art/160/.


Additional Information