Columbia Avenue Riots of 1964
Introduction
The intersection of 22nd Street and Cecil B. Moore Avenue (formerly Columbia Avenue) was ground zero of race riots in the summer of 1964. Rioting began after false claims that a white police officer beat a pregnant African American woman to death. The reality was far less dramatic, but the rumors spread rapidly through north Philadelphia, igniting two days of rioting. In the aftermath, the neighborhood became even more impoverished than it was prior to the riots, with many businesses leaving the area altogether. In 1987, a section of Columbia Avenue was renamed in honor of civil rights leader Cecil B. Moore, who worked to calm tensions during the riots.
Images
Columbia Avenue during the riots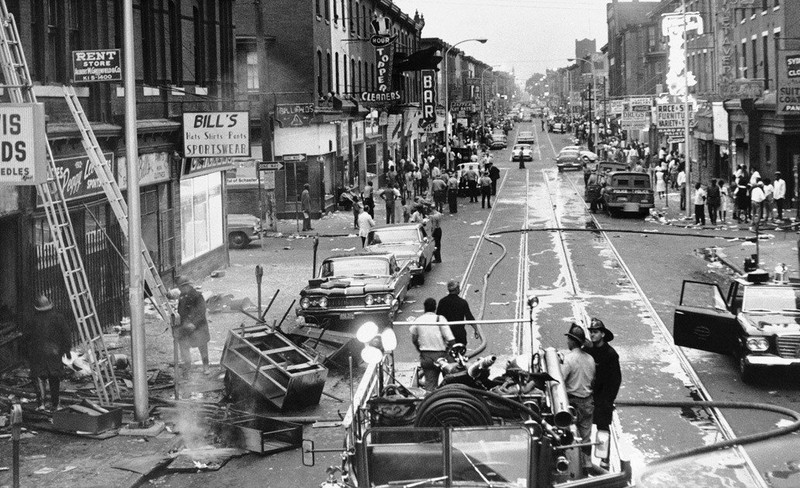 Police taking cover during the riots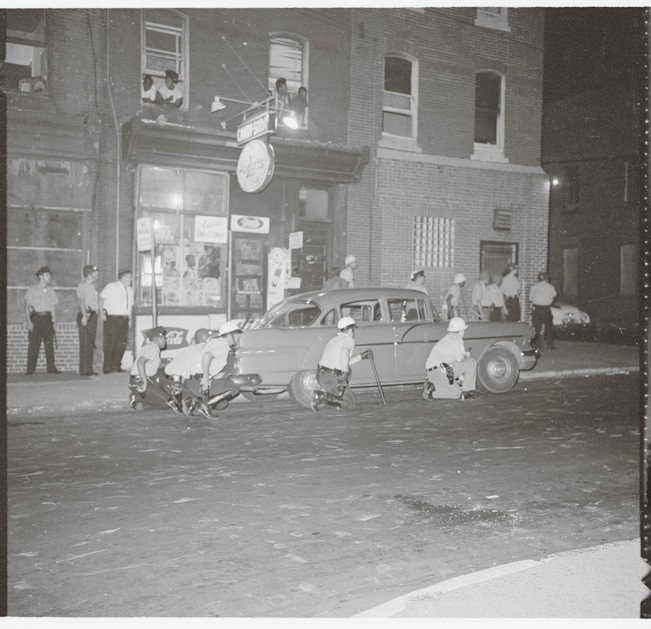 A store boarded up in the aftermath of the rioting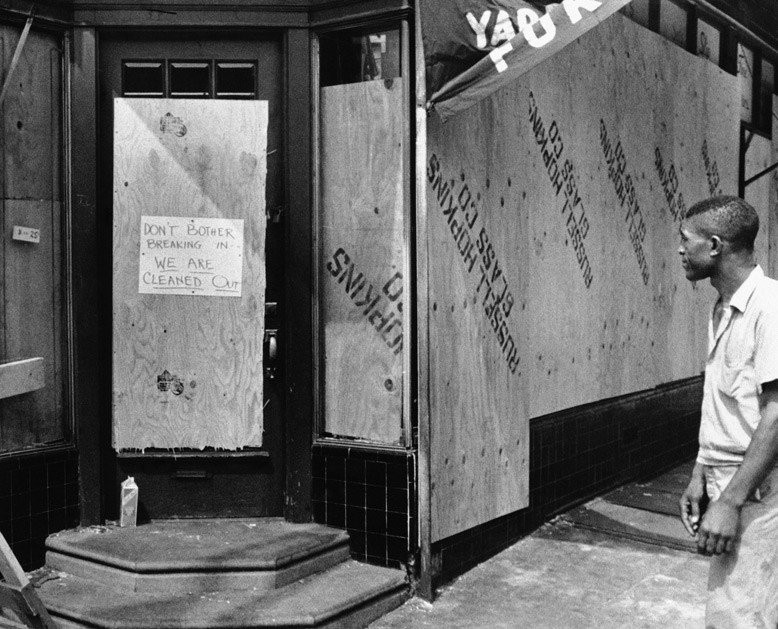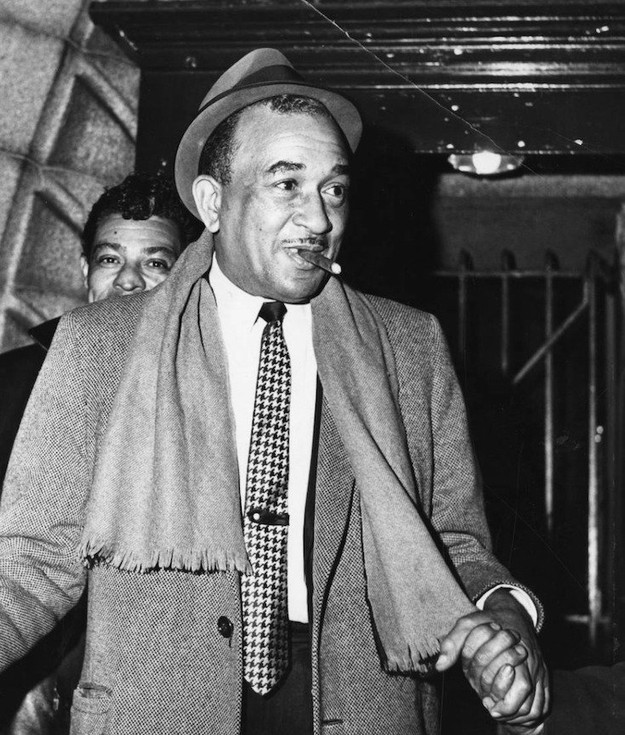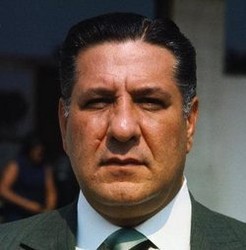 Backstory and Context
On August 28, 1964, a scuffle with police erupted into three days of rioting in North Philadelphia. Though Philadelphia's riots were less destructive than the race riots experienced in other urban centers, they did lasting damage to the area and exacerbated the already tense relations between African Americans and the Philadelphia police.

On the night of August 28, near the intersection of Twenty-Second Street and Columbia Avenue (now renamed Cecil B. Moore Avenue), two police officers--one white and one African American--approached a stopped car. Inside the car were Rush and Odessa Bradford, both drunk, by their own admission, and in the midst of a heated argument. When the officers approached Odessa Bradford, who was in the driver's seat, she turned her fury on them, and within minutes, a crowd began to form around the two cars. As police arrested both Bradfords, bystanders began throwing bottles and rocks.

Because it was a hot Friday night in a working class part of the city, many people were outside--walking, going and coming from bars, restaurants, and the movie theater, or simply sitting on stoops. By the time police officers began to descend on the neighborhood, rumors were already spreading that a white police officer had beaten a pregnant African American woman to death.

The rumor tapped into a deep distrust of the city's police force in the African American community of North Philadelphia. It was an impoverished, crime-riddled part of the city that police and journalists referred to as "the Jungle." And while it was more integrated than police forces in many major cities, Philadelphia's police department was still overwhelmingly white.

Within a few hours, the rioting spread over dozens of blocks, with rioters smashing store windows up and down Columbia Avenue, where many businesses were owned by Jewish merchants. Police could do little to contain the violence, as prisoners were pulled from police cruisers by rioters and bricks and bottles seemed to rain down from every window.

Over the next two nights, nearly 2,000 police officers arrived in North Philadelphia and a curfew was imposed. By August 30, the rioting was over. The grim result of three days of rioting was 341 injuries, more than 700 arrested, at least one death. (Some sources say there were two deaths.) More than 700 buildings were damaged, and while there are businesses and other signs of life in the neighborhood, North Philadelphia has never entirely recovered. According to one writer, the riots "served as exclamation point of deindustrialization and racialized poverty that came to define North Philadelphia."

The riots also helped launch the political career of Frank Rizzo, who served as Deputy Police Commissioner at the time. Rizzo's relationship with the city's African American community was contentious and his critics accused him of using racial profiling. There would be other race-related controversies during Rizzo's tenure, including the raiding of a Black Panther office and the heavy-handed treatment of MOVE members in 1978. Capitalizing on his "tough on crime" image, Rizzo was elected to his first term as mayor in 1972.

In 1987, a section of Columbia Avenue between Front and 33rd Streets was renamed Cecil B. Moore Avenue, in honor of the Philadelphia civil rights leader who urged rioters to go back to their homes.
Sources
Bunch, Will. 'Gathering Storm:' The Philly Riots of '64. philly.com. August 27, 2014. Accessed February 04, 2019. http://www.philly.com/philly/news/Gathering_.html.

Elkins, Alex. Columbia Avenue Riot. Encyclopedia of Greater Philadelphia. . Accessed February 04, 2019. https://philadelphiaencyclopedia.org/archive/columbia-avenue-riot/.

Wallace, Ethan. Ruminating on Lost Columbia Avenue. Hidden City Philadelphia. August 29, 2014. Accessed February 05, 2019. https://hiddencityphila.org/2014/08/ruminating-on-lost-columbia-avenue/.