McKee Hall, Knoxville College
Introduction
Constructed in 1876, McKee Hall was the first building at Knoxville College, an institution of higher learning that was established in 1875 to provide educational opportunities for African Americans. During its history, the institution offered classes in a variety of subjects from the first-grade level in its early years to collegiate courses and degrees. Eight buildings on the campus of the historic Knoxville College campus were added to the National Register of Historic Places in 1980. The college lost accreditation and later closed its campus after its buildings were deemed unsafe. Knoxville College is currently offering classes online while its campus undergoes extensive renovations in preparation for a resumption of in-person classes.
Images
McKee Hall at Knoxville College. Photo by Brian Stansberry.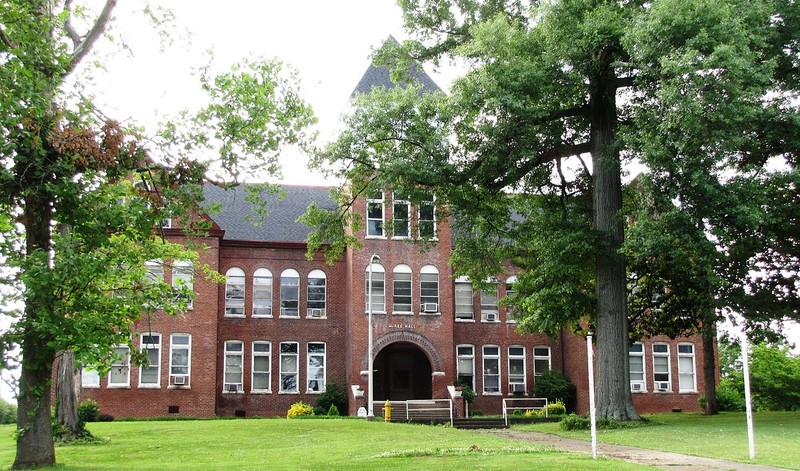 Knoxville College in 1903. McKee Hall is on the left, and Elnathan Hall is on the right.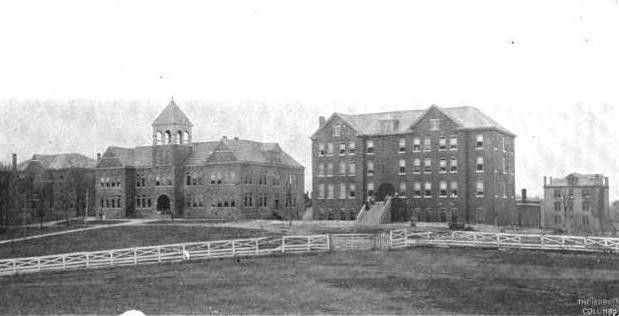 Backstory and Context
In 1875 the United Presbyterian Church of North America founded Knoxville College as part of their effort to provide educational opportunities and promote leadership among African Americans in the area, many of whom had been held in bondage prior to the end of the Civil War in 1865. In its early years, the school offered basic courses as well as a training program for teachers. .
By 1877, the school includes a regular collegiate program and offered classes in classics, theology, and science. In later years, the college added classes in agriculture, industrial arts, and medicine. Civil War chaplain Dr. John Schouller McCulloch served as the college's first president. Its first building, McKee Hall was constructed in 1876. Wallace Hall and McMillan Chapel were completed in 1891 and 1913 respectively. Students aided in the design and construction of the buildings, down to making the bricks on campus.
Tennessee offered financial support to the agricultural, industrial, and mechanical departments from 1902 until 1912, when the state established the Tennessee Agricultural and Industrial College. Other specialized programs at the college also gradually disappeared by 1931. Knoxville College then became a liberal arts institution. The school offered classes from first grade through college until the 1920s. The elementary department was discontinued in 1927, and the high school followed suit in four years later.
Dwindling enrollment in the latter decades of the twentieth century led to less operating revenue to pay instructors and culminated in the loss of the schools national accreditation in 1997. In 2015, the school also lost its state accreditation. At that tie, only eleven students were enrolled and the campus closed in February 2017 after its remaining buildings were deemed unsafe.
After a series of recent renovations, including repairs to cracked walls and leaky roofs, Knoxville College began enrolling students once again, albeit for online classes. At one point, it appeared as if the historic college would be converted into police and fire headquarters. However, the college now has plans to undergo a $6 million library renovation and a $12 million renovation of McKee Hall. It also hopes to construct a new James X. Reese Leadership Pavilion, named for one of Knoxville College's graduates and the college's current chairman.
Sources
Knoxville College History. Knoxville College. Accessed February 01, 2019. http://www.knoxvillecollege.edu/about-knoxville-college/brief-history/.

Whetstone, Tyler. Knoxville College takes 'first step' in grant process that could help restore campus. Knox News. October 12, 2018. Accessed February 01, 2019. https://www.knoxnews.com/story/news/local/2018/10/12/knoxville-college-hbcu-takes-first-step-process-restore-campus-buildings/1593204002/.

Stansberry, Brian. Knoxville-college-mckee-tn1. Wikipedia Commons. May 29, 2010. Accessed February 01, 2019. https://commons.wikimedia.org/wiki/File:Knoxville-college-mckee-tn1.jpg.


Additional Information