Willimantic Linen Mill Complex (ArtSpace Windham)
Introduction
ArtSpace Windham, a residential apartment building for artists, is located in a mill complex that was the largest in the world at the time of its completion in 1880. This building was part of the Willimantic Linen Company and the complex is listed on the National Register of Historic Places as the American Thread Company, the firm that acquired Willimantic Linen in 1898. The first mill at this site was called Jillson Mills and was established in 1824 by brothers William, Seth, and Asa Jillson. Their mill grew into a true powerhouse, driving the local economy for decades and providing employment until the 1980s.
Images
This postcard shows Mill No. 1 of the American Thread Company.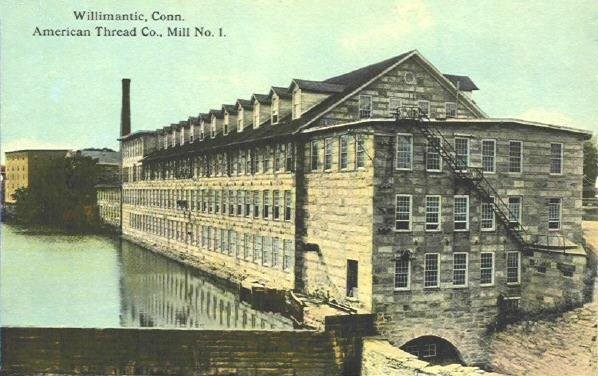 Backstory and Context
A group of Hartford investors formed Willimantic Linen Company in 1854 and bought Jillson Mills. They intended to produce linen but demand for linen decreased significantly when the Crimean War (1854-1855) broke out, which cut off the supply of European flax to America. The company decided to produce cotton thread as a result but kept the original company name.

Over time, the mill grew into a large complex, featuring several factory buildings, warehouses, and worker housing. The company built the massive Mill No. 4 factory in 1880, which was the largest mill building in the world at the time. Mill No. 4 also set the standard for factory building as its lights were powered by electricity, belts and other mechanical equipment were placed in conduits in the floor, and it was one-story tall.


Throughout its history, the mill produced cotton thread, which was a highly lucrative commodity in the 19th and early 20th centuries as sewing machines became popular. The company expanded reach by acquiring companies that made other textile products. As a result, it began to produce threads for a variety of goods such as tea bags, baseball stitching, and shoelaces. Investing in these other areas enabled the company to grow to its huge size.
In 1898, as mentioned above, the American Thread Company corporation bought Willimantic Linen Company. Production increased even more as a result. The workforce was diverse throughout the company's lifespan—especially after 1925 when the company hired workers to replace those who went on strike—consisting of Italian, Polish, German, Estonian, Ukrainian, Latvian, Lithuanian and Puerto Ricans immigrants.
Sources
"History of Willimantic, the Thread City." Public Archaeology Survey Team, Inc. Accessed February 3, 2019. http://www.past-inc.org/Willimantic/overall_history.htm.

Machado, Helen & O'Neill, Helen. "Fire Destroys Historic Mill at Former America Thread." Hartford Courant. June 11, 1995. https://www.courant.com/news/connecticut/hc-xpm-1995-06-11-9506110232-story.html.

"The Mills of Willimantic, CT." The Mill Museum. Accessed February 3, 2019. http://www.millmuseum.org/exhibits/permanent-exhibits/the-mills.


Additional Information