Fort Towson Historic Site
Introduction
Located in Choctaw County, Oklahoma, Fort Towson Historical Site preserves and interprets Fort Towson, an important antebellum frontier post. Established in 1824, Fort Towson arbitrated disputes between local Native American tribes and Arkansas settlers. In the 1830s, the fort served as an arrival point for thousands of Choctaw Indians who had been forcibly removed westward. During the Texas Revolution and Mexican War, Fort Towson provided an important staging ground for troop concentrations and logistics. By the 1850s, U.S. army posts further west diminished Fort Towson's value and it was abandoned. It saw service by the Confederate army during the Civil War, and the last Confederate forces to surrender did so in June 1865 at nearby Doaksville. The Oklahoma Historical Society acquired the property in the 1960s. Today the site interprets Fort Towson's history through its visitor center, and ruins of the original fort can still be seen.
Images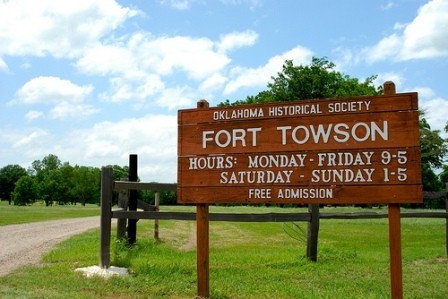 Sketch of the historical layout of Fort Towson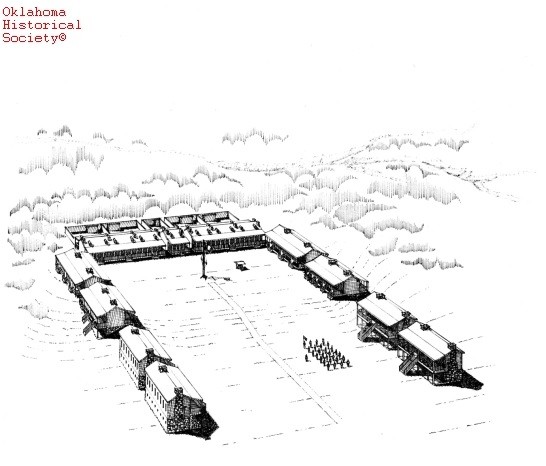 Fort Towson ruins circa 1914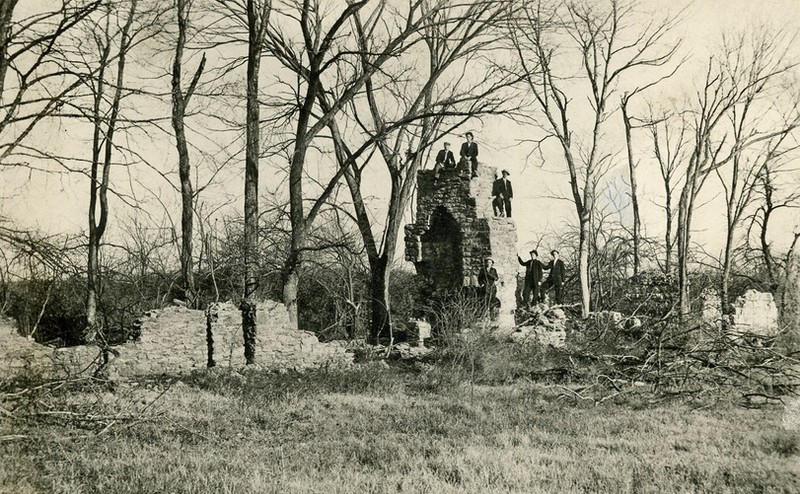 Backstory and Context
In the 1820s, the human geography of land west of the Mississippi River underwent serious transformations. White settlers migrated to Arkansas Territory, while the United States government planned the removal of Southeastern Indian tribes (such as the Choctaw and Chickasaw) towards land even further west, in what eventually became known as Indian Territory (present Oklahoma). To the south, the remote province of Texas belonged to Mexico. Native American tribes indigenous to the region, such as the Comanche and Kiowa, looked upon this encroachment with suspicion.
To secure American interests in the region, in May 1824 Colonel Matthew Arbuckle led two companies of the 7th U.S. Infantry west towards the junction of the Kiamichi and Red Rivers and established a new military post. Initially named "Cantonment Towson" in honor of War of 1812 veteran and Paymaster General Nathan Towson, the post consisted of a humble collection of tents and wooden buildings.
Although the remote post's small garrison generally hovered around 100 men, they found themselves tasked with a wide variety of duties. They ensured that white traders and poachers didn't hunt or sell liquor illegally on Indian land. They also struggled to contain white settlers. Arkansas Territory's border initially stretched further west than it does presently, and several hundred white settlers had migrated to "Miller County," Arkansas (in what is now southeastern Oklahoma). Cantonment Towson's small garrison removed these settlers from Indian lands and struggled to keep the peace between these settlers and local Indians. The garrison also had the arduous task of construction roads from Fort Smith, Arkansas to Cantonment Towson and from there to Fort Jesup in Louisiana.
In 1829, the U.S. Army decided to abandon the post, in part due to the complains of Arkansans unhappy with the fort's role in limiting settlement and preventing attacks on Native Americans. Indeed, shortly after it was evacuated, Arkansans burned the post's structures to the ground. The army's absence proved short-lived, however. In 1830, the post was reestablished, briefly as "Camp Phoenix" (rising from the burnt ashes of Cantonment Towson), but by 1832 as Fort Towson.
Fort Towson witnessed its greatest use throughout the 1830s. It was an arrival point for the forcibly removed Choctaws; 12,000 of whom were in Indian Territory by 1834. Josiah Doaks established the town of Doaksville a mile from Fort Towson on the Red River in 1831, and steamboats could navigate the Red and supply Doaksville and Fort Towson for several months out of the year. Road construction continued. The post itself was rebuilt, as more permanent stone and wooden buildings were erected. When Texas revolted from Mexican rule in 1835-1836, Fort Towson's garrison increased dramatically given its position near the Texas border; over 500 U.S. regular infantry and dragoons, as well as Arkansas volunteer militia, were stationed at the post in 1836. As the war scare subsided, the garrison's size returned to normal.
In 1845, the United States declared war on Mexico, a conflict stemming from American annexation of Texas and the United States' desire to conquer more Western land. With Texas now part of the Union, Fort Towson was no longer a border post, but it did play a critical role as a staging ground for U.S. troops on their way to Texas and Mexico. In the summer of 1846, 800 men could be found at Fort Towson, many passing through to the front.
With the end of the Mexican War, Fort Towson's garrison fell a few dozen men, and it became a relatively small, quiet quartermaster's post. With the construction of Fort Arbuckle further west, the post's value diminished. In 1854, it was abandoned by the U.S. Army. During its long tenure on the American frontier, many notable historical figures were stationed or passed through Fort Towson, including future Confederate President Jefferson Davis, Texas leaders Sam Houston and Stephen F. Austin, and future generals such as Winfield Scott Hancock.
During the Civil War, Confederate forces occupied Fort Towson, utilizing it as a supply post. Later in the war, Confederate Major General Samuel Bell Maxey utilized Fort Towson as is headquarters. The post never experienced attack. On June 23, 1865, Cherokee leader and Confederate Brigadier General Stand Watie surrendered to U.S. forces at Doaksville, the last Confederate general to lay down his arms in the Civil War.
In the 1960s, the Oklahoma Historical Society acquired the site, which included ruins of the fort. Today the site is preserved and interpreted by the OHS, and archaeological work has been conducted. The Fort Towson Historic Site offers a Visitor Center and period sutler's store.
Sources
1. Keith Tolman. "Fort Towson (fort)." The Encyclopedia of Oklahoma History and Culture. Web. Accessed December 11, 2020. https://www.okhistory.org/publications/enc/entry.php?entry=FO044
2. "Fort Towson Historic Site." Oklahoma Historical Society. Web. Accessed December 11, 2020. https://www.okhistory.org/sites/forttowson
3. Patrick B. McGuigan, "Bulwark of the American Frontier: A History of Fort Towson," in Early Military Forts and Posts in Oklahoma. Odie Faulk, Kenny Franks, and Paul Lambert, eds. Oklahoma City: Oklahoma Historical Society, 1978.
Image Sources
Oklahoma Historical Society: https://www.okhistory.org/publications/enc/entry.php?entry=FO044

Oklahoma Historical Society: https://www.okhistory.org/publications/enc/entry.php?entry=FO044

Additional Information