Defense of Little Egg Harbor
Introduction
The attack on October 15, 1778 in Little Egg Harbor is part of the only British attack on the shore of New Jersey south of the New York area during the American Revolution. 400 British soldiers stormed the beach and came across an outpost of 50 men. The British attacked the outpost as they slept, killing nearly everyone with bayonets before withdrawing as Count Casimir Pulaski main force was aroused. The attack was also called the Little Egg Harbor Massacre by the Americans because of the British brutality.
Images
Little Egg Harbor Massacre Marker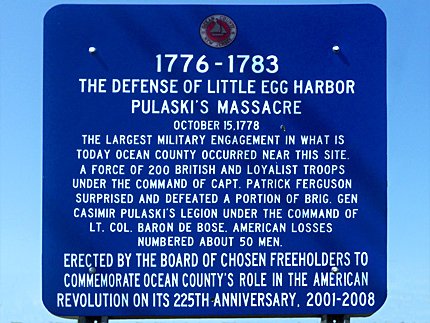 Little Egg Harbor Massacre Plaque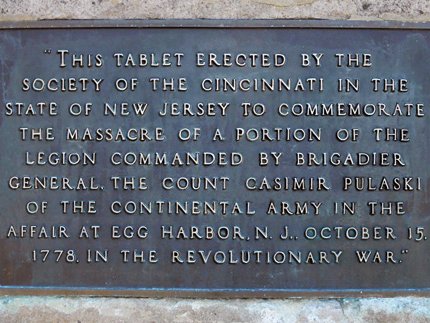 Little Egg Harbor Massacre Monument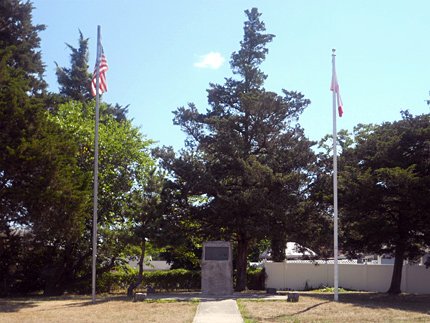 Backstory and Context
After the British attacked the village of Chestnut Neck, which was about five miles southwest of Little Egg Harbor, they remained on their ships in the waters of the Little Egg Harbor waiting for weather conditions to be favorable to allow them to sail back to New York City. General Casmir Pulaski of the Continental Army was sent to help defend Chestnut Neck but was too late. Pulaski and his men set up camp in Little Egg Harbor Township so that they could keep an eye on the British ships that were in the water nearby. A group of about fifty men from Pulaski's army made their camp on what was once known as Ridgeway Farm. Pulaski made his headquarters, where other groups of his soldiers were camped nearby, about a half mile to the west of the men at Ridgeway Farm.
The British received word on October 13, 1778 of where Pulaski's men were camped at and decided to sneak in and attack. On the late evening of October 14, 1778, about two hundred and fifty British soldiers came on shore on what is known as Osborn Island. The British, under the command of Captain Patrick Ferguson, forced a member of a Quaker family that owned Osborn Island to act as guide to lead them to Pulaski and his men. They traveled through the night on a dark road that was once called Island Road (Presently known as Radio Road).
On the early morning of October 15, 1778, the British attacked the group of fifty men that were camped at Ridgeway Farm, surprising them. The British killed or wounded most of Pulaski's fifty men, only taking five prisoners. As soon as Pulaski heard the sounds of gunfire he rushed to Ridgeway Farm with the rest of his men. The British were already gone. They attacked and left as quickly as possible. Pulaski and the rest of his men tried to catch up to the British however, Ferguson's men has removed planks from a bridge on Island Road which made it impossible for Pulaski's men to follow them.
The British were able to safely make it back to their ships and sailed back to New York City on October 22, 1778.
Sources
The Little Egg Harbor Massacre. American Revolutionary War. . . https://www.myrevolutionarywar.com/battles/781004-little-egg-harbor/.

Battle of Chestnut Neck. US Gen Net. . . http://www.usgennet.org/usa/nj/county/atlantic/Pinelands/ChestnutNeck.htm.

Affair of Little Egg Harbor. All Things Liberty. . . https://allthingsliberty.com/2017/10/affair-egg-harbor-massacre-pulaski-legion/.


Additional Information