Andrew Johnson Building
Introduction
This building opened in 1930 as a luxury hotel named in honor of Andrew Johnson, the seventeenth president of the United States. At that time, many Tennessee residents saw Johnson as a rags-to-riches type hero. Johnson was a controversial president in his own era and today for many of his actions and policies, including his support of Southern planters in the Reconstruction Era. The Andrew Johnson Hotel hosted many famous visitors over the years, from Elvis Presley to vice presidential candidate Lyndon B. Johnson and his wife. It is most well-known for being the place where twenty-nine-year-old Hank Williams, Sr. spent the last night of his life. The building is currently used as office space for Knox County, though there are plans underway to turn it into an apartment building or boutique hotel.
Images
The Andrew Johnson Building, photo by Brian Stansberry. The radio station WNOX, which is considered to have played a part in the development of country music, was located here in the late 1930s.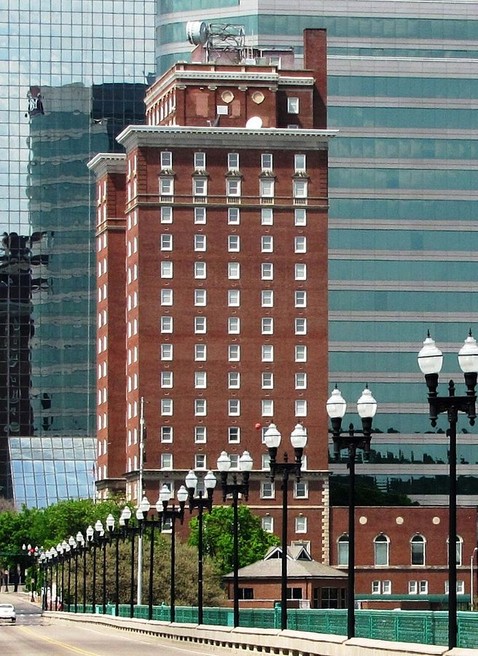 The Andrew Johnson Hotel in 1941.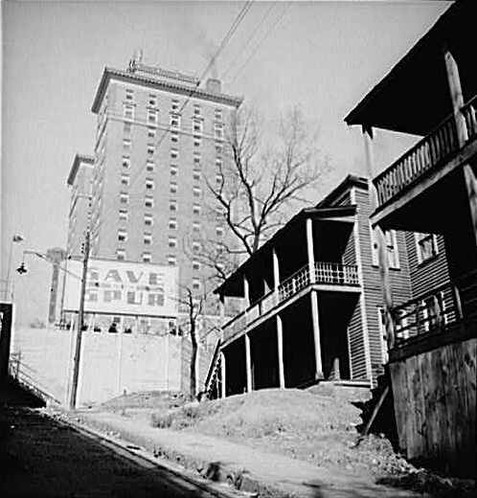 President Andrew Johnson, date unknown.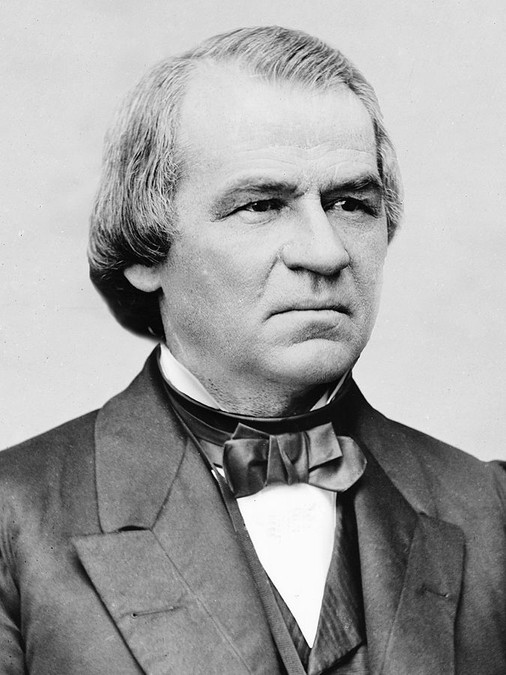 Backstory and Context
Andrew Johnson was born in Raleigh, North Carolina in 1808. Despite growing up in poverty, Johnson successfully entered U.S. political arena. When Tennessee succeeded from the Union before the Civil War, Johnson, one of the state's senators, remained in Congress, upsetting many Southerners. President Lincoln then appointed him Military Governor of Tennessee in 1862. Two years later, the Republican party chose Johnson to run for vice president, even though he was a Southerner and a Democrat. After Lincoln's assassination in 1865, Johnson became president and ushered in the age of Reconstruction. Significantly, Johnson vetoed the Civil Rights Act of 1866, which recognized African Americans as citizens and forbade discrimination against them. Still, the act passed after Congress garnered enough votes to override his veto. By that point, both Southerners and Northerners, as well as Republicans and Democrats, saw Johnson as a traitor to their respective causes. After violating the Tenure of Office Act, Andrew Johnson became the first American president to be impeached.
For decades, Andrew Johnson's reputation remained tarnished until some documents were discovered that made Johnson appear resolute and courageous. He was then thought of as a typical American hero, rising up from his position as a poor, small-town tailor and becoming president. Meanwhile, in Knoxville in the 1920s, plans were being laid for a new hotel to accommodate the droves of tourists already arriving in town to visit the then-unfinished Great Smoky Mountains National Park. The hotel was designed by Baumann & Baumann and would become the tallest building in East Tennessee for almost fifty years. Originally, the project was called the "Tennessee Terrace," but with this newfound pride in the president from Tennessee, it was renamed the Andrew Johnson Hotel.
Over the years, a long list of celebrities stayed in the Andrew Johnson Hotel. Amelia Earhart gave an interview in her room in 1936 (just one year before her disappearance) in which she revealed that she did not expect to live to an old age. In 1943, Russian composer and pianist Sergei Rachmaninoff rested at the hotel the night of his final performance. That same night, the hotel held a ball to celebrate the premiere of the film Tennessee Johnson, a heroic version of Andrew Johnson's life. Most famously, singer-songwriter Hank Williams spent the last night of his life in the hotel in 1952, though accounts differ as to whether Williams died in his room or in his car. Other guests included Tennessee Williams, King Hussein of Jordan, actor Anthony Perkins, and Duke Ellington.
The hotel was acquired by tobacco heir R. J. Reynolds Jr. in the 1940s and the property stayed in the family until 1973. The hotel declined during the 1970s as fewer people chose to stay in the more expensive historic hotels of America's cities and the building changed hands several times before being renovated and used as office space starting in the 1980s. In 1980, the Andrew Johnson Hotel was added to the National Register of Historic Places. Twelve years later, it became home to the offices of the local school system and several county offices. In 2015, the school leaders indicated a desire to move from this building and the city began the process of soliciting bids for the property. Proposals for the historic building include conversion to an apartment building with commercial space on the first floor along with proposals to return it to use as a hotel.
Sources
Freidel, Frank and Hugh Sidey. Andrew Johnson. White House. Accessed January 26, 2019. https://www.whitehouse.gov/about-the-white-house/presidents/andrew-johnson/.

Andrew Johnson Hotel. Knoxville History Project. Accessed January 26, 2019. https://knoxvillehistoryproject.org/andrew-johnson-hotel/.
Whetstone, Tyler. Andrew Johnson Building sale remains incomplete goal of Mayor Burchett's time in office. Knox News. June 11, 2018. Accessed January 26, 2019. https://www.knoxnews.com/story/news/local/2018/06/11/downtown-knoxville-aj-building-sale-delayed/678647002/.
Whetstone, Tyler. Knoxville's historic Andrew Johnson Building gets 7 proposals for redevelopment. Knox News. July 13, 2017. Accessed January 26, 2019. https://www.knoxnews.com/story/news/local/2017/07/13/knoxvilles-historic-aj-building-gets-seven-proposals-redevelopment/475113001/.
Andrew Johnson Building. About Knoxville. Accessed January 26, 2019. http://www.knoxvilletennessee.com/downtown/andrew-johnson.html.

Stansberry, Brian. Andrew-johnson-building-south-tn1. Wiki Commons. April 17, 2010. Accessed January 26, 2019. https://en.wikipedia.org/wiki/File:Andrew-johnson-building-south-tn1.jpg. Photo source.
Additional Information