Columbia Theatre
Introduction
The crown jewel of the Northshore, the Columbia Theatre stands as one of Hammond's most detailed and important community structures. The 1,200 seat theater opened its doors on September 7, 1928. It showed a mixture of movies, plays, and vaudeville to the booming populace of Hammond.
Images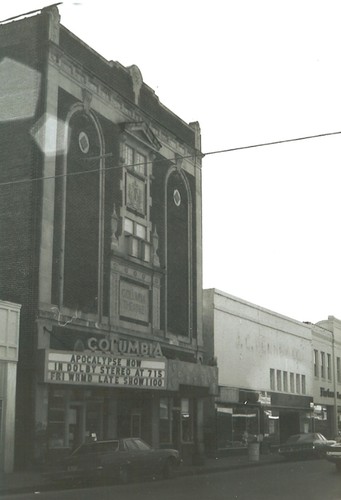 Backstory and Context
As theaters became multiplexes and downtown Hammond fell out of favor, the theater struggled to stay open and closed its doors in 1972.
In 1992 the Hammond Downtown Development District secured funds from the State of Louisiana to renovate the Columbia to its current brilliance. The buildings on either side were purchased for use as meeting halls and dressing rooms, the adjunct spaces needed for theater operation to maintain the original seating capacity.
After the renovation was completed, the structure was donated to Southeastern Louisiana University. The curtain went up in 2002. The 3-story red brick façade would be fairly plain without the heavy limestone decorations. Two story arches flank the building's name plate and classic Renaissance Jacobian details. The large first-story storefront windows contrast with the smaller opening above.
Perhaps most distinctive about the Columbia Theatre is the neon marquis drawing attention to this restored gem and proclaiming events in the colors of Mardi Gras: purple, green, and gold.
Additional Information