Old Fagan Drugstore
Introduction
Built in 1903, the Old Fagan Drugstore is one of the most unique examples of Victorian architecture in downtown Hammond and one of the few remaining pressed tin façades in the state. Victorian style eschews the old adage that less is more, choosing instead to always have more––more details, more elements, and more European influence.
Images
The Old Fagan Drugstore is the building on the right.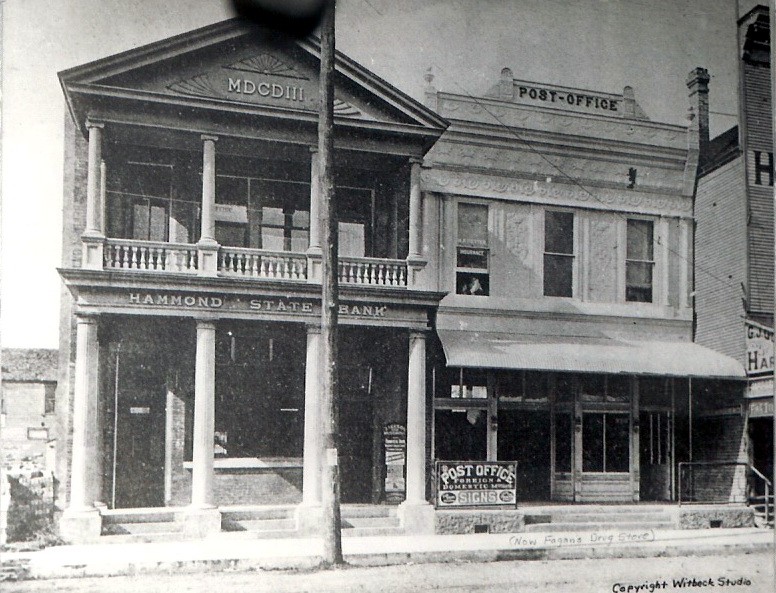 The Old Fagan Drugstore is the building on the right.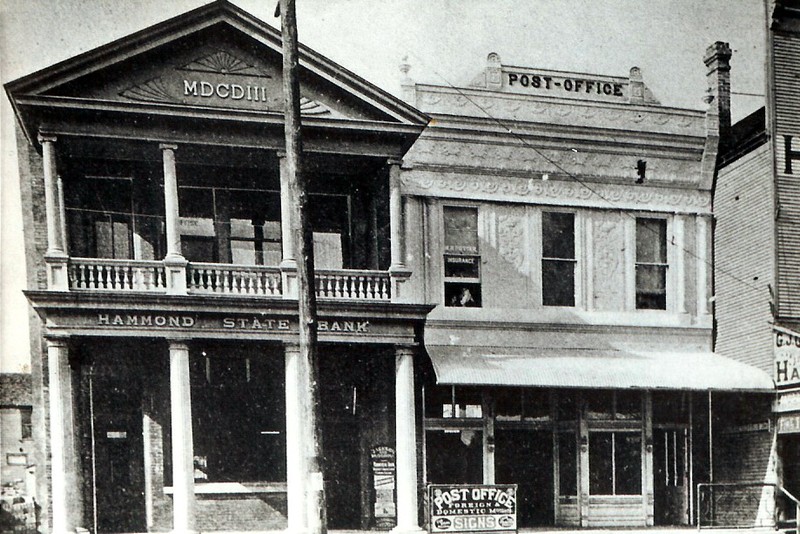 Backstory and Context
The metal tiles on the second floor came to the United States in the 1850s as an inexpensive copy of European decoration at the time. They are meant to resemble plaster reliefs. Installation of plaster is difficult because it's heavy, messy, and expensive.
Americans chose to mimic these details in thin metal tiles often made of tin. These tiles often hit the peak of popularity in the 1880s and 90s as ceiling coverings. If left unpainted, the reflection of light off the tiles made the ceiling seem higher and made the room appear larger. When painted, the details in the metal appeared intricate and very expensive. The tiles stopped being produced because of the demands for metal caused by World War I.
Very few people applied this form of Victorian style to the façade of their commercial buildings, making this building unique locally and nationally.
The double columns at each side of the façade flank a seashell motif. Above the columns sit fleur de lis, a common symbol of Louisiana. Below the seashells, marine creatures hold decorative fountains and scrolls. Inside, the owners used pressed tin on the walls as well as the ceiling.
While serving as one of Hammond's earliest government buildings, the building's parapet did not say "1903" but "Post Office." Significant alterations have not diminished the beauty of this distinctive building.
Additional Information