Historical Marker: Centennial Park
Introduction
This historical marker commemorates the 100-year anniversary of the New York State School of the Blind, which opened in 1868 and continues to operate today. The school is located across the street from where the marker is located in Centennial Park. Its original building no longer exists. The purpose of the school was and is to help blind individuals live an independent, fulfilling life.
Images
The marker is located next to Richmond Avenue, directly across the street from the school.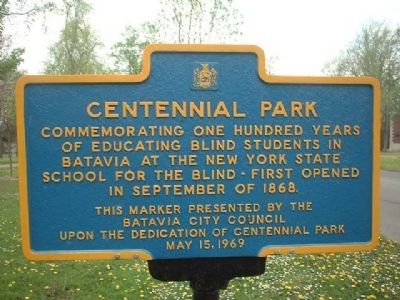 The old school building was surrounded by green space as it is today.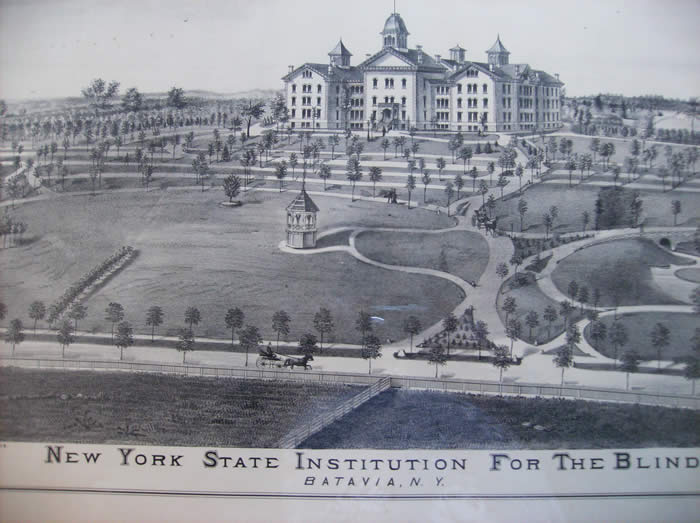 Backstory and Context
In 1865, the New York Legislature authorized the establishment of the school, which was originally called the New York State Institution for the Blind. Batavia was chosen because it was considered a healthy place (free of diseases), had easy access to water and had a railroad station.

Construction was completed in 1868 and 17 students were admitted. Students could take classes in a variety of subjects including arithmetic, reading, spelling, geography, and history. They were also taught practical skills such as broom making, woodworking, farming, typing, and rug weaving. There were even classes in playing musical instruments. The school has been very effective as former students have had successful careers in a wide array of fields including teaching, performing, and broadcasting.
Sources
"Centennial Park." The Historical Marker Database. Accessed January 23, 2019. https://www.hmdb.org/marker.asp?marker=39634.

"History of the New York Institution for the Blind." New York State School for the Blind. Accessed January 22, 2019. http://www.p12.nysed.gov/specialed/nyssb/history.
Additional Information