Cedarcroft/Bayard Taylor House
Introduction
Completed in 1860, Cedarcroft was the home of celebrated poet, novelist, travel writer, lecturer and diplomat, Bayard Taylor, from 1860 until 1874. While Taylor still travelled extensively during his ownership of Cedarcroft, he did write while spending his summers there. Known for its 4.5-story square tower, the house initially sat on 200 acres, over which Taylor roamed and planted numerous trees, flowers, and shrubs. Cedarcroft now sits on only five acres, the rest was developed into a residential neighborhood during the 1950s and 60s. Since Taylor's death, it has served mostly as a private residence to numerous individuals and serves that purpose today. It was designated a National Historic Landmark in 1971.
Images
Cedarcroft is dominated by the home's 4.5 story tower.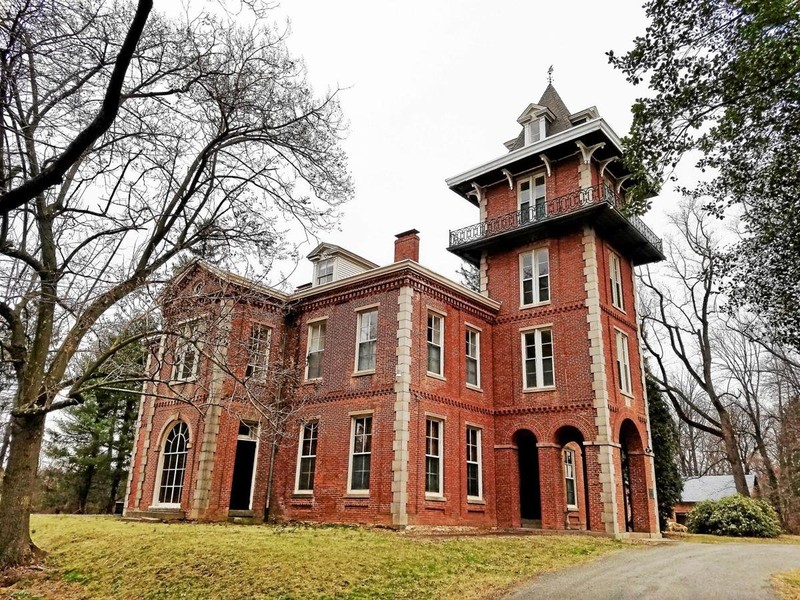 A 1905 postcard featuring a photo of Cedarcroft.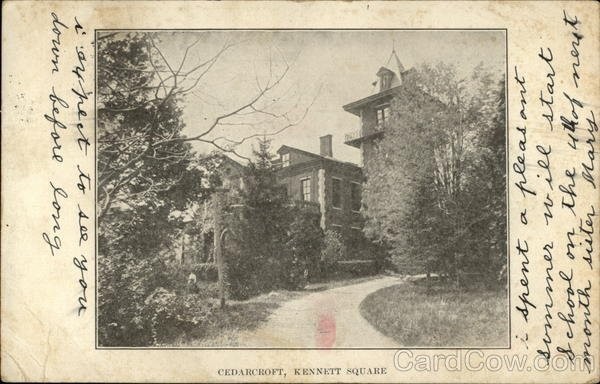 Cedarcroft's central stairway in an image taken in 1933.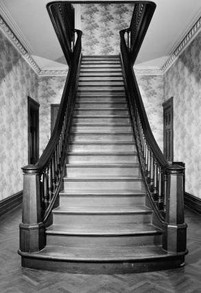 Bayard Taylor was one of the country's most popular poets and travel writers during the late 19th century.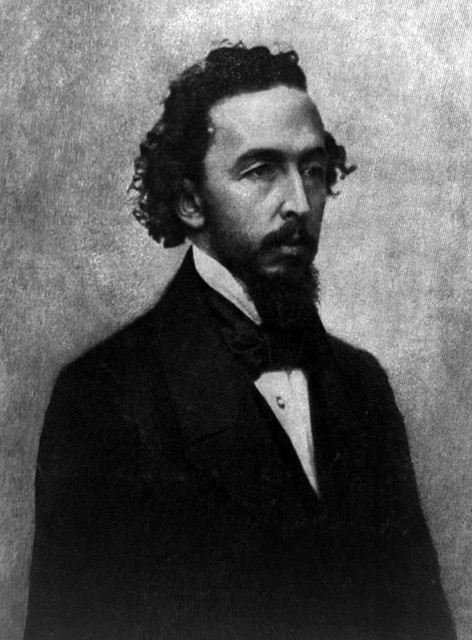 The headstone of Bayard Taylor's grave is as unique as the poet and Cedarcroft.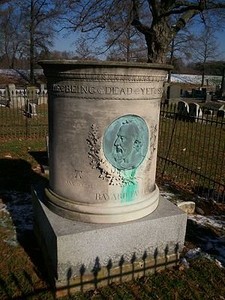 Backstory and Context
Bayard Taylor was born in 1825 at Kennett Square to Quaker parents. He was educated at nearby West Chester and Unionville and apprenticed to a printer at age 17. He published his first volume of poetry in 1844 at age 19. He then used the money from his poetry to travel throughout Europe, mostly on foot. During this time, his travelogues were published in the Saturday Evening Post and U.S. Gazette. Upon returning home, his stories were collected and published as Views Afoot, or Europe Seen with Knapsack and Staff.
Thus, began Taylor's peripatetic lifestyle that he continued throughout his life. He traveled to California to cover the gold rush, writing for Horace Greeley's New York Tribune. He also toured Egypt, Palestine and other Mediterranean countries and published another volume of poetry on those travels. Next, he headed off to India, China and Japan. In between his travels he managed to get married in 1849 (unfortunately, his wife died of TB the next year) and gave public lectures on his travels throughout the United States.
Taylor married again in 1857, to Maria Hansen, and the couple had a daughter in 1858 which precipitated the building of Cedarcroft. Taylor then went on to serve as a diplomat to Russia and wrote his first novel, Hannah Thurston, in 1863. He later travelled throughout Colorado and published Colorado: A Summer Trip soon after. Taylor is also credited with penning the first American gay novel in the form of Joseph and his Friend: A Story of Pennsylvania in 1870. Finally, he was appointed minister to Prussia in 1878 and died in Berlin months after arriving. His body was returned home and interred at Kennett Square's Longwood Friends Cemetery.
After the birth of their daughter, Taylor decided to build a permanent home on 200 acres he owned just north of Kennett Square and Cedarcroft was the result. He personally supervised construction of the large stone and brick home, laying the cornerstone and burying a zinc box time capsule which contained some coins, a newspaper, a copy of Views Afoot and an unpublished poem he did not want read until 500 years hence.
Cedarcroft is of an Italianate design that features a hipped roof. However, its most noteworthy feature is its large, square tower capped by a pyramidal roof with a wrap-around balcony. Taylor also spent countless hours planting and tending to his garden and amateur arboretum. Cedarcroft hosted numerous literary figures of the day to include Richard Henry Stoddard and Ralph Waldo Emerson. Upon Taylor's death, the house and land were sold by his widow in 1882 and was then sold again at Sherriff's sale in 1900. It then served for a short time as a private boys' school until it was bought and restored in 1913. It has passed through the hands of various private owners and currently serves as such.
Sources
Preston, Richard. "National Register of Historic Places Nomination Form." United States Department of the Interior/National Park Service. July 20, 1971. Accessed January 22, 2019. https://npgallery.nps.gov/NRHP/GetAsset/NHLS/71000693_text
Dixon, Mark. "Was Bayard Taylor America's First Gay Novelist?" Main Line Today. August, 2014. Accessed January 22, 2019. http://www.mainlinetoday.com/Main-Line-Today/August-2014/Was-Bayard-Taylor-Americas-First-Gay-Novelist/
"Cedarcrest." Living Places. Accessed January 22, 2019. http://www.livingplaces.com/PA/Chester_County/East_Marlborough_Township/Cedarcroft.html
Pisasale, Gene. "Bayard Taylor's gift to Kennett Square: An old Cannon." Southern Chester County Weeklies. March 18, 2017. Accessed January 22, 2019. https://www.southernchestercountyweeklies.com/news/bayard-taylor-s-gift-to-kennett-square-an-old-cannon/article_299eaa9d-c16e-5481-80e8-914bbca9621f.html
"Bayard Taylor Biography." Kennett Library. 2017. Accessed January 22, 2019. http://kennettlibrary.org/taylor.cfm
Additional Information