Medina Armory
Introduction
Now home to the Orleans County YMCA, this imposing building was once the Medina Armory. It was built in 1901 to house the 29th Separate Company of the U.S. National Guard. State architect George Heins designed the building in the Late Victorian style and incorporate castle-like features such as crenelated parapets (the gaps on the top of the towers above the entrance). Its exterior facade is made with Medina sandstone, which gives it an even more unique appearance. Armories built in New York and the rest of the country in this period throughout were often designed to resemble castles to show the strength and reach of the federal government, especially in its ability to squelch labor strikes. The armory was added to the National Register of Historic Places in 1995.
Images
Medina Armory was built in 1901 and is now the Orleans County YMCA.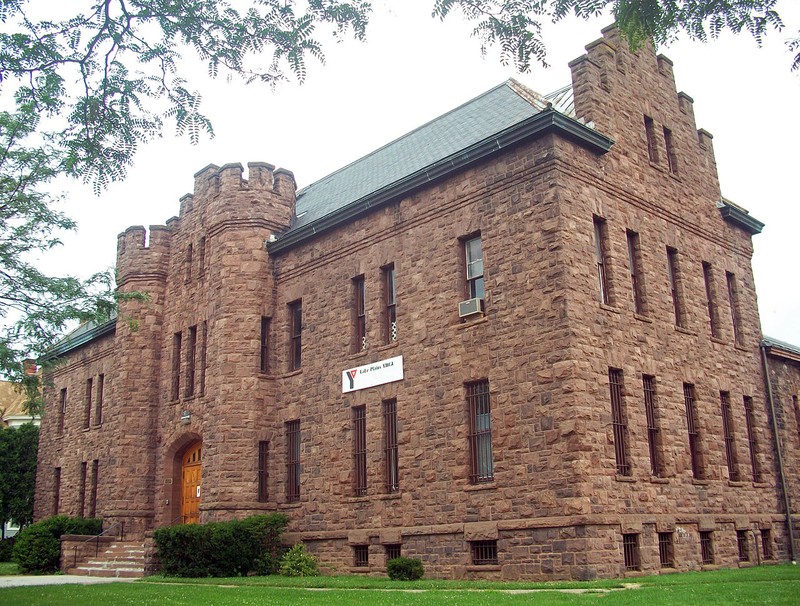 Backstory and Context
National Guard units occupied the armory until 1977. The 29th Separate Company officially mustered for the first time in 1891 and used a building located on Main Street. It took ten years for armory to be built even though calls for its construction began soon after the Company formed. The 29th served in the Spanish-American War (1898) and was deployed to assist in tamping down the Buffalo Street Car Strike of April 9-12, 1913. By this time its designation changed to Company F, Third Regiment. It then served in World War as part of the 27th Division. In February 1919, it became Company F. 108th Infantry and later served in World War II as Company L, 65th Regiment. In its last years, the unit was Company C. of the 174th Infantry. The YMCA has used the building since 1985.
Sources
Todd, Nancy L. "Medina Amory." National Park Service - National Register of Historic Places Nomination Form. April 13, 1995. https://s3.amazonaws.com/NARAprodstorage/lz/electronic-records/rg-079/NPS_NY/95000399.pdf.

Photo: Wikimedia Commons
https://en.wikipedia.org/wiki/Medina_Armory#/media/File:Medina_Armory.jpg

Additional Information