Gilmore House "The Airplane House"
Introduction
The only Frank Lloyd Wright design built in Madison during his Prairie School years, this famous home was originally built for the family of Eugene A.. Gilmore in 1908. The site, located at the highest point in University Heights, offered Wright a magnificent opportunity. He positioned the house just below the crown of the hill and placed the principal living rooms on the second floor, providing the Gilmores with unrivalled panoramic views of Madison and the surrounding Four Lakes region. Copper-roofed wings extend outward from the forward-facing center pavilion with its triangular balcony. The resulting composition soon earned the building the local nickname of"the airplane house."
Images
The "Airplane House" was added to the National Register of Historic Places in 1973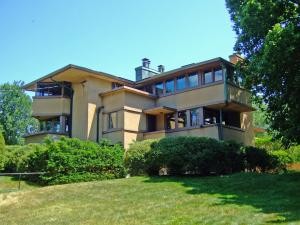 Backstory and Context
In 1922, the original owner of this home was appointed Vice-Governor of the Philippine Islands. In 1930, Eugene Gilmore became the dean of Iowa State University's law school. He would later become the president of that institution.
Additional Information