First Presbyterian Church
Introduction
The First Presbyterian Church was founded in 1793 by Matthew Brown, who was the first pastor and also the President of Washington Academy at the time. Prior to the current building, the congregation worshipped at the Washington Academy and also the second courthouse where the pastor would stand on the judge's bench and preach. The current church building was built in 1868 and has served as an important part of the history of Washington, PA and the surrounding area. James I. Brownson, who was also the President Pro Tempore for Washington and Jefferson College, was pastor for over 50 years.
Images
This is a postcard of the church from 1908.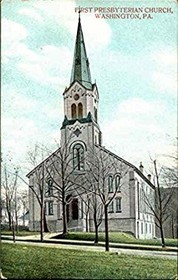 Sources
. . http://www.fpc1793.org.