Colvin House
Introduction
The 1909-built Colvin House was designed by lauded Prairie School architect, George W. Maher, a contemporary of Frank Lloyd Wright. The building stood among many mansions that lined Sheridan Road in the first two decades of the twentieth century. Chicago's burgeoning printing industry produced many of the era's wealthy in Chicago, including Colvin who worked as an executive with F.W. Hall Printing Company during the late nineteenth and early twentieth centuries.
Images
Colvin Mansion, designed by Prairie School Architect, George W. Maher.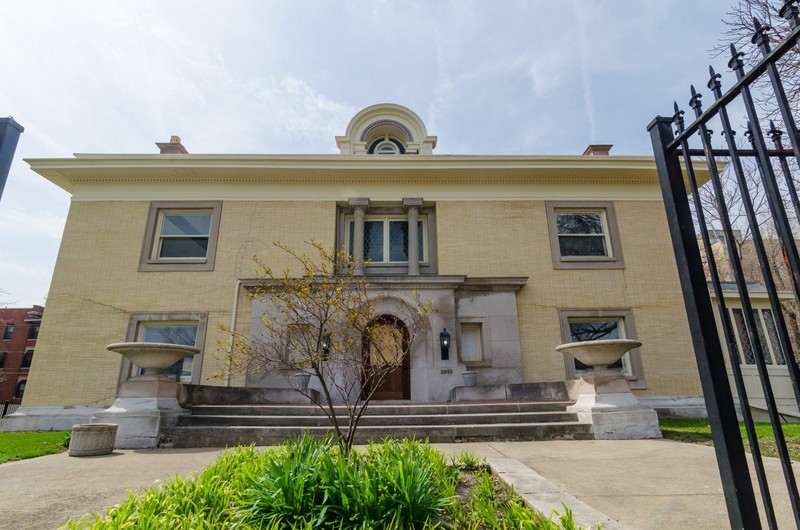 Backstory and Context
The Colvin House, built in 1909 by George W. Maher, a contemporary of Frank Lloyd Wright, was one of many lakefront mansions on Chicago's north side. Maher built the mansion for Edwin M. and Clara Colvin, and their four children. Edwin Colvin moved to Chicago in 1885 worked as an executive with F.W. Hall Printing Company, one of the many printing companies that enjoyed resounding success in Chicago around the turn of the twentieth century.
The building's architect, George W. Maher (1864-1926) was an influential architect and significant contributor to the Prairie School movement, as well as the American Arts and Crafts design. He was born on Christmas Day in 1864 in West Virginia. Financial difficulties forced his family to move around quite a bit until they settled on Chicago where, at the unusually young age of thirteen, he became an apprentice in the architectural firm of Bauer and Hill. At the time, Chicago was in the midst of a tremendous recovery from its Great Fire of 1871, which included an architectural boom dominated by innovative engineering and designs. By the late 1880s, Maher worked alongside Frank Lloyd Wright and George Grant Elmslie at the prestigious office of Joseph L. Silsbee. And then, in 1888, Maher opened his own practice.
Maher designed more than 40 homes and several commercial projects; he was elected a Fellow of the American Institute of Architects in 1916.
The house stood on Sheridan Road at a time when mansions lined the street. The Chicago Landmarks Commission notes how the mansion was "one of the most distinguished to survive along Sheridan Road." Furthermore, the mansion "epitomizes the distinctive architectural style of its designer. Dominant central entries, broad, hipped roofs, bold rectangular massing, and complementary landscaping are common features of the work of [George W. Maher]. "
The home's exterior remains largely the same today as it was when constructed; however, the interior features over-the-top plaster ornamentation common to the 1920s when it underwent its first renovation. Damage and neglect led to another twenty-first-century renovation that has altered the inside, somewhat, but also helped the building survive. Today, the house now offers five private offices, five meeting rooms, two spacious event rooms, and two workrooms.
Ticketed events and occasional tours transpire at the house.
Sources
Cohen, Stuart and Susan Benjamin. North Shore Chicago: Houses of the Lakefront Suburbs, 1890–1940. New York: Acanthus Press, 2012. https://issuu.com/acanthus_press/docs/north_shore_chicago_extract.

"George W. Maher." georgemaher.com. Accessed January 14, 2018. http://www.georgemaher.com/index.html.

Taussig, Meredith. "Preliminary Staff Summary of Information on the Edwin M. Colvin House, 5940 North Sheridan Road, Chicago, Illinois." Chicago: Commission on Chicago Landmarks, 1985.

Photo Source
Colvin Mansion: Eric Allix Rogers photo, can be found at https://openhousechicago.org/sites/site/colvin-house/ and http://www.architecture.org/news/happening-caf/meet-an-ohc-site-host-angela-valavanis-of-colvin-house/


Additional Information