Beth Sholom Synagogue
Introduction
Dedicated in 1959, the Beth Sholom Synagogue of Elkins Park is the only Jewish house of worship designed by famed American architect Frank Lloyd Wright. Inspired by the inspirational vision provided by the congregation's leader, Rabbi Mortimer Cohen, Wright accepted his commission to design the synagogue in 1953. The unique Pyramidal design of the synagogue is greatly improved by the fact that it's constructed primarily of translucent glazed glass. This semi-clear covering permits the interior to be illuminated by natural light during the day and allows it to glow from within at night with its internal lighting. The synagogue is open for tours throughout the year. It was designated a National Historic Landmark in 2007.
Images
The Beth Sholom Synagogue was consecrated in 1959 and has remained largely unchanged since.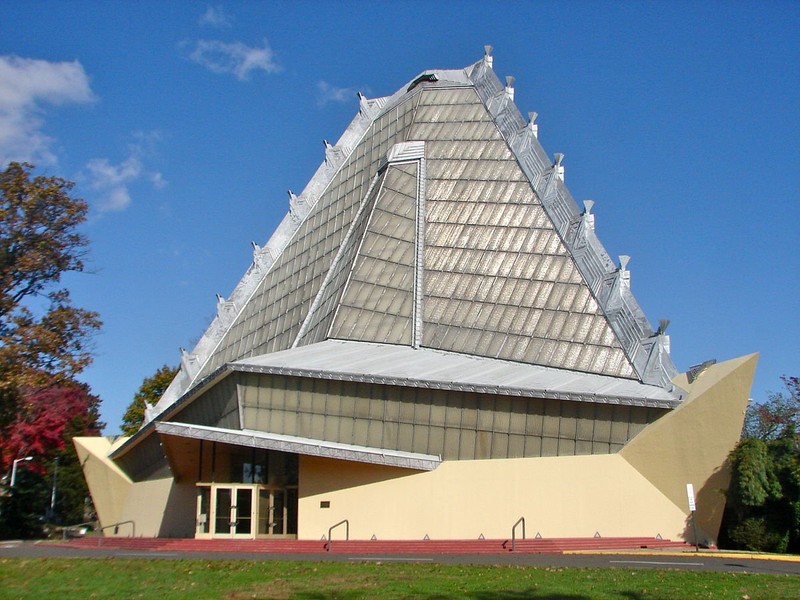 The synagogue seems to glow at night.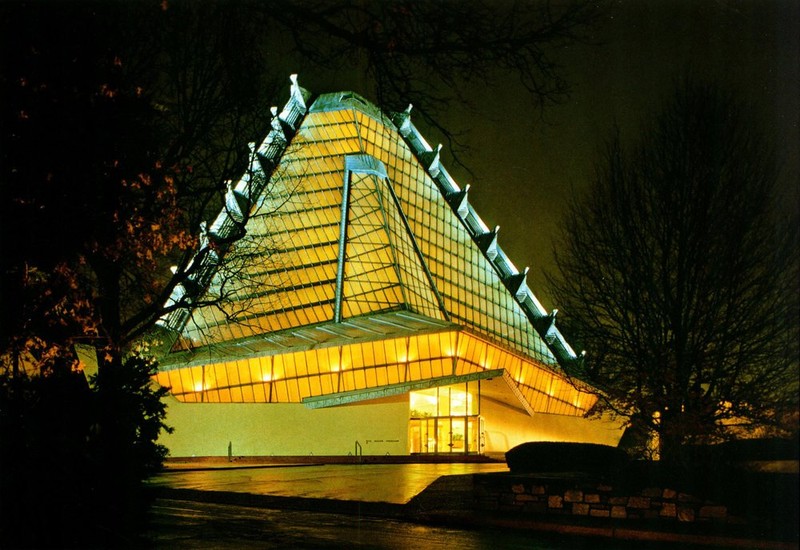 The synagogue as seen from the interior.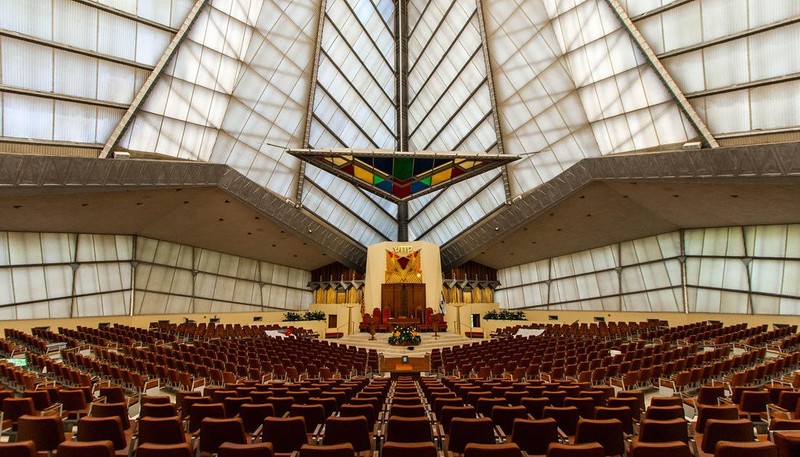 Frank Lloyd Wright (center, with overcoat) and Rabbi Cohen (to Wright's left) inspect the synagogue during its construction.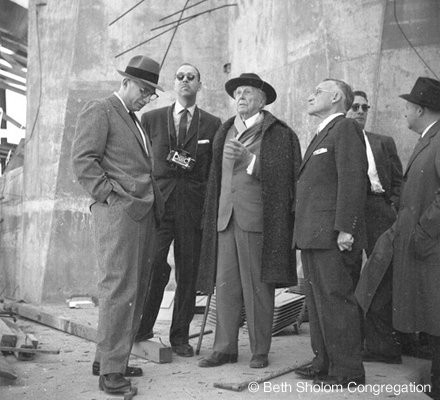 Many believe that Wright based his design for the synagogue on the drawings from his unbuilt steel cathedral from 1926.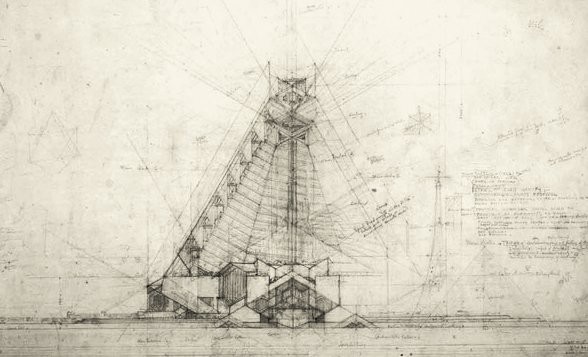 Backstory and Context
Hebrew for "House of Peace," the Beth Sholom Synagogue was initially formed in 1918, at the end of World War I, in Philadelphia. Eventually, it followed the people to the suburbs shortly after World War II and settled in Elkins Park. The congregation then built the Beth Sholom Center, designed by Isaac Demchick, in 1951. However, Rabbi Mortimer Cohen sought something grander for his congregation, a synagogue that represented Jewish beliefs and philosophy designed by none other than America's most famous architect, Frank Lloyd Wright. In pursuit of that goal, Cohen wrote to Wright detailing his vision and offering Wright a commission to design a synagogue befitting his congregation. Wright, moved by Cohen's words, accepted and thus began a six-year collaboration between the rabbi and the architect.
Cohen took it upon himself to describe to Wright what he, and his congregation, desired for their house of worship. Cohen understood that Wright had to understand a bit of Jewish theology, philosophy and symbolism in order to create their combined vision. Cohen, specifically, utilized tent and mountain metaphors and Wright took it from there. Wright went on to design a synagogue that reaches upward like a "…luminous Mount Sinai."
Ground on the synagogue was broken in November of 1954 and the base of reinforced concrete and steel was completed soon after. Rising from that solid base, Wright designed a three-sided pyramid that is constructed of numerous panels of glazed glass that resembles Cohen's concept of both a mountain and a welcoming tent. Construction continued through the 1950s and Wright occasionally visited the site to monitor progress. His last visit occurred in January of 1959 and he died a few months later, in May. Unfortunately, he did not live to see his design completed.
The main sanctuary is located on the synagogue's second floor and can accommodate over 1,000 people. The seats are arranged in a horseshoe fashion on a gentle slope. This was done to ensure the people feel part of the larger congregation as they can see the faces of others rather than just the backs of their heads. The fiberglass ceiling soars 110 feet above their heads and the massive room lightens and brightens as clouds drift past and it turns a warm golden color at sunset.
The synagogue has been altered little since its construction, the largest renovations occurred when it was brought up to ADA standards in 2015. A visitor's center was created in 2009 and since that time, docent led tours are conducted on an irregular basis throughout the year. This irregular schedule is predicated by the fact that the synagogue is a very busy place. No tours take place on Saturdays (the Jewish Sabbath) or during Jewish holidays and other events, such as weddings, bar mitzvahs, and funerals limit when the tours can be conducted. Please visit the synagogue's website or call for tour dates and times.
Sources
Walser, Lauren. "Beth Sholom SYnagogue: Frank Lloyd Wright's Only Synagogue." Saving Places. March 16, 2016. Accessed January 14, 2019. https://savingplaces.org/stories/beth-sholom-synagogue-frank-lloyd-wright-only-synagogue#.XDzcR7nsaUk
"Jewish American Historical Places: Beth Sholom Synagogue." Jewish Virtual Library. Accessed January 14, 2019. https://www.jewishvirtuallibrary.org/beth-sholom-synagogue
Green, David. "This Day in Jewish History//1953: Rabbi Taps Frank Lloyd Wright, Who Builds the Weirdest Synagogue in the U.S." Haaretz. November 16, 2016. Accessed January 14, 2019. https://www.haaretz.com/jewish/1953-rabbi-taps-frank-lloyd-wright-to-build-shul-1.5461879
Kehl, James. :Beth Sholom Synagogue." jkehl. Accessed January 14, 2019. https://jkehl.com/beth-sholom/
Gelernter, David. "A Tale of Two Synagogues." Brandeis University. Winter, 2012. Accessed January 14, 2019. https://www.brandeis.edu/tauber/publications/a_tale_of_two_synagogues.pdf
Additional Information