Dayton Arcade
Introduction
Built in 1902, the Dayton Arcade is a historic complex of five connected buildings. It is perhaps best known for its ornate facade, which exhibits Renaissance Revival and Dutch architecture and many interesting elements such as oak leaves, ram heads, and garlands of grain. The arcade is also known for its central enclave that is topped by a 90-foot diameter glass dome. It was designed by architect Frank M. Andrews, who designed other buildings in the city. The idea for the arcade originated with Eugene J. Barney of the Barney & Smith Car Company, a railroad company based in Dayton. When it opened, the arcade, was state-of-the-art, featuring a cold storage plant, elevators, and its own power plant. The upper floors were used for housing, office and retail space, and the larger spaces were used for a farmer's market. As of July 2018, plans are in the works to revive the arcade, led by a partnership of three developers. They plan to offer a mix of housing, retail, and public space. An innovation center and a culinary kitchen incubator program will be included as well.
Images
The Dayton Arcade was built in 1902 and is listed on the National Register of Historic Places.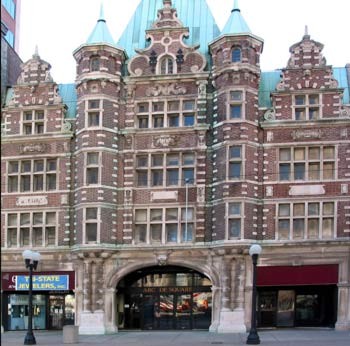 This 1904 program for a city festival shows how central the Arcade was to the downtown area during its rapid growth in the early 20th century.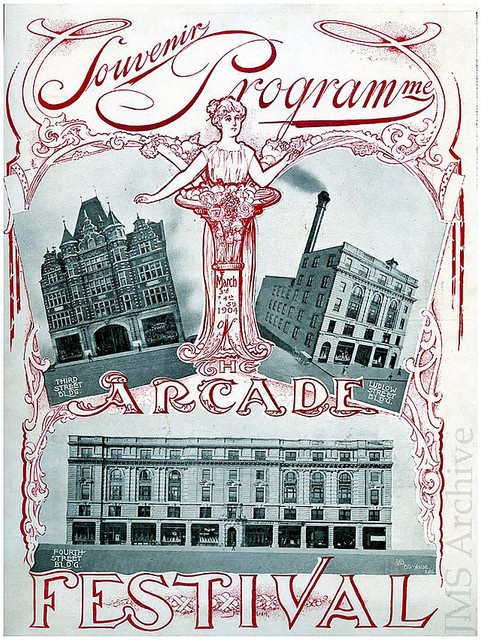 "Grand Eccentrics: Turning the Century: Dayton and the Inventing of America" - Click the link below for more info about this book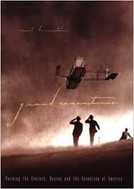 Backstory and Context
The arcade was a major attraction during the first half of the 20th century. It was the place where visitors could buy all kinds of food, including specialty meats, baked goods, flowers, and various luxury items.

Like other downtown shopping centers in the country, the arcade (and the downtown) began to decline as people moved to the suburbs. By the mid-1980s, the main arcade building went into bankruptcy and the last tenant left in 1990 (the arcade was renovated in the early 1980s but this failed to attract revive it). After that, the arcade remained vacant and was neglected, which resulted in a lot of damage. Fortunately, it seems that the current owners (the partnership) are indeed going to follow through with their renovations plans.

Sources
Frolik, Cornelius. "City's $10 million loan to Dayton Arcade largest investment in 15 years." Dayton Daily News. May 23, 2018. https://www.daytondailynews.com/news/breaking-news/city-million-loan-dayton-arcade-largest-investmen...

"History." The Dayton Arcade. Accessed July 19, 2018. https://www.arcadedayton.com/history.

Additional Information