Tonawanda Armory
Introduction
The Tonawanda Armory, which is now a wedding and event venue called Tonawanda Castle, is a historic armory built in 1896 for the 25th Separate Company of the U.S. National Guard. Remarkably, it was completed in only six months despite its large size (38,000 square feet). Architect Isaac Perry designed it in the Richardsonian Romanesque style and it cost three times more to build than other armories he designed. Its most prominent feature is the five-story, eight-sided tower. Its design was intended to inspire patriotism and, importantly, to remind residents—particuarly socialists, immigrant workers, and others who might challenge government authority by going on strike—of the presence of the federal government in the form of the National Guard. The armory is also significant in that it was a place for the community to gather for events such as basketball games. It was added to the National Register of Historic Places in 1994.
Images
The Tonawanda Armory was built in 1896 in just six months.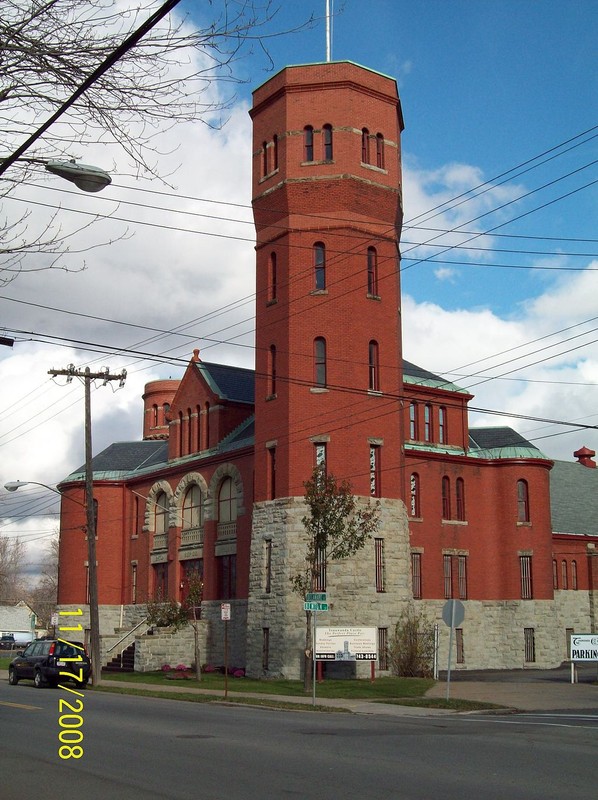 Backstory and Context
The inauguration of Tonawanda Armory was quite an affair. A Grand Ball was held with over a 1,000 guests and the 25th Separate Company performed its first public assembly. Given its height, the tower was used as an observation post during WWI and II. The armory operated as an active military installation until the 1990s. The state sold it in 2004 to the current owners.
Sources
"From Tonawanda Armory, To Tonawanda Castle." Tonawanda Castle. Accessed January 8, 2019. https://tonawandacastle.com/our-history.

Todd, Nancy L. "Tonawanda (25th Separate Company) Armory." National Park Service - National Register of Historic Places Nomination Form. January 28, 1994. https://s3.amazonaws.com/NARAprodstorage/lz/electronic-records/rg-079/NPS_NY/93001539.pdf.

Photo: Wikimedia Commons
https://en.wikipedia.org/wiki/Tonawanda_Armory

Additional Information