Rich-Twinn Octagon House (Newstead Historical Society)
Introduction
Today a house museum operated by the Newstead Historical Society, the Rich-Twinn Octagon House is one of the few surviving early examples of octagon houses in the state and the only one in Erie County. Named after the first and last owners, it was built around 1850 by Charles Rich, who arrived in Akron in 1826. He became a prominent member of the community, working as general store merchant, grain trader, mill operator, collector for the IRS, a state legislator, and an Indian-agent. The house was designed in the Greek Revival style with an Italianate cupola. It has been restored and there are interesting features inside including in-wall speaking tubes and a dumbwaiter. The house was added to the National Register of Historic Places in 1995.
Images
The Rich-Twinn Octagon House was built around 1850 and is the only octagon home in Erie County.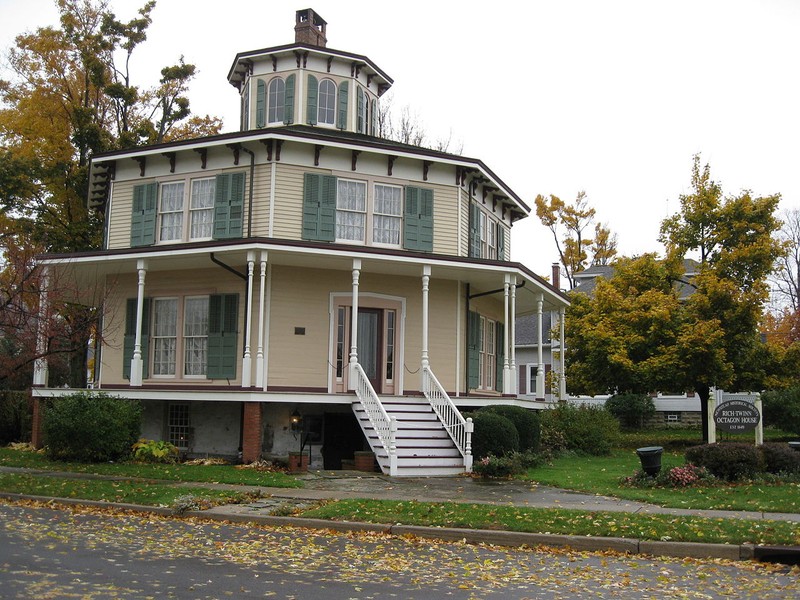 Backstory and Context
Charles Rich passed away in 1870. The last owners were Clark Twinn and his wife Lucille, who bought the house in 1940. Lucille sold it to the Society in 1981. The Society, which was founded in 1958, also operates another historic home called the Knight Sutton Museum.




Sources
"Rich-Twinn Octagon House." Newstead Historical Society. Accessed January 7, 2019. http://www.newsteadhistoricalsociety.org/index.cfm?fuseaction=page.display&page_id=51.

Todd, Nancy L. "Rich-Twinn Octagon House." National Park Service - National Register of Historic Places Nomination Form. February 10, 1995. https://s3.amazonaws.com/NARAprodstorage/lz/electronic-records/rg-079/NPS_NY/95000050.pdf.

Photo: Wikimedia Commons
Additional Information