Adath Israel Synagogue
Introduction
Congregation Adath Israel began in as an Orthodox community in 1902 with 40 founding families. In 1908, the congregation acquired a building to convert into a synagogue and classroom. By the 1920s, the congregation had expanded to around 75 families and was ready to construct a new synagogue. Designed by Sam Google, Adath Israel Synagogue was built in Middletown, where it still stands today. As time went on, Congregation Adath Israel moved away from its Orthodox roots and became a Conservative congregation instead. The 1940s saw the appointment of a Conservative rabbi and the removal of sex-segregated seating. In addition to providing a spiritual home to Middletown Jews, Adath Israel houses an impressive Judaica Museum with over 250 items. Visitors may view the collection after services or arrange a time with the synagogue administration.
Images
Adath Israel Synagogue, built in Middletown in 1929.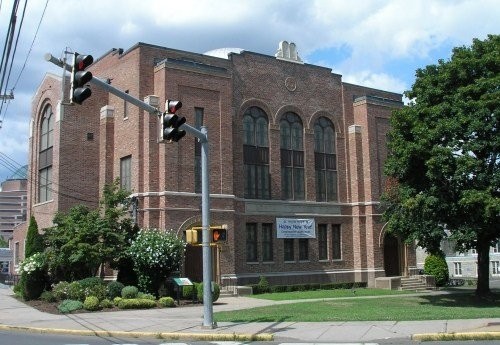 Sources
"A History of Adath Israel." Adath Israel. Accessed January 07, 2019. http://adathisraelct.org/about-us/a-history-of-adath-israel/.

"Adath Israel Synagogue (1929)." Historic Buildings of Connecticut. Accessed January 07, 2019. http://historicbuildingsct.com/adath-israel-synagogue-1929/.



Additional Information