Bailey Hall
Introduction
Now over a century old, Bailey Hall is the largest auditorium on Cornell University's campus. Designed in the Greek Revival style by Cornell graduate Edward Brodhead Green, it was built in 1913 and is named after the first Dean of the College of Agriculture, Liberty Hyde Bailey, who guided the expansion of the College during his tenure between 1903-1913 (the college is now the College of Agriculture and Life Sciences). The building features typical Greek Revival elements such as a colonnaded portico (with Ionic columns) and a large staircase. It was renovated in 2006 to meet modern building codes, new mechanical systems and guests spaces were added in a three-story addition, and the number of seats was reduced to allow for larger, more comfortable chairs (the original chairs were made of wood). The hall is used for classes, performances, lectures, and other events. It was added to the National Register of Historic Places in 1984.
Images
Bailey Hall was built in 1913 and is a fine example of the Greek Revival Style.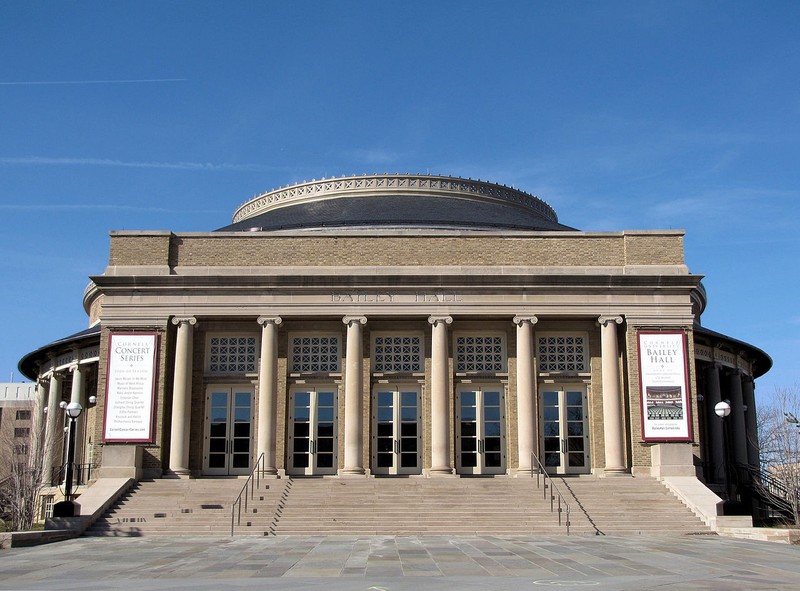 Backstory and Context
Bailey Hall has hosted a number of famous performers including Paul Robeson, Luciano Pavarotti, Rudolph Serkin, and Leontyne Price. A memorable event occurred in 1919 when Austrian violinist Fritz Kreisler performed. At the time, anti-German sentiment was still high after World War I, which ended a year earlier. The mayor told residents and students—including the University football team who sat in the front rows—not to attend but they ignored him and packed the auditorium. Then, during the concert, a group of agitators entered the hall to disrupt the performance; they managed to cut the lighting circuit, darkening the auditorium. While the football team and others fought the intruders, Keisler and his accompanyist continued to play in defiance of the tumult occurring off-stage.
Sources
Crawford, Franklin. "Coming back home to a rebuilt Bailey Hall." Cornell Chronicle. September 13, 2006. http://news.cornell.edu/stories/2006/09/bailey-hall-debuts-anew.

"History of Bailey Hall." Cornell University. Accessed January 5, 2019. https://ccengagement.cornell.edu/bailey-hall/history.

Photo: Wikimedia Commons
Additional Information