Clinton House
Introduction
One of the most recognizable buildings in downtown Ithaca, the Clinton House was built in 1830 as a hotel. At the time, the completion of the Erie Canal a few years earlier was expected to bring tremendous growth to Ithaca, and the hotel was planned to be one of the grandest in the state. For much of the twentieth century, the building housed Historic Ithaca, who saved it from demolition. The building was added to the National Register of Historic Places in 1971.
Images
The building when it had a mansard roof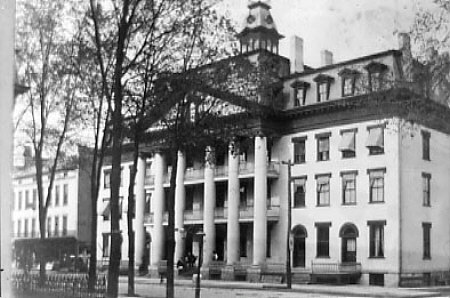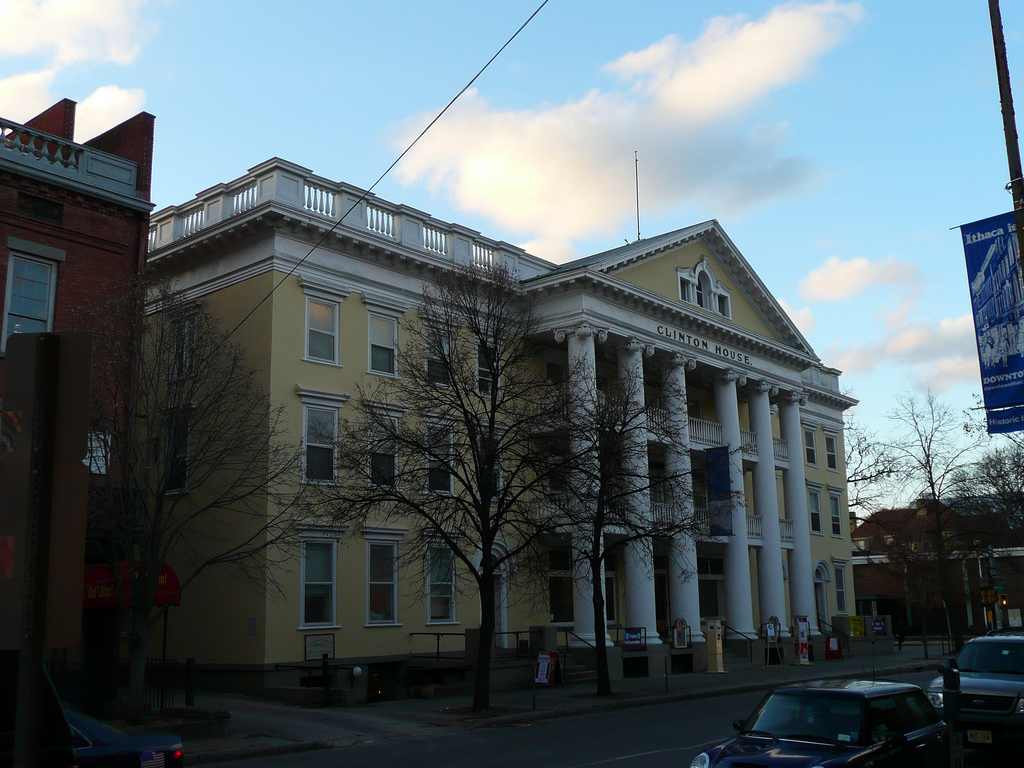 Backstory and Context
In 1825, when the Erie Canal was completed, a new era of transportation and commerce began in New York. Thousands of people arrived in the state to work on the canal or in related businesses, or simply passed through during their travels. The canal would eventually be surpassed by railroads, but for a time, the change that it brought to New York was profound.

Ithaca's Clinton House was built as a hotel in 1830, when the area was experiencing a post-canal boom. It originally had five stories, including an attic and basement. The building was designed by Ira Tillotson, a local architect and builder. It was a grand structure, with 150 rooms and a 96-foot dining hall, and was described as "a hotel of superior order and of the first class." Over the course of the hotel's history, it hosted a number of famous guests, including Dewitt Clinton, Horace Greeley, and William Seward.

Over the years, the building has undergone several renovations. The first of these, in 1872, was overseen by Cornell University's first architecture graduate, William Henry Miller. During that renovation, a mansard roof was added to the building as well as a hydraulic elevator. The elevator still exists, but is no longer in use.

The other renovation occurred following a 1901 fire that completely destroyed the top two floors. The renovation took more than a year and cost $32,000. The present-day lobby is largely the result of that renovation. That renovation was overseen by Clinton Vivian and it was during that renovation that many of the Colonial Revival elements were added.

The Clinton House continued functioning as a hotel until 1972. At that time, the building was threatened with possible demolition but was saved by Historic Ithaca, which purchased the building and carried out another extensive renovation. The building, which was sold in 2009, now houses a number of offices. It was added to the National Register of Historic Places in 1971.
Sources
The Clinton House. Landmarks of New York State. . Accessed January 02, 2019. http://nyslandmarks.com/southerntier/ith002.htm.

The Clinton House. Historic Ithaca. . Accessed January 02, 2019. http://www.historicithaca.org/about/history/clinton-house/.