DeWitt Homestead
Introduction
The DeWitt Homestead is the oldest structure in the Oxford Township of Butler County, OH. Zachariah Price DeWitt built the two-story, four-room log home in 1805. The log home predates Oxford Township, the town of Oxford, and Miami University. Located about three hundred yards north of Route 73, it is the sole surviving home from a pioneer community built along Four-Mile Creek.
Images
DeWitt Homestead Photo by Todd A. Stuart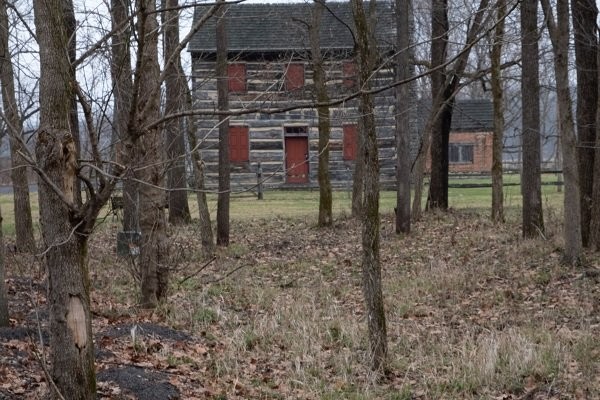 Hewn log construction Photo by Todd A. Stuart
DeWitt Homestead exterior Photo by Todd A. Stuart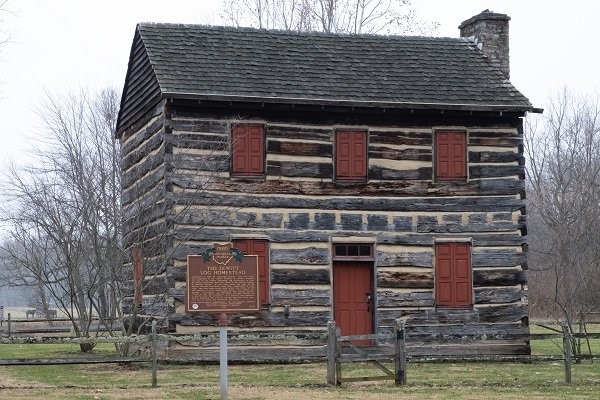 DeWitt Homestead stone chimney Photo by Todd A. Stuart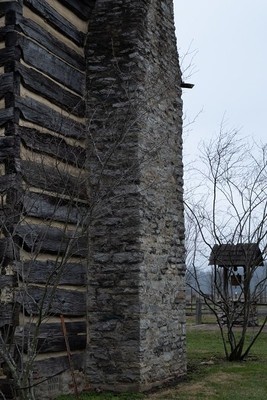 Backstory and Context
Imagine setting out to find a new home in a place you have never visited. A place where no home yet exists and no farmland has been cleared. This was the journey Zachariah Price DeWitt and his family embarked on in the early 1800's.
Zachariah Price DeWitt was born in 1768 to a large Dutch family living in New Jersey. As a young man, Zachariah left New Jersey with his brothers Jacob and Peter to move west. They first settled in Kentucky where Zachariah met and married Elizabeth Teets in 1790. The family next set their sights on Ohio where farm land was cheap and plentiful. The three brothers established homesteads along a stretch of Four Mile Creek in an area now owned by Miami University. Local lore says that it was Zachariah DeWitt who suggested the current location of Miami University to visiting trustees looking for potential sites.
Zachariah and Elizabeth built a two-story residence of hewn logs on their homestead in 1805. The house had four rooms with ash floors and tulip poplar and walnut ceilings. Pegs were used instead of nails for the rafters and the chimney was constructed of rough stone. The house is one of the oldest log structures in Ohio and the only surviving home from the original settlement.
The couple raised nine children on the property and made their living by farming. Zachariah became a community leader, operated a sawmill, built houses for other settlers, and served in the War of 1812. He died in 1851, outliving Elizabeth by seven years. Zachariah and Elizabeth are buried in the Darrtown Cemetery.
The home and grounds are currently maintained by the Oxford Museum Association and listed in the National Register of Historic Places.
Sources
Miami University. 2019. Historical Sites - DeWitt Homestead. https://miamioh.edu/student-life/natural-areas/places/historical-sites/.
Ohio History Connection. n.d. Remarkable Ohio - The DeWitt Family. Accessed January 2, 2019. http://www.remarkableohio.org/index.php?/category/104.
Oxford Museum Association. 2019. DeWitt Homestead - Four Mile Creek, Oxford OH. http://www.oxfordmuseumassociation.com/dewitt-homestead-oxford-ohio.
Additional Information