The Avery Research for African American History and Culture
Introduction
The Avery Research Center for African American History and Culture, formerly the Avery Normal Institute, is an archival repository, a small museum, and a space for community and public programming, and is part of the College of Charleston's library system. The mission of the Avery Research Center is to collect, preserve, and promote the unique history and culture of the African diaspora, with emphasis on Charleston and the South Carolina Lowcountry. Avery's archival collections, museum exhibitions, and public programming reflect these diverse populations as well as the wider African Diaspora.
Images
The Avery Research Center for African American History and Culture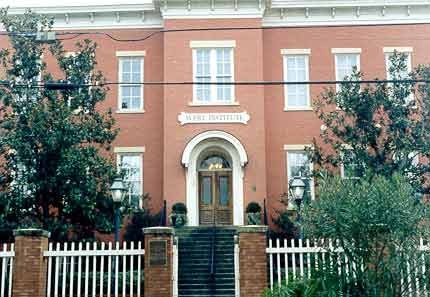 Backstory and Context
The Avery Normal Institute was established in 1865 by the New York based American Missionary Association as the first accredited secondary school for African Americans in Charleston. The school building was built in 1868 from a donation from the estate of the Reverend Charles Avery of Pittsburgh, PA and aid from the Freedmen's Bureau. The school was staffed by northern missionaries and the local antebellum Black community. Thomas and Francis Cardozo were members of the latter and were the first and second principals of the school.
In addition to offering common classes of sewing, farming, cooking and housekeeping, classical education subject were also included such as history, literature, philosophy and government. The Cardozo brothers expanded the curriculum to include teacher training, even though the graduates were prohibited at the time from teaching in all the city's Black schools except one. They taught in one-room schoolhouses all over South Carolina. Avery enjoyed a long tradition of excellence, producing many college bound students who went on to become doctors, lawyers, and businessmen as well as teachers. In 1947, the school transitioned to a public school. After the U.S. Supreme Court struck down school segregation in Brown v. Board of Education in 1954, the Charleston County Board of Education closed Avery, citing financial reasons.
The teachers and students, known as "Averyites," were and continued to be involved in the Civil Rights Movement. They later became involved in preserving the Lowcountry's African American history and culture. In 1978, Averyites also became leaders in preserving the lowcountry's African American heritage. In 1978, the Avery Institute of Afro-American History and Culture was established to save the original school building to be used as a museum and repository for the Institute. The organization collaborated with the College of Charleston to renovate the original building and open the Avery Research Center for African American History and Culture in 1990.
Sources
http://www.averyinstitute.us/ http://www.averyinstitute.us/history.html http://avery.cofc.edu/visit/ http://www.africanamericancharleston.com/avery.html http://scencyclopedia.org/avery.htm http://northbysouth.kenyon.edu/1998/edu/charleston/avery.htm