The Demuth Museum
Introduction
Dedicated to preserving and sharing the artwork and legacy of Charles Demuth, this museum offers galleries and programming in Charles Demuth's original home on King Street. Though plagued by illness all his life, Denmuth produced over a thousand works of art. Most of his work was produced within this home in Lancaster.
Images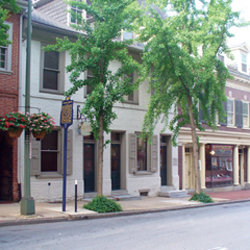 Backstory and Context
The Demuth home, built in the latter part of the 18th century, is one of the oldest in Lancaster and once served as a Colonial era tavern. Located next door is the Demuth Tobacco Shop. Founded in 1770 it is the oldest tobacco shop in America.
Sources
The Demuth Museum, http://www.demuth.org/index.php?pID=37
Additional Information