Kudirat Abiola Corner
Introduction
Dedicated in 1998, this small street sign on the northeast intersection of E. 44th St. and 2nd Ave honors the Nigerian political activist and dissident, Kudirat Abiola. Abiola was assassinated in 1996 by gunmen believed to have been carrying out the orders of the Nigerian Government at a time when her husband, Moshood Abiola, was being detained by the government despite having rightfully won the 1993 presidential election. Nigerian-Americans and ex-pats living in New York campaigned to have the corner officially renamed, and in response, the Nigerian Government protested. The resulting controversy led to a New York State Supreme Court case. The judges upheld the city's decision and the sign remains in front of the Nigerian Consulate in New York.
Images
Alhaja Kudirat Abiola or Kudirat Abiola (1951 - 9 June 1996) was killed at the same time hew husband, Moshood Abiola was detained by the Nigerian government.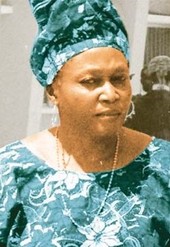 this commemorative street sign honors the life of a Nigerian Muslim despite the protests of the Nigerian government in the 1990s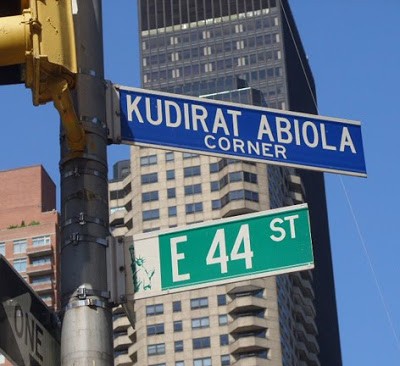 Backstory and Context
In 1993 Nigeria held its first democratic presidential elections in a decade. Preparations for the elections had taken three years because of delays by Ibrahim Babangida's ruling military government, which had come to power via coup d'etat in 1985. Anticipation and expectations were high for the 1993 elections, but before a winner could be officially announced, Babangida declared the elections annulled. It was widely known that a wealthy businessman Moshood Abiola had handily won the election. He would later claim that he took this action because he feared the new civilian regime would be toppled by a coup. Incidentally, within months the non-partisan transitional regime Babangida installed was overthrown by a coup before it could conduct new elections. General Sani Abacha assumed power, dissolved all democratic institutions, and imprisoned Moshood Abiola when, in 1994, he declared himself the rightful president of Nigeria. 
Additional Information