Abram C. Fisk House (Blue Hat Coffee)
Introduction
Constructed in 1863 by its namesake, Abram C. Fisk, this house is one of the finest historic homes in Coldwater. It was designed in the Italianate style and sits prominently along Chicago Street. Fisk pioneered race-horse breeding and turned it into a successful enterprise. What is also remarkable about the house is that in 1879 Fisk built a horse race track around it. The track no longer exists today but it was was a half mile in length and was lined with maple trees. Today, the house is now a coffee shop called Blue Hat Coffee.
Images
The Abram C. Fisk House was built in 1863 and is today the location of Blue Hat Coffee.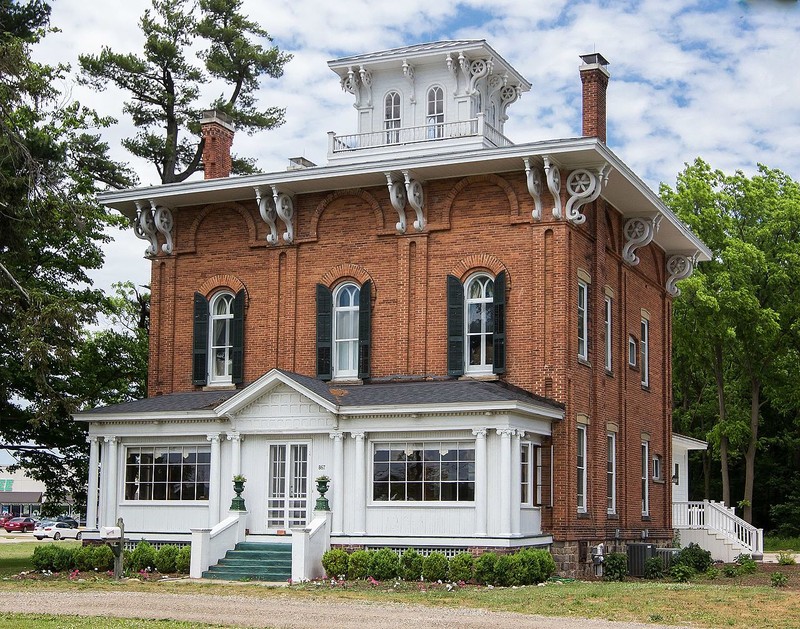 Backstory and Context
Abram Fisk was born in 1815 in Penfield, New York. He made his way to Coldwater when he was 20 years old and soon got married. He and his wife, Catherine, bought the property, which was a farm at the time, in 1840. He made advances in thoroughbred breeding starting in 1851 when he imported a horse from Vermont and later sold it for a very substantial sum (at the time) of $7,000. Soon, a few other businessmen started to breed horses, which earned the county a reputation for being a successful "nursery" for thoroughbreds.

Abram died in 1897. His son, William, owned it until 1914 when it was sold to a married couple. The house passed onto a series of owners including one who used it as an antique shop. The current owner, Phillip Jewell, inherited it in 2000 from his mother, who bought the house in 1961. He and his wife, Catherine, who is the owner, opened Blue Hat Coffee in 2016.
Sources
Esther Walton & Robert O. Christensen. "Abram C. Fisk House." National Park Service - National Register of Historic Places Nomination Form. January 12, 1990. https://catalog.archives.gov/OpaAPI/media/25338977/content/electronic-records/rg-079/NPS_MI/89002306.pdf.

Reid, Don. "The historic Fisk house." The Daily Reporter. July 24, 2016. https://www.thedailyreporter.com/news/20160724/historic-fisk-house.

Photo: Wikimedia Commons
Additional Information