Masonic Temple (Springfield, Massachusetts)
Introduction
Springfield's Masonic Temple is one of the most striking buildings in the downtown area. Built in 1923, the four-story building was completed for $1 million. Prior to its construction, Springfield's Masons used various locations for their meetings, and the current building was the first permanent structure in the city devoted solely to the Masons. The temple is listed on the National Register of Historic Places.
Images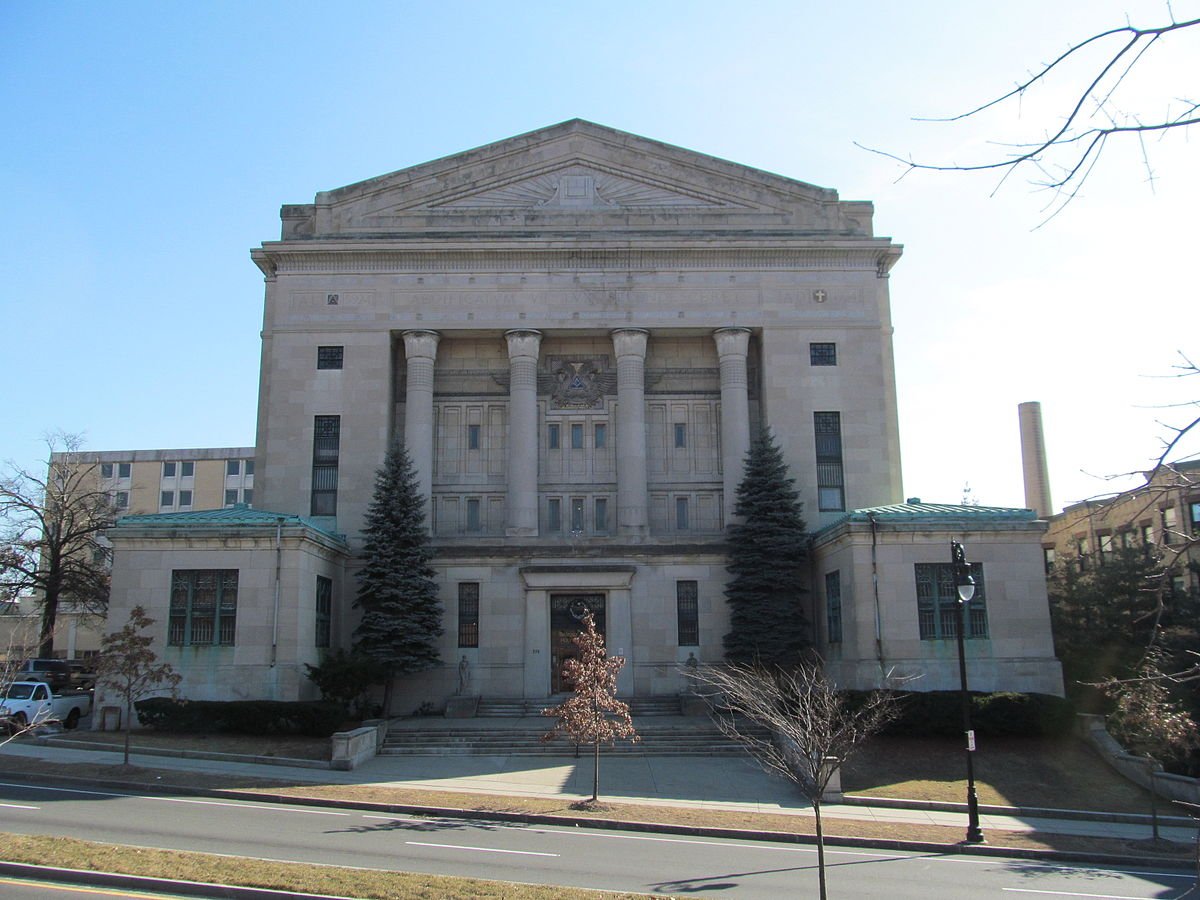 Backstory and Context
The Masons have a long history in Springfield, dating to 1817, when the first Masonic lodge was established in the city. From that point until the early 1920s, the Masons met in a number of locations throughout Springfield, including city hall. They built their first dedicated space in 1893, but the ground floor of the building also housed retail establishments.

In the late 1800s, Springfield's Masons began planning to build a temple that would be dedicated entirely to the Masons. They began raising funds in the early 1920s and the architects Charles Craig and Edward McClintock, both of whom were Masons, were chosen to design the building. Construction began in 1923 and the building was dedicated in 1924.

The four-story building was built from limestone and brick and totals 77,600 square feet. The temple was designed with an auditorium that seats 1,600, a pipe organ, a banquet hall, two chapels, and an art gallery. The building's entrance opened up into a two-story foyer with floors and a staircase of marble.

By the late twentieth century, the Masons no longer used the grand building, and in 2007 it was acquired by the Archdiocese of New England of the International Communion of the Holy Christian Orthodox Church. During the time that the church owned the building, it made substantial renovations to the structure, but financial problems eventually led the church to sell the building at a foreclosure auction.

In 2014, the building was purchased by Sage Engineering & Contracting. At present, the firm plans to rehabilitate the building (which had been cited for code violations in recent years), which will then house the Springfield Conservatory of the Arts School.
Sources
Goonan, Peter. "Masterpiece" or Mess?:Former Springfield Masonic Lodge Cited for Code Violations While Owner Touts Plans. Mass Live. August 18, 2015. Accessed December 27, 2018. https://www.masslive.com/news/index.ssf/2015/08/former_springfield_masonic_temple_cited_code_violations.html.

Kinney, Jim. Frank DeMarinis of Sage Engineering Buys former Masonic Temple on State Street in Springfield. Mass Live. April 04, 2014. Accessed December 27, 2018. https://www.masslive.com/business-news/index.ssf/2014/04/frank_demarinis_of_sage_engineering_buys.html.

Goonan, Peter. Future Use for Abandoned, Historic Springfield Masonic Temple Revealed. Mass Live. July 14, 2017. Accessed December 27, 2018. https://www.masslive.com/news/index.ssf/2017/07/springfield_conservatory_arts.html.