Grandmora Hall (1905-1977)
Introduction
Marquette University's Grandmora Hall was originally built as an apartment complex in 1905 with thirty-six apartments separated into four units. The building also included a caretakers apartment in the basement. The apartment building was purchased by Marquette University in the 1959 and remodeled into an academic building. The structure served as the home for the department of History, English, Theology, and Philosophy until 1977, when the building was demolished. The location of the former apartment building that became Grandmora Hall is now occupied by Katherine Reed Cudahy Hall which was completed in 1994.
Images
An image of Grandmora Hall.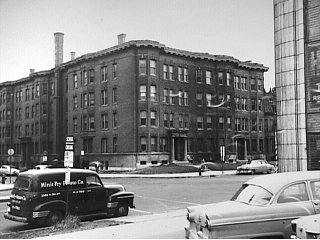 Backstory and Context
Although Marquette adapted the former apartment building to fit its new purpose as an academic building, many features of the former building such as mailboxes and buzzers remained. By the 1970s, the building was in poor repair and students ad professors complained that some of the windows leaked. In addition, the heating and air conditioning system was both loud and unable to keep the building at the proper temperature in winter and summer. Some Marquette students and faculty even reported infestations of pasts, including bats that reportedly flew through the offices. The history department later moved to Coughlin Hall in 1977

Due to the building' design, the departments were completely separated from one another. Students and faculty going from one department to another had to leave the building from one door and enter though another. As a result, the university decided to demolish the aging structure in 1977. Katherine Reed Cudahy Hall was completed in 1994 and is located where Grandmora Hall once stood.
Sources
Hay, Carla. Thoughts on Moving, Change, and Asking "Why". Marquette Univeristy. May 26, 2014. Accessed December 14, 2018. https://marquettehistorians.wordpress.com/tag/grandmora-hall/.