The Alumni Memorial Union
Introduction
Marquette University built the Alumni Memorial Union, located in between the Jesuit Residence and Schroeder Hall on Wisconsin Avenue and 14th street, in 1990. The Alumni Memorial Union consists of three floors - the Weasler Auditorium and a variety of facilities that can accommodate up to 4,000 people. It also offers a variety of amenities and services for students, alumni, faculty, staff, and guests.
Images
An image of the front of the Alumni Memorial Union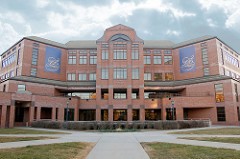 An image of the Alumni Memorial Union from the sky
An image of the spirit shop inside the Alumni Memorial Union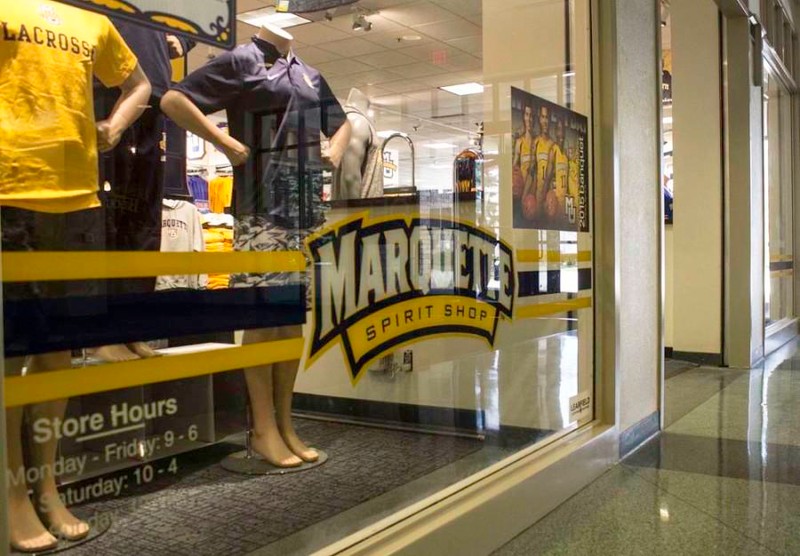 Backstory and Context
Marquette University invested fifteen million dollar into the 184,000 square-foot facility with the help of many alumnus. The alumnus announced that the funding would help accomplish Marquette's main objective, that is, building a new community center that would 'bring together and unify the spirits of all'.

The Alumni Memorial Union replaced the Brooks Memorial Union, which opened in 1953, because there was a high desirability for a union that would be able to accommodate for the growing and diverse cultural, social, and recreational needs of the facility.The architectural design of the facility was carefully crafted to fit the values of Marquette; more so, the chapel was one of the many designs included in the union. The chapel was built facing West Wisconsin Avenue, so that people who passed by would see a clear symbol of Catholicism.

The facility has three floors. Each floor has its own specific duty in relation to the overall purpose of the union. The first floor is the location to many services used by students, alumni, staff, and visitors. Services there are the office of student development, the spirit shop, Town Bank and many more. The second floor is home to two dining facilities - the Lunda Room and the Marquette Place cafeteria. The third floor consists of the Monaghan Ballroom, a ballroom used for student career fairs and other related student events.

The Weasler Auditorium is a theater with a built-in audio system, dressing rooms, and a stage. The auditorium is used for plays, movie premiers, or even a dance practice. It auditorium seats approximately 500 people.

Sources
Marquette University. Alumni Memorial Union. . . https://www.marquette.edu/amu/.