Kalamazoo Transportation Center
Introduction
Kalamazoo enjoyed urban growth during the late 19th century, aided by entrepreneurs who took advantage of Kalamazoo's local water and timber resources, as well as its proximity to Chicago. Water sources, and timber, allowed for a prolific paper milling industry to emerge, and with railways connecting the city to Chicago -- a major railway hub -- Kalamazoo could easily ship its paper to numerous locations. The train station, built in 1887, serves as a reminder of an era when railway and industrial growth went hand-in-hand with urban economic growth.
Images
Kalamazoo Transportation Station, as it looks today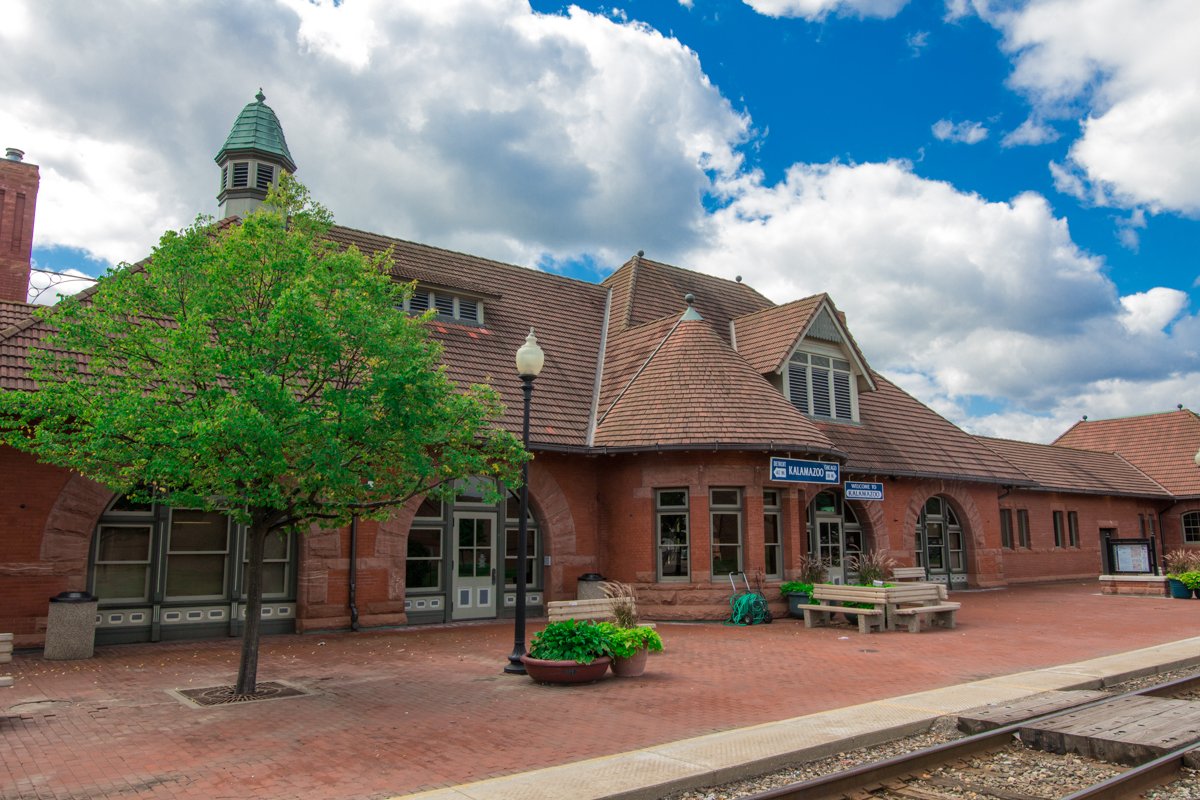 Backstory and Context
Although Kalamazoo effectively lost to Grand Rapids following the Civil War as Southwest Michigan's premier metropolis, the city continued to grow. The historic train station, built in 1887, serves a reminder of Kalamazoo's nineteenth-century urban development, which included supporting several industries and connections to Chicago.
Kalamazoo's proximity to Chicago (roughly 140 miles) and its growing, railroad network (five railroads and one hundred daily passenger trains during the 1880s), along with a population that provided for a sufficient labor force, supported industrial development including pharmaceuticals, paper milling, and both windmill and carriage manufacturing.
For instance, just as city completed construction of Kalamazoo Transportation Center in 1867, the Kalamazoo Paper Company opened its first mill, taking advantage of the area's plentiful water sources and available lumber nearby. The mill's opening led to the development of several more mills, often supplying paper to Chicago's flourishing printing industry via railway, as well as to the rest of the country via Chicago's massive railway hub. Indeed, by World War I, Kalamazoo served as the center of the center of the nation's largest paper-producing region; paper mills in the employed one-half of the city's labor force.
This historic building built in 1887 by the Michigan Central Railroad replaced a smaller building erected in 1873. Designed by architect Cyrus L. W. Eidlitz in the Richardsonian Romanesque style is comprised of red brick and sandstone with a red-tiled hipped roof.
A $3.8 million grant in 2006 allowed for a substantial expansion of the Kalamazoo Transportation Center, while other funding sources provided for modern renovation to the historic building.
Sources
Forist, Alex. "The Paper Industry." Kalamazoo Public Library.
kpl.gov.
Last updated, 2006. http://www.kpl.gov/local-history/business/paper.aspx.
"The History of Kalamazoo County, Michigan," Michigan History Magazine, 1984. Digitally reprinted by the Southwest Michigan Business & Tourism Directory at http://www.swmidirectory.org/History_of_Kalamazoo_County.html

Kohrman, David. Kalamazoo, Michigan. Mt. Pleasant, South Carolina: Arcadia Publishing, 2002.

Photo Source
Kalamazoo Transportation Station, as it looks today: By rossograph - Own work, CC BY-SA 4.0, https://commons.wikimedia.org/w/index.php?curid=35569255

Additional Information