Battle Creek Sanitarium Complex
Introduction
Today known as the Hart-Dole-Inouye Federal Center, the Battle Creek Sanitarium Complex was a health institution established in 1866 by the Seventh-day Adventist Church. Originally it was named the Western Health Reform Institute. It was not exactly a hospital as commonly understood today but more like a health resort/retreat where patients were encouraged to enjoy fresh air, exercise, sunshine, and eat a healthy diet. The Sanitarium also developed principles of preventive medicine. As such, it played an important role in the health reform movement during the late 19th and early 20th centuries. Its name was changed to Battle Creek Sanitarium in 1876 after Dr. John Kellogg (1852-1843) became superintendent. Kellogg was the man responsible for creating the term "sanitarium" (combining the words "sanitary" and "sanitorium," which was the term used for a hospital that treated wounded soldiers). Dr. Kellogg also experimented with creating healthy foods and as a result, the Sanitarium is where the flaked cereal industry (and the Kellogg's brand) was born. The complex was added to the National Register of Historic Places in 1974 and received a new listing after its boundary was increased in 2012.
Images
The Hart-Dole-Inouye Federal Center was built in 1928 and was originally the main building of the Battle Creek Sanitarium Complex.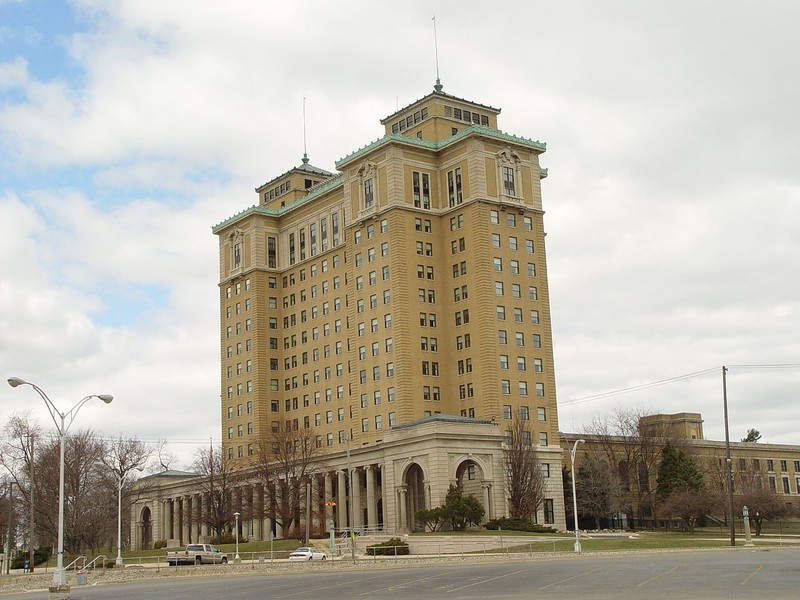 Backstory and Context
The Seventh-Day Adventist Church founded a congregation in Battle Creek in 1854. A core principle of the Church was living a healthy lifestyle, which meant eating good foods, abstaining from alcohol consumption, and practicing preventive medicine. To put this principle into practice, the Church established the Institute and was initially located in a farmhouse. In 1876, a new building was erected and other structures were added as well. A new six-story sanitarium building was constructed in 1903. The large tower structure seen today was built in 1928.

In May 1942, the main buildings of the complex were sold to the U.S. Army for $2.25 million dollars (the Sanitarium had accumulated a lot of debt and the Board of Directors decided to sell it). The complex was renovated for Army use and renamed the Percy Jones General Hospital in 1943. It closed in 1953 after the Korean War ended. The following year, the federal government acquired the complex and named it the Battle Creek Federal Center where various federal agencies and organizations would begin to have offices including the General Services Administration. The tower building was renamed the Hart-Dole-Inouye Federal Center in 2003 in honor of three U.S. Senators wounded in battle.
Sources
"Hart-Dole-Inouye Federal Center, Building 1, Battle Creek, MI." General Services Administration. Accessed December 10, 2018.
https://www.gsa.gov/historic-buildings/hart-dole-inouye-federal-center-building-1-battle-creek-mi#significance.

Feldman, Jessica. "Battle Creek Sanitarium (Boundary Increase and Additional Documentation). National Park Service - National Register of Historic Places Nomination Form. January 27, 2012. https://catalog.archives.gov/OpaAPI/media/25339066/content/electronic-records/rg-079/NPS_MI/11001060.pdf
Additional Information