Moorehouse College
Introduction
Morehouse College is a historically Black college located in Atlanta, Georgia. The college is one of three remaining private, traditional men's, liberal arts colleges in the United States-- the other two being Hampden–Sydney College in Virginia and Wabash College in Indiana. Morehouse College boasts an enrollment of approximately 2,100 students on its sixty-one acre campus. Martin Luther King, Jr. graduated from the institution in 1948 with a B.A. in Sociology. Morehouse College is one of only two historically Black colleges to graduate Rhodes Scholars.
Images
The entrane to Morehouse College Courtyard in Atlanta, Ga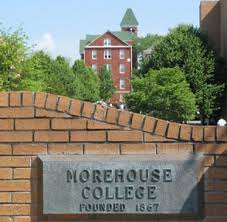 Founded in 1881 as the Atlanta Baptist Female Seminary, Spelman College is the oldest historically Black college for women in America. Located just five minutes outside of downtown Atlanta, Spelman is part of the Atlanta University Center Consortium.

Dr. Martin Luther King Jr. graduation at Morehouse College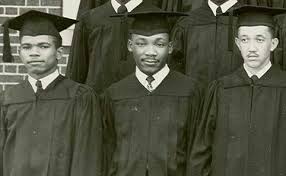 Backstory and Context
In 1867, two years after the Civil War ended, Augusta Theological Institute was established in the basement of Springfield Baptist Church in Augusta, Georgia. Founded in 1787, Springfield Baptist is the oldest independent African American church in the United States. The school's primary purpose was to prepare Black men for ministry and teaching. Today, Augusta Theological Institute is Morehouse College, which is located on a 66-acre campus in Atlanta and enjoys an international reputation for producing leaders such as Dr. Martin Luther King Jr. and Howard Thurman who have influenced national and world history.
The mission of Morehouse College is to develop men with disciplined minds who will lead lives of leadership and service. A private historically Black liberal arts college for men, Morehouse realizes this mission by emphasizing the intellectual and character development of its students. In addition, the College assumes special responsibility for teaching the history and culture of Black people. Some other nationally known HBCU's are Spellman College Ranked #1 and Howard University ranked #2.
Sources
http://www.morehouse.edu/about/legacy.html http://colleges.usnews.rankingsandreviews.com/best-colle http://en.wikipedia.org/wiki/Morehouse_College
Additional Information