Elijah Lovejoy Memorial
Introduction
This Memorial was created in honor of Elijah Lovejoy who fought for the abolition of slavery and was a close friend to the first president of Illinois College, Edward Beecher. It was erected because of the students of Illinois College who honored his death by holding a protest to create wide-spread sentiment against slavery.
Images
The Elijah Lovejoy Memorial is located on the Illinois College campus.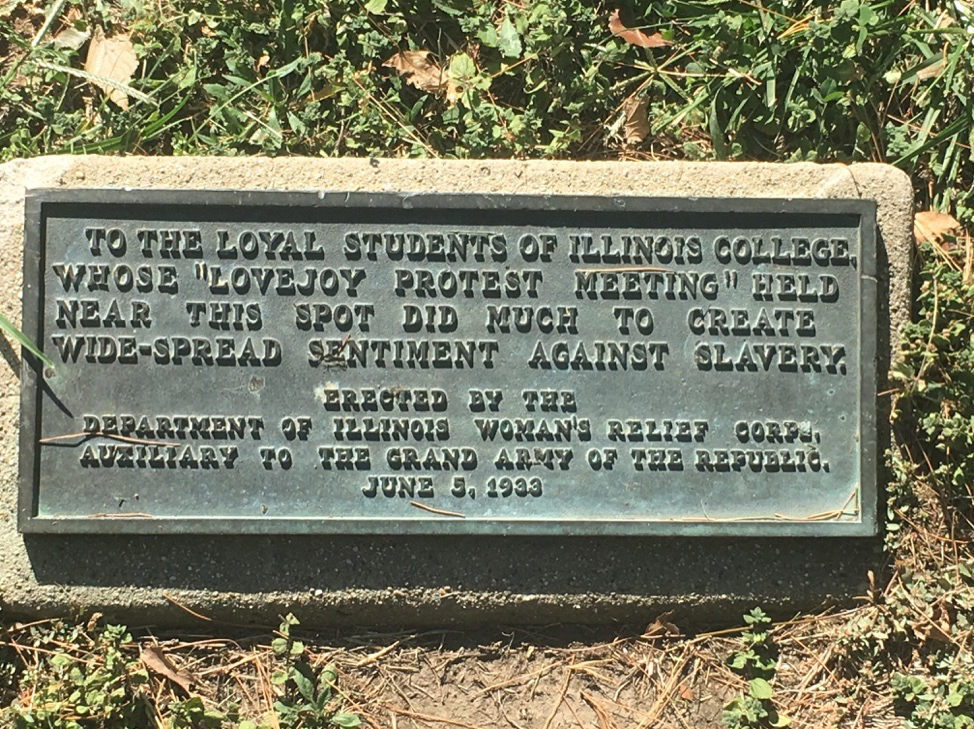 Backstory and Context
Elijah Parish Lovejoy was born November 9, 1802 in Albion, Massachusetts. Later in his life, Lovejoy attended mass at a revival Presbyterian church. It was here that his views on slavery changed. Lovejoy at first supported the slow integration of slavery, but after his experience at the Presbyterian church, he fought for abolition of slavery. Lovejoy published his views on slavery in the newspaper in St. Louis and in Alton. His publications were met with angry pro-slavery protesters, which led to his printing presses being destroyed on a number of occasions. Elijah Lovejoy published in his newspaper how he felt about the protesters, writing, "...as long as I am an American citizen, an as long as American blood runs in these veins, I shall hold myself at liberty to speak, to write, and to publish whatever I please on any subject" (Simon 63).
Lovejoy and Edward Beecher, a previous president of Illinois College, became fast friends because of their abolitionist views. The two men planned an anti-slavery convention, but on the night of the convention the two men faced an angry mob. On November 7, 1837, a mob of protesters found out where Lovejoy's printing press was stored. Lovejoy refused to leave, wanting to defend his printing press but was killed in the chaos. When word of Elijah's death reached Edward Beecher, Beecher's campaign against slavery became even stronger, causing controversy in the Jacksonville community. Because of Beecher's beliefs and his connection to Lovejoy, Illinois College came to be known to the people around the area as an abolitionist school.
After word had traveled to Jacksonville of Lovejoy's death, a protest was held by the students and professors on the grounds of Illinois College. It was held so that students and professors could speak out on slavery and to remember Elijah Lovejoy. Many years later on July 5, 1933, in response to the protest held on the Illinois College Campus, a memorial was erected by the Department of Illinois Women's Relief Corp. Auxiliary To The Grand Army Of the Republic. The Memorial commemorated the protests against slavery that were held by the Illinois College students, and to demonstrate to others that Illinois College was filled with people who wanted to create a change in the world, and were willing to do so.
Sources
Simon, Paul. Freedom's Champion--Elijah Lovejoy. Southern Illinois University Press, 1994.
Rammelkamp, Charles Henry. Illinois College: a centennial history, 1829-1929. Yale University Press, 1928.