Mary McLeod Bethune opened the Daytona Literacy and Industrial Training School for Negro Girls
Introduction
In 1904 in Daytona, Florida, Mary McLeod Bethune started the Daytona Literacy and Industrial Training School for Negro Girls with only a $1.50 and five female students. Eventually Mary opened a High School, Junior College and the Bethune-Cookman College. Many years before the Civil Rights Movement began African Americans were fighting for their rights and this is one big step Mary Bethune took towards that oppurtunity.
Images
Mary Mcleod Bethune Statue in Washington DC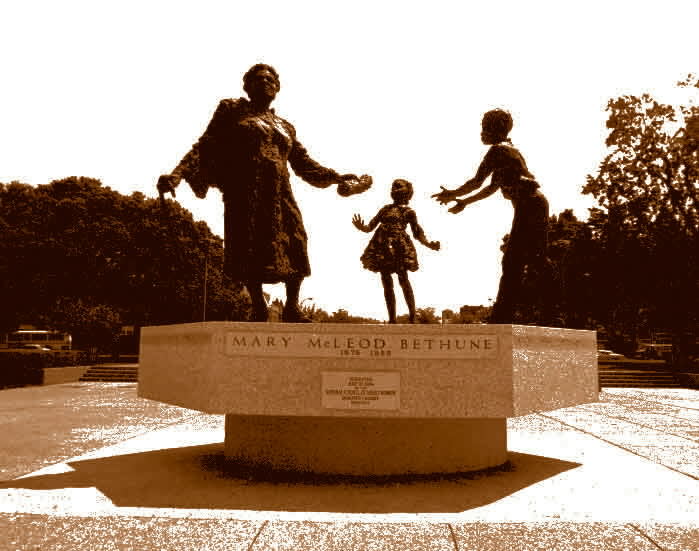 One of the first pictures of all the students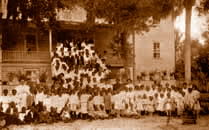 Backstory and Context
Once Mary Mcleod Bethune opened up the first initial school in Daytona, Florida she opened up many oppurtunies that African Americans did not have and continued to branch out from there. Mary was a good organizer and fundraiser to help promote her causes in building the school. From 1904 until she converted the school from a girls only school, then to a high school, into a Junior College and then to what is now the Bethune-Cookman College in Daytona, Florida.
Mary not only started the school but became one of the most inspiring women in the Civil Rights Movement. She worked through National Council of Negro Women and Franklin Roosevelt's New Deal in the National Youth Administration. She strived to help the African Americans and the rights of the people. She also was a huge womens activist and still known today as one of the leading and influitial African American women in the Unites Sates.
Mary Mcloed Bethune Council House National Historic site is loacted at 1318 Vermont Avenue NW, Washington, DC 20005. At this site is all of Mary's originial furniture, photographs, ect. is out for display as a national landmark for the African American Women.
Additional Information