Painted Desert Inn
Introduction
The Painted Desert Inn was built by enacting the Homestead Act. Since the building has opened in 1924, it has been designed by many famous architects. You can see the works of all the architects that has worked on the building since it opened. The inn is now being used as a museum, and is the location of many community functions.
Images
This is the view that can be seen from Painted Desert Inn.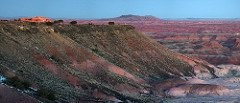 This is the entrance to the Painted Desert Inn.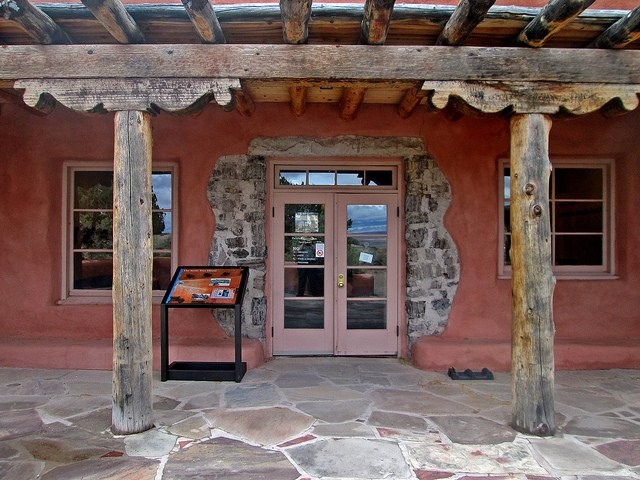 This is a photo of Painted Desert Inn, showing the multiple different design qualities.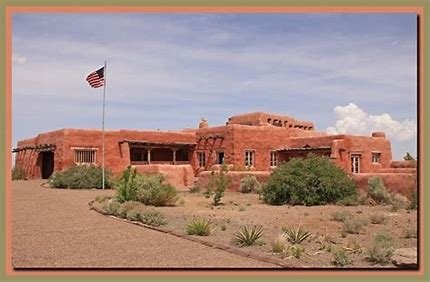 Backstory and Context
The Painted Desert Inn was built in 1924. Then it was called "Stone Tree House" because it was constructed of petrified wood. Herbert David Lore built the Inn by using the Homestead Act. The Homestead Act was a law to push Western expansion by granting areas of government land to Americans for settlement. In addition to renting rooms at the inn, Lore also sold Native American paintings, jewelry, and trinkets.
The original structure of the Painted Desert Inn did not last very long. By the 1930s, the National Park Service bought the Inn from Lore and hired a group from the CCC (Civilian Conservation Corps) to rebuild and redesign the Inn to its current structure, while also adding new additions such as stained-glass skylights and pressed-tin light fixtures. When America became involved in WWII, most of the CCC men working on the Inn left for war. The Inn closed for 5 years until reopened in 1947. The new Inn's management, the Fred Harvey Company, hired architect Mary Colter to redesign the Painted Desert Inn.
There is only one problem with the building, the ground underneath the Inn is constantly shifting, causing cracking in the walls, water damage, and structural problems. The building was going to be demolished in the 1970s, but since it is a National Historic Landmark, it has been preserved for many years to come. The Painted Desert Inn functions as a museum now, and it is also used for many different community events such as a day program site for artists in the area to study its' detailed murals painted by Fred Kabotie, swearing in ceremonies, and it is open for self-guided tours. In the museum, artwork from the CCC and Mary Colter is displayed, and the museum provides visitors with details about the buildings past, as well as information on the CCC.
Sources
Drueding, Meghan. The Many Lives of Painted Desert Inn. February 27, 2017. Accessed December 08, 2018. https://savingplaces.org/stories/the-many-lives-of-painted-desert-inn#.XA2g0fZFw2x.

Painted Desert Inn. NPS.gov. March 16, 2018. Accessed December 08, 2018. https://www.nps.gov/pefo/learn/historyculture/pdi.htm.

Painted Desert Inn. National Historic Landmarks Program. . Accessed December 08, 2018. https://web.archive.org/web/20070728061810/http://tps.cr.nps.gov/nhl/detail.cfm?ResourceId=2016&ResourceType=Building.

David J. Trowbridge. "A History of the United States, Volume 2". FlatWorld. 2012

Additional Information