Nancy Hanks Memorial
Introduction
This stone monument and replica log cabin designate the supposed birthplace of Nancy Hanks, the mother of President Abraham Lincoln. Many different theories surround the date and location of Hanks' birth, which was complicated by the fact that she was likely illegitimate. One popular theory proposes that Hanks was born in present-day Mineral County, West Virginia, based on evidence from one Lincoln biographer that her grandparents owned a farm at this location in the early 1780s. Despite confirmation of this theory by a state-appointed commission in 1929, a lack of primary evidence makes it difficult to verify. In 1933, the stone monument was placed at this site, believed to be where the original Hanks family cabin stood. A replica log cabin was added at a later time to give an idea of life during the late eighteenth century. The memorial is located in a remote area, and the cabin is typically not open for visitors. In 2015, it was designated as a Mineral County Historic Landmark.
Images
This replica log cabin, brought to the site in either the 1960s or 1970s, stands at the purported location of the original Hanks family cabin. Image obtained from Ser Amantio di Nicolao, Wikipedia.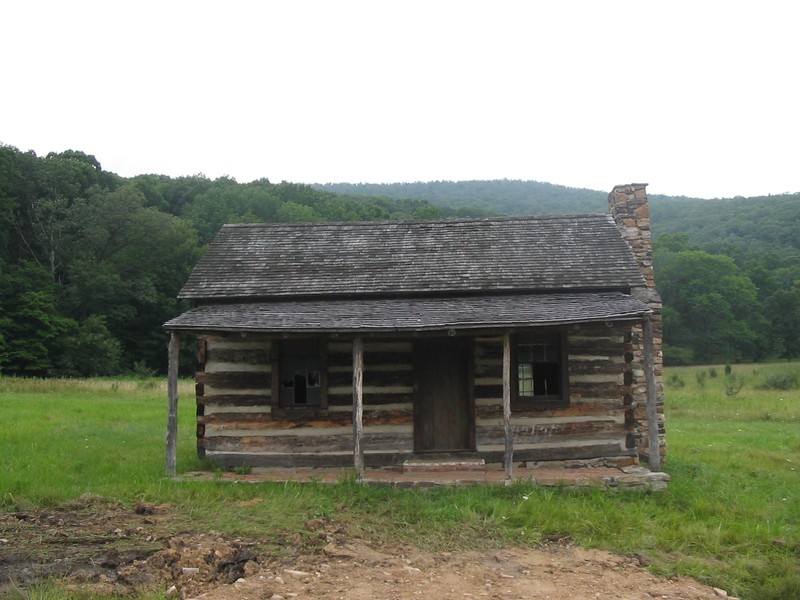 This stone monument and plaque were erected in 1933 designating the site as the birthplace of Nancy Hanks Lincoln. Image obtained from Ser Amantio di Nicolao, Wikipedia.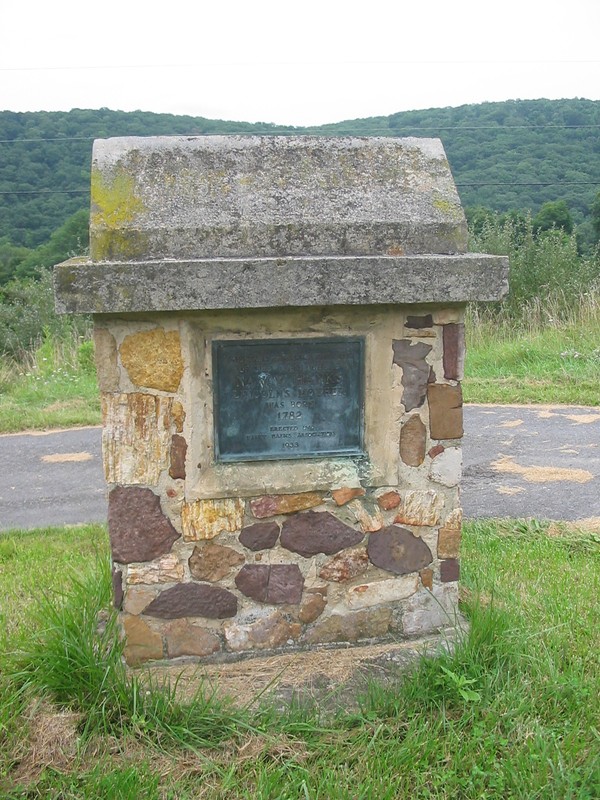 Gravesite of Nancy Hanks at the Lincoln National Boyhood Home in Indiana. Her birth date is not given, reflecting the scant evidence about it. Image obtained from the National Park Service, Wikipedia.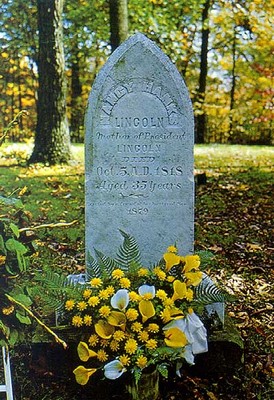 Backstory and Context
The circumstances of Nancy Hanks' birth are uncertain and have been the source of debate among scholars. She is generally considered to have been born out of wedlock; therefore it would have been a taboo subject at the time. Primary sources on her are scant as well. The prevailing theory is that she was born on February 5, 1784 to Lucy Hanks, the daughter of Ann and Joseph Hanks. Soon afterwards the family moved to Kentucky, where Nancy was raised at different times by her grandparents, her mother, and her aunt and uncle.
Nancy worked as a seamstress until she married Thomas Lincoln in 1806. They would have three children; Sarah in 1807, Abraham in 1809, and Thomas Jr., who died in infancy, in 1812. The Lincolns lived at three different properties in Kentucky, but had to leave each due to property disputes. In 1816 they moved to Spencer County, Kentucky, where Abraham would spend the rest of his childhood. It was here that Nancy Hanks Lincoln died on October 5, 1818 at the age of thirty-four. The cause was said to be either milk sickness or tuberculosis. Abraham would later be raised by a step-mother, Sarah Bush Johnston, but he always credited his mother Nancy with having a profound influence on his life.
By the early 1900s, one theory that Nancy Hanks had been born in West Virginia was gaining traction. Records indicate that Joseph Hanks owned 108 acres of land in the Mikes Run area near the community of Antioch in Hampshire County, Virginia, now Mineral County, West Virginia. It was speculated that his daughter Lucy gave birth to Nancy Hanks here, out of wedlock, sometime between 1782 and 1784. By 1784 the Hanks family had sold their farm and moved to Kentucky. In 1929, Governor William Conley designated a commission to investigate this theory. On September 21, they presented their findings, based largely off the research of Lincoln biographer William E. Barton, and declared that West Virginia was in fact the birthplace of Nancy Hanks. Despite the investigation, doubts still linger over the authenticity of the claim. In 1966, Governor Hulett Smith announced that there was not enough available evidence to definitively prove that Nancy Hanks had been born in the state.
Following the findings of the 1929 commission, a stone memorial with a plaque honoring Nancy Hanks was placed on property formerly belonging to the Hanks family in 1933. At some point a replica log cabin with period furniture was constructed and placed across the road from the memorial. Sources differ as to when and how the cabin was created. Some state that it was built at the same time as the memorial in 1933; others say that the cabin was originally built on a different property and was relocated in either the 1960s or 1970s.
In the summer of 2015 there were concerns that the Nancy Hanks Farm Association, a local property owners' organization responsible for maintaining the cabin, would demolish it. The costs of upkeep and insurance, as well as incidents of vandalism, were cited as reasons. A significant amount of debate ensued in the local community as a result, and various solutions were proposed. In August, 2015, the Mineral County Historic Landmarks Commission designated the cabin and memorial as a Mineral County Historic Landmark in an attempt to protect it. As of 2018 the cabin is still standing.
Sources
Blaisdell, Elaine. "Future of Nancy Hanks' cabin is uncertain." Cumberland Times-News. June 3, 2015. Accessed August 18, 2018. https://www.times-news.com/news/future-of-nancy-hanks-cabin-is-uncertain/article_39024060-0a2e-11e5-b2a4-2f786c771b55.html
Beavers, Liz. "Nancy Hanks cabin is declared Historic Landmark." Mineral Daily News-Tribune. August 24, 2015. Accessed August 18, 2018. http://www.newstribune.info/article/20150824/news/150829858
Galbraith, Nicole. "New conditions in the works for Nancy Hanks replica cabin." Local DVM. June 4, 2015. Accessed August 18, 2018. https://www.localdvm.com/news/new-conditions-in-the-works-for-nancy-hanks-replica-cabin/165164877
Hinkle, Rebecca. "West Virginia History Series: Nancy Hanks Lincoln." The Concordian. March 29, 2018. Accessed December 6, 2018. http://www.concordianonline.com/news/view.php/1033165/West-Virginia-History-Series-Nancy-Hanks
Miller, Cathy Hershberger. "Nancy Hanks." e-WV: The West Virginia Encyclopedia. November 29, 2012. Accessed August 18, 2018. https://www.wvencyclopedia.org/articles/222
"Nancy Hanks Lincoln." Abraham Lincoln Birthplace. Accessed August 18, 2018. https://www.nps.gov/abli/learn/historyculture/nancy-hanks-lincoln.htm
Powell, Bob. "Commission Rules Nancy Hanks Born in Mineral Co. Sept. 21, 1929. West Virginia Public Broadcasting. September 21, 2016. Accessed August 18, 2018. https://www.wvpublic.org/post/commission-rules-nancy-hanks-born-mineral-co-sept-21-1929#stream/0
Image 1: https://en.wikipedia.org/wiki/File:NancyHanksCabin.jpg
Image 2: https://upload.wikimedia.org/wikipedia/commons/a/a1/NancyHanksMemorial.jpg
Image 3: https://commons.wikimedia.org/wiki/Category:Nancy_Lincoln#/media/File:Nancy_hanks_lincoln_grave.jpg
Additional Information