John R. ("Sarge") Nasworthy
Introduction
John R. Nasworthy was a colorful pioneer and Texas Ranger who helped to create civilization and institutions in West Texas. He owned ranch land, on which today is situated Lake Nasworthy, the first conservation lake in this area.
Images
Good view of the land marker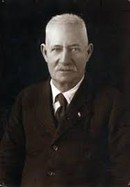 Backstory and Context
Nasworthy was born in Georgia, and he served from 1864–1865 in the Confederate army, during the Civil War. Later, he came to Texas, living first at Bonham. After he moved west, he operated in the Menard area as a buyer of beef cattle for United States army mess halls at Fort Concho. In 1880s he was deputy County Clerk and deputy Sheriff of Tom Green County and the first treasurer of the city of San Angelo. He owned the first local brick kiln, a wagon yard, a livery stable, and the only hearse in town in the early days. He was the second man to fence land, and the second man to grow cotton in the county. A county commissioner from 1910–1916, he promoted the building of the Old Chadbourne viaduct. A leader in church and philanthropic endeavors, Nasworthy was a promoter of the Baptist encampment at Christoval.
Sources
Hall, Duane. John R. ("Sarge") Nasworthy (September 12, 1849 - November 4, 1924). HMdb.org. May 08, 2018. Accessed November 17, 2018.

John R. ("Sarge") Nasworthy. Texas Historic site atlas. March 02, 2015. Accessed October 31, 2018. https://atlas.thc.state.tx.us/Details/5451002801/print.