Grant-Deneau Tower
Introduction
Grant-Deneau Tower is a New Formalist and Miesian style building constructed by developers Richard Grant and Paul Deneau in 1969. At the time, it was Dayton's tallest skyscraper and first modern office tower. Its lobby enclosure was completed in 1979. Because it was built as part of an effort to revitalize downtown Dayton, the Grant-Deneau Tower was added to the National Register of Historic Places in 2016 despite the customary fifty-year age minimum for historic sites.
Images
Photo of the Grant-Deneau Tower from the National Park Service.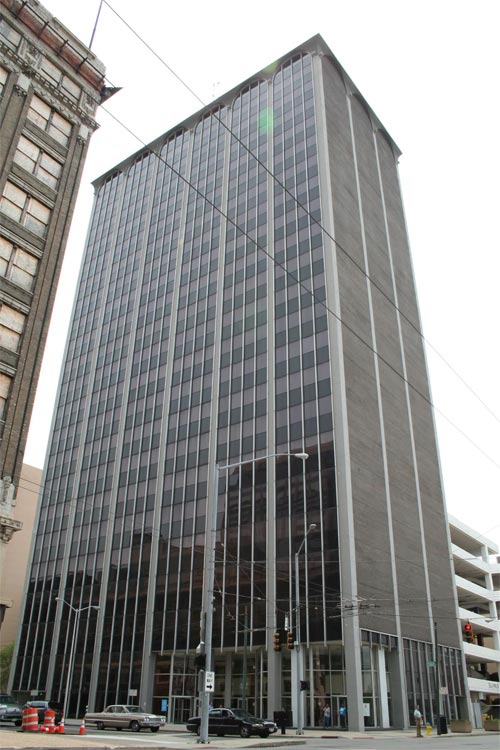 Backstory and Context
As of 2018, the Grant-Deneau Tower is entirely vacant, though various real estate groups have expressed interest in renovating the property.
Sources
Grant-Deneau Tower. National Park Service. Accessed December 08, 2018. https://www.nps.gov/nr/feature/places/16000044.htm. Information and photo source.

See which downtown office towers are on the auction block. American Planning Association. October 23, 2018. Accessed December 08, 2018. https://www.planning.org/news/daily/story/ZmRTLOfM9P6aTR--kBiT7wV5p1pBD4-6tUkUILl0hwJR7SfMpd2b1Ou7jtq7vALeR-kAnpJl2pXTDT3QgBPzKSlRWWgBzTTISmpcUyy0MXbum-37VilQw3WyjB_frk9I/Standard/.

Frolik, Cornelius. Grant Deneau Tower receives historic register listing. Dayton Daily News. April 06, 2016. Accessed December 08, 2018. https://www.daytondailynews.com/news/grant-deneau-tower-receives-historic-register-listing/lQVz2GE30MBcNKwAvCW2pI/.

What to know about the Grant-Deneau Tower. WHIO. July 13, 2017. Accessed December 08, 2018. https://www.whio.com/news/what-know-about-the-grant-deneau-tower/WsPpMgBl1bFz7Cam5x66DN/. Video source.


Additional Information