Abraham Lincoln Statue (Dayton)
Introduction
This statue of Abraham Lincoln, sculpted by artist Mike Major, commemorates the speech Lincoln gave near the Old Court House (then only nine years old) on September 17, 1859. The eleven-foot-tall statue stands on a four-foot base and weighs about 1,300 pounds. It was commissioned by the Lincoln Society of Dayton, which raised funds for the bronze statue to be waxed and buffed at least once a year. Major has said that he hopes his statue portrays the "strength, intelligence, control, and perhaps humility and attentiveness" of President Lincoln.
Images
A close-up of the Lincoln statue. Photo by Richard Gotschall.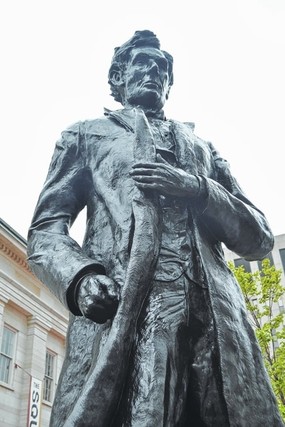 Backstory and Context
After his loss to Stephen A. Douglas in a Senate campaign, Abraham Lincoln began a tour of Ohio. Though he was only in Dayton for a couple of hours, he delivered a speech that the community remembers today. Lincoln spoke against slavery, and this speech, along with others, helped him win the support of his party, leading to his nomination as a presidential candidate by the GOP. Abraham Lincoln became the first Republican president on March 4, 1861.
Sources
Keeran, Joshua. Lincoln statue unveiled. Urbana Daily Citizen. September 23, 2016. Accessed December 08, 2018. https://www.urbanacitizen.com/news/31583/lincoln-statue-unveiled. Information and photo source.

Hulsey, Lynn. Lincoln sculpture unveiled at Dayton's Courthouse Square. Dayton Daily News. September 17, 2016. Accessed December 08, 2018. https://www.daytondailynews.com/news/lincoln-sculpture-unveiled-dayton-courthouse-square/jggPpzwnsu4R35Bt2KOj9O/.

Gnau, Thomas. Daytonians tap Urbana artist for Lincoln statue. Dayton Daily News. September 28, 2015. Accessed December 08, 2018. https://www.mydaytondailynews.com/news/daytonians-tap-urbana-artist-for-lincoln-statue/25JDDoWun27ywSOVWsQJSM/.

Lincoln Society to unveil Dayton statue Saturday. WHIO. September 13, 2016. Accessed December 08, 2018. https://www.whio.com/news/local/lincoln-society-unveil-dayton-statue-saturday/pdnTwyIQKDfU0X5eQlZ0GN/.


Additional Information