St. Augustine's Foot Soldier Monument
Introduction
Dedicated in 2011, the Foot Soldier Monument is the latest addition to St. Augustine's Plaza De La Constitucion, a historic park that includes monuments and markers tracing the history of the city from the arrival of the Spanish to the present. The monument depicts images of four non-specific individuals that together represent the hundreds of African Americans from St. Augustine who served as "foot soldiers" by participating in civil rights marches and other peaceful protests against segregation in the 1960s.
Images
The St. Augustine Foot Soldier Monument was built to remember the participants in St. Augustine's protests against segregation.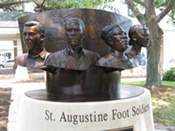 Foot Soldier Monument Donor Plaque
Learn more about the civil rights movement in St. Augustine with this book from the University of Alabama Press.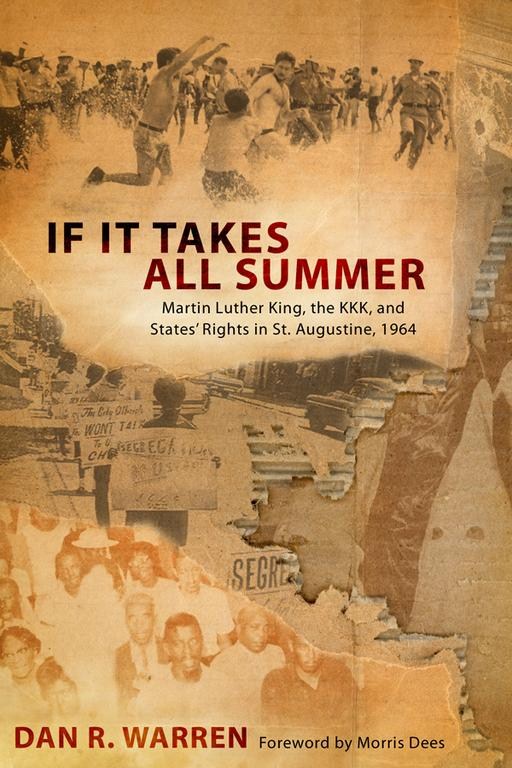 Backstory and Context
In 2005, St. Augustine resident and civil rights veteran Barabara H. Vickers began an effort to create a monument to honor the leaders of the city's peaceful protests. Vickers organized a series of meetings and led a committee that discussed several ideas for the monument. The effort grew to include area educators and institutions, leading to a renewed interest in the civil rights movement and spurring numerous research projects that recorded the experiences and perspectives of participants in addition to raising funds for this monument.
The group organized a non-profit foundation and commissioned this statue by Brian R. Owens. Plaza De La Constitucion was chosen for the site of the statue due to the many protest marches that passed through this area during the early 1960s. The monument was unveiled on May 14, 2011 at a ceremony led by Barabara H. Vickers with a crowd of around 200 people in attendance. Due to heavy rains, the ceremony was held under the roof at the park's central plaza-perhaps a fitting location as this once held the city's leading slave market.
Hank Thomas was among the speakers at the dedication. Thomas was one of the original Freedom Riders that risked their lives to protest segregation by challenging segregation at bus stations throughout the South. Dr. Robert B. Hayling, a dentist who led many of the local protests in St. Augustine was also present and spoke at the dedication of the monument.
Sources
Griffin, Justine. "City unveils Foot Soldiers monument." The St. Augustine Record. May 15, 2011. http://www.staugustine.com/article/20110515/news/305159993.

Dan Warren. If it Takes All Summer: Martin Luther King, the KKK, and States' Rights in St. Augustine, 1964. University of Alabama Press. St. Augustine FL Movement — 1964, http://www.crmvet.org/tim/timhis64.htm#1964staug.
Additional Information